Was The Failed Capitol Coup An Inside Job? Here's Why The FBI (And Everyone Else) Believes It Was
​
Jan 11 | by _YBF
​ ​ ​ ​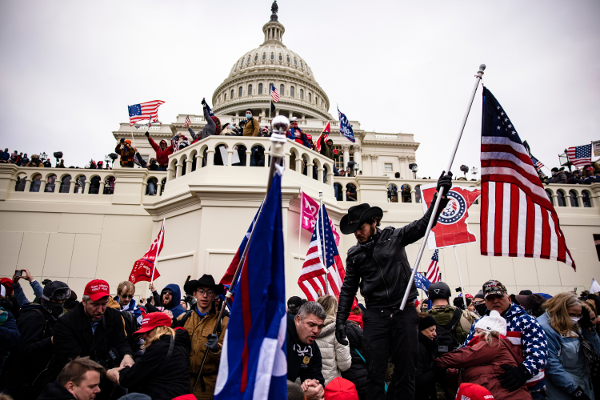 As more details and videos from the day Trump supporters' attempted insurrection come trickling in, there's speculation that the event was an "inside job." Police were seen letting people past barricades and people are questioning how the rioters found the offices of certain Congressman and women. More inside…
On hell literally broke loose when Trump supporters descended on the U.S. Capitol for a coup attempt as Congress was counting up the electoral votes to officially confirm the election results that President-elect Joe Biden and Vice President-elect Kamala Harris won. The attack was incited by Trump moments before the attack was carried out.
Now, the FBI – and at least half of America – feel as if the Capitol insurrection was an "inside job" that was orchestrated with some Capitol police and staffers from inside the building. More videos are coming out from the attack that helps make this theory believable.
In several instances, police were caught on video pulling back the barricades to allow the domestic terrorists inside the federal building. Peep one clip below:
THEY LITERALLY JUST LET THEM THROUGH pic.twitter.com/tWMuchly8w

— hermione lovers ONLY (@jihanbit) January 6, 2021
Cops were also seen snapping selfies with the rioters.
Check it
Cops are taking selfies with the terrorists. pic.twitter.com/EjkQ83h1p2

— Timothy Burke (@bubbaprog) January 6, 2021
Once inside, cops were seen standing to the side and basically ushering in the rioters.
Sources told TMZ the FBI is currently reviewing and examining all of the videos that are being posted online to help prove some Capitol police and staffers were in on the violent attack
Another reason the FBI thinks the attack was an inside job is how easy it was for the #MAGA mob to find their way to House Speaker Nancy Pelosi's office. Now, they're investigating everyone.
The site reports:
It's not off any main hallway or next to other Congressional offices ... in fact, the path to get to the entrance is maze-like and not open to the public like other parts of the Capitol. The rioters who took it over -- vandalizing it and stealing a laptop -- got there within 10 minutes of entering the Capitol.

We're told the FBI feels someone must have provided a roadmap for them to find it that quickly. Remember, the Capitol has been closed to the public since March due to the pandemic so it's not like these guys could have been casing it to plot their path.

As for suspects -- we're told the FBI is looking at Capitol Police officers and many other Capitol staffers, such as engineers, plumbers and janitors.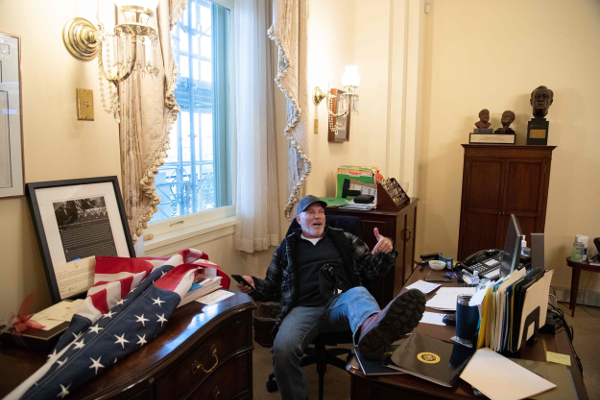 Pelosi's laptop, some mail and her lectern were stolen. The Capitol mob member who lounged atH House Speaker Nancy Pelosi's desk and stole mail out of her office - Richard Barnett of Arkansas - was also arrested. He was charged for "knowingly entering or remaining in any restricted building or grounds without lawful entry; violent entry and disorderly conduct on Capitol grounds; and theft of public money, property, or records."
After his photo-op in Pelosi's office, he spoke with the media outside of the Capitol and said he didn't break in, he was "pushed in" the federal building and into her office. He also said he didn't "steal" Pelosi's mail because he left a quarter. And he also said he left Pelosi a note on her desk that reads, "Nancy, Big O was here, you biotch!"
Sir....
Adam Christian Johnson – the man who stole Pelosi's lectern – was also arrested and he's being held on a federal warrant.
House Democrats also believe the attack was an inside job. During a 3.5-hour caucus call by House Democrats on Friday, Rep. Steven Horsford (D-Nev.) told his colleagues he thought the riots were "an inside job," according to two lawmakers on the call.
House Majority Whip Jim Clyburn (D-S.C.) noted how rioters made their way to his UNAMRKED, third floor office and stole his iPad. He questioned how the rioters were able to locate that office being that it wasn't clearly marked as his.
Rep. Linda Sanchez (D-Calif.) specifically raised the question of possible collusion among some Capitol Police officers, according to several people listening.
"I am very sad to say that I believe that there were people within the Capitol police and within the Capitol building that were part of helping these insurrectionists to really have a very well-coordinated plan for when they were going to come, how they were going to come," Rep. Pramila Jayapal (D-Wash.) said on Gray TV's "Full Court Press with Greta Van Susteren."
Pressed further on whether some Capitol Police officers were not just looking the other way but actually involved, Jayapal said, "It appears that way, both from what happened, how coordinated it was, how easy it was." Rep. Steven Horsford (D-Nev.) told his colleagues he thought the riots were "an inside job," according to two lawmakers on the call.
Five people died as a result of the mob attack, including one Capitol police officer.
U.S. Capitol Police Chief Steven Sund has resigned amid criticism of not being fully prepared to deal with the violent mob on Capitol Hill. His resignation is effective January 16th, according to a Capitol Police official.
Majority Leader Mitch McConnell announced Michael Stenger, the Senate Sergeant at Arms and Doorkeeper, has resigned as well.
It's being reported by several media outlets that a second Capitol police officer, who some reports say was off duty, has died from an apparent suicide.
A Capitol Police officer who responded to the deadly riots in Washington last week died by an apparent suicide on Saturday, according to multiple news reports, as the department struggles to fully recover from the devastating and destructive siege carried out by pro-Trump extremists.
Howard B. Liebengood, 51, worked in the Senate Division and had been assigned with the force since April 2005. He is the son of the late Sergeant of Arms Howard S. Liebengood, who died in 2005.
Liebengood's father, also Howard Liebengood, died in 2005.

He was the Senate Sargeant at Arms in the early 1980s and then became a powerful lobbyist and an associate of Paul Manafort's. https://t.co/jdubq9eL0B

— Yashar Ali (@yashar) January 10, 2021

WHOA Howard Liebengood, (the Capitol police officer that just died from suicide) father was associated with Paul Manafort. Manafort's company, Event Strategies, was involved with the planning of the Trump Rally at the Capitol... stay w me... https://t.co/VQZY7KnMEC

— Venture Capital (@kelly2277) January 10, 2021

Event Strategies was the vendor of choice for Trump events like the Inauguration AND was used in Ukraine for pro Russian Yanukovych ... #CapitolCoup https://t.co/fyt4ShqkcS

— Venture Capital (@kelly2277) January 10, 2021

Why were Roger Stone and deceased Capitol Police Officer Howard Liebengood's father discussing assassinations of Presidents Given the #CapitolCoup situation w @VP - this is super suspicious. @selectedwisdom pic.twitter.com/XTbciIzLr4

— Venture Capital (@kelly2277) January 11, 2021

"Our thoughts and prayers go out to his family, friends and colleagues," the U.S. Capitol Police wrote in a statement issued on Sunday. "We ask that his family, and other USCP officers' and their families' privacy be respected during this profoundly difficult time."
The backstory about Liebengood, though, is interesting. His father became close friends with Trump cronie Paul Manafort in 2005. Why would an off duty officer be at the Capitol on this day, if those reports are true?
Also…
Trump lies in his new Twitter video. He did not "immediately" deploy the National Guard.

— Kyle Griffin (@kylegriffin1) January 8, 2021
In the Twitter video Trump posted during the riot, he said he ordered the National Guard and federal law enforcement to secure the building and expel the intruders immediately, but that was a LIE.
Newsweek reports:
In a statement Wednesday, Acting Secretary of Defense Christopher Miller did not mention working with Trump. He said he "spoke separately with the Vice President [Mike Pence] and with Speaker Pelosi, Leader McConnell, Senator Schumer and Representative Hoyer about the situation at the U.S. Capitol."

Reports show that Trump was initially hesitant to involve the National Guard. NBC said Trump "had to be convinced" and that Pence was in contact with the Pentagon and "encouraged a much more rapid deployment."

According to CNN, Trump was less eager to deploy federal forces on Capitol Hill on Wednesday than he had been for other protests, but "Pence played a key role in coordinating with the Pentagon about deploying them, and urged them to move faster than they were."
So you see, it was Pence who got the National Guard to the Capitol and not Trump. DC Mayor Bowser also said she requested the National Guard several hours prior to no avail.
Now, Pelosi is doing whatever she can to get Trump out of office. In a press release, she wrote:
In protecting our Constitution and our Democracy, we will act with urgency, because this President represents an imminent threat to both. As the days go by, the horror of the ongoing assault on our democracy perpetrated by this President is intensified and so is the immediate need for action.
Let's get him out of the White House...STAT!
Is a huge cover up going on?
Photo: Alex Gakos/Shutterstock.com
​ ​
​ ​ ​