Dr. Dre's Estranged Wife Accuses Him Of Holding A Gun To Her Head Twice, Punching Her Face & Lifting Her By Her Neck Amid Divorce
​
Jan 13 | by _YBF
​ ​ ​ ​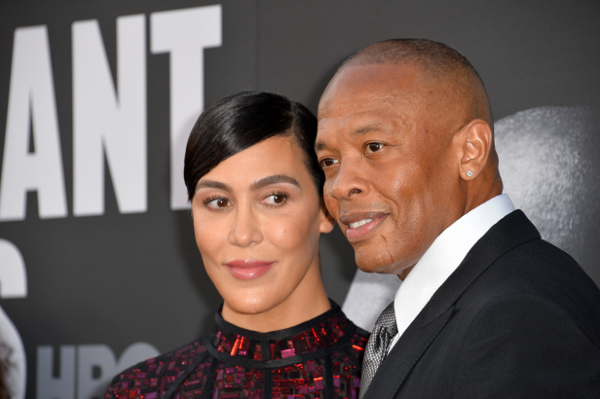 Dr. Dre's estranged wife, Nicole Young, filed new divorce documents detailing years of violent physical and emotional abuse that sounds very much like previous abuse accusations made about him from different women. The filing came days before Dr. Dre suffered a brain aneurysm. Deets inside….
Over the years, several women have come forward with abuse allegations against Hip Hop mogul Dr. Dre. Now, his estranged wife, Nicole Young, is adding her name to the list.
Days before Dr. Dre suffered a brain aneurysm, Nicole Young filed new paperwork in divorce court accusing him of physical abuse that occurred throughout their 24-year marriage. She filed for divorce from Dre in June 2020 and it keeps getting messier and messier by the month.
In the documents (obtained by Daily Mail), Nicole claims Dr. Dre (real name Andre Romelle Young) held a gun to her head TWICE, punched her in the face and head, and she also said he lifted her OFF the ground by her neck. Sheesh! She filed the documents in response to Dre's declaration last week where he made claims that "at no time did I abuse Nicole or threaten her physical safety."
Well, Nicole said those are "blatant lies."
In her response, she detailed the alleged physical and emotional abuse:
"I have explained in excruciating and painful detail the abuse that Andre has perpetrated against me over our more than 25 year-relationship," she said.

"Andre held a gun to my head on two occasions, on January 8, 2000 and November 20 2001,' she claimed. 'Andre has punched me in the head/face on two occasions, in 1999 and on January 8, 2000.

"Andre kicked down the door to a bedroom in which I was hiding from his rage in 2016," she added. "Andre has verbally and emotionally decimated my personhood to the extent that I currently suffer from post-traumatic stress syndrome."
In Dre's argument, he noted the police had never been called to their home for domestic violence while they were married, so he's innocent. In her own defense, Nicole agreed the cops were never called, but she said she never called because she was fearful of what he would do to her.
"Andre conspicuously omits the fact that the police were called in approximately September 1995, shortly before our marriage, after he slammed me up against a wall and lifted me off the floor by my neck.

"During our marriage, I considered calling the police several times but, as I fell deeper into the abusive relationship, my fear of Andre outweighed any confidence I had that the police could help me."

"'First, there is documentary evidence of his abuse which has been produced. Second, I have also offered extensive and painful testimony about Andre's relentless campaign of abuse and control over me for more than half my life. It is misleading, revolting and insulting for Andre to suggest that I have not been abused because, as a victim of relentless abuse and isolation, I did not create and maintain a contemporaneous record of the abuse inflicted on me."

"It is well known and accepted that most victims of domestic violence do not have documentary evidence of their abuse."
This week, Dre reportedly signed an agreement that he would pay Nicole a lump sum of $2 million in temporary support until their next court date in April. Before that, he had been paying Nicole $293,000/month in support. Nicole wants the courts to make Dre pay her almost $2 million/month in support, plus another $5 million in attorney fees. Nicole also accused Dre of "rampant, repeated marital misconduct."
As you know, Dre's estranged wife/ mother of his three children isn't the only woman who has accused the Beats by Dre honcho of physical abuse. Singer Michel'le opened up about the alleged physical abuse she endured at the hands of Dr. Dre before releasing her LIFETIME biopic that chronicled their relationship and her rise to fame.
Former Hip Hop journalist Dee Barnes also spoke out about how Dre physically attacked her in 1991 at a nightclub. She later revealed he also sexually assaulted her. Dee was blackballed from the industry following the incident.
One of Dre's former labelmate's also accused him of abuse. Tairrie B (Theresa Murphy) said he punched her in the face TWICE at a Grammy's afterparty in 1990.
You'll recall, he offered up that a** apology to "all of the women" he "hurt," but he likely only issued that statement since he was building his relationship with tech company, Apple.
What say you?!
As for Dre, he's still recovering from the brain aneurysm at Cedars-Sinai hospital in LA. Last week, he shared a post on Instagram updating his fans on his condition:
"Thanks to my family, friends and fans for their interest and well wishes. I'm doing great and getting excellent care from my medical team. I will be out of the hospital and back home soon. Shout out to all the great medical professionals at Cedars. One Love!!," he wrote.
A few days ago, rapper/actor Ice-T spoke with Dr. Dre and shared another update with Hip Hop fans about his condition:
I just talked to the homie @drdre He's doing good and hopefully he'll be home soon.. But let's keep him in our prayers. For a full recovery. pic.twitter.com/dA5Nhk7rNN

— ICE T (@FINALLEVEL) January 11, 2021
"He's doing good and hopefully he'll be home soon.. But let's keep him in our prayers. For a full recovery," Ice-T wrote.
Hours after news broke that Dre was in the hospital, Dre's house was targeted in an attempted robbery. Sheesh.
Photo: Featureflash Photo Agency/Shutterstock.com
​ ​
​ ​ ​