Kyrie Irving Gifts George Floyd's Family A HOUSE! + Stephen Jackson Shares How Floyd's Young Daughter Is Doing
​
Jan 19 | by _YBF
​ ​ ​ ​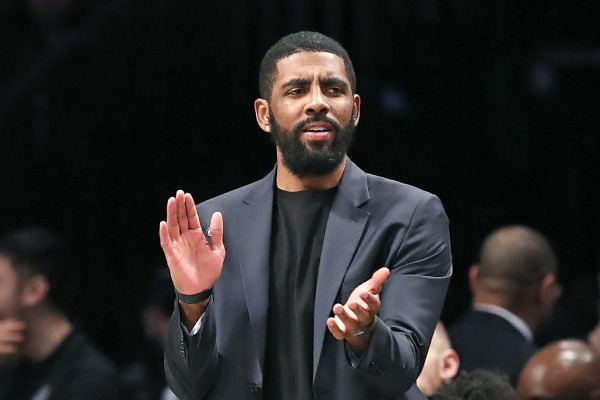 NBA baller Kyrie Irving secretly bought a home for George Floyd's family and Lil Baby paid for a birthday party for George's young daughter. Deets on celebs pitching in to help George's family, plus a dope interview George's "twin"/former NBA player Stephen Jackson gave about his life inside…
The NBA is looking out for the family of George Floyd, the 46-year-old Minneapolis man who was murdered on camera by (former) white police officer, Derek Chauvin.
NBA baller Kyrie Irving blessed the family of George Floyd in a MAJOR way. The Brooklyn Nets guard bought a house for George's family, according to former NBA star Stephen Jackson, who was actually close friends with George before he was murdered and affectionately called him his "twin."
During an inter on "The Rematch" podcast, Stephen shared several celebs have stepped up to help George's family.
"Kyrie Irving bought them a house. Lil Wayne's manager bought them a Mercedes-Benz. Barbra Streisand gave them stock in Disney," Jackson said.
As for George's 6-year-old daughter, Stephen said he had been planning a party for George's young daughter, Gianna Floyd, and rapper Lil Baby heard about it. He decided to pay for the party even though Stephen already had everything squared away.
"She just had a birthday party here in Atlanta. I had been planning this party and some kind of way Lil Baby heard what I was doing for her and came and offered to pay for the party, which was cool on his behalf. He didn't have to do it. I have money. We was straight. But the fact that he wanted to do it just to make her birthday a success, I appreciate that."
Stephen said George's daughter is doing good and that they are working to make her "next days her best days."
"I think the fact that she's getting so much love, not just from us, but from people all over the world. I'm just continuing to do what I said I was going to do. I said I was going to be my brother's keeper and take care of his daughter. Make sure that her next days are her best days," he said.
The former NBA star said they're just waiting to get the trial out of the way so that she doesn't have to keep reliving the horrific events that led to her father's death.
Telling folks how he really feels, Stephen also revealed he doesn't see "eye-to-eye" with attorney Ben Crump, who is representing the family of George Floyd. He said he believes everything Ben does is for "personal gain" and he doesn't concern himself with "actually winning" cases. Stephen said Ben gets the money (from the families he's representing) and doesn't worry about actually winning any of the cases he argues since he got paid first. Yikes.
Check it at the 25-minute mark below:
Former Minneapolis police officer Derek Chauvin will be tried separately from the other three ex-officers involved in the case. He's expected to stand trial alone in March in the murder of George Floyd and the other three former officers will go on trial together in late summer.
#KyrieIrving has committed to donate $1.5 million to help #WNBA players who opted out playing the rest of this season. Swipe up in Stories or click the link in our bio for more! https://t.co/nNSigZv5wt pic.twitter.com/c8hUX3QTnV

— YBF CHIC (@TheYBF) July 28, 2020
The Nets baller has been on a giving back spree! When the NBA decided to play in the Orlando Bubble, he opted NOT to play and donated $1.5 million of his salary to help out WNBA players who opted out of playing in the bubble. He also donated $323,000 to Feeding America and he paid off the tuition for nine HBCU students through KAI Family Foundation. Sweet!
In sports news...
If you haven't heard, Kyrie has missed the last seven games for the Brooklyn Nets. The reason? He was cited for violating the NBA's COVID-19 safety protocols and was fined a cool $50,000 after video of him attending a birthday party indoors surfaced. He also went MIA for a while "for personal reasons".
Photo: AP Photo/Kathy Willens
​ ​
​ ​ ​