Trump Pardons Over 140 People Before Leaving Office, Including Lil Wayne, Kodak Black & Ex-Detroit Mayor Kwame Kilpatrick
​
Jan 20 | by _YBF
​ ​ ​ ​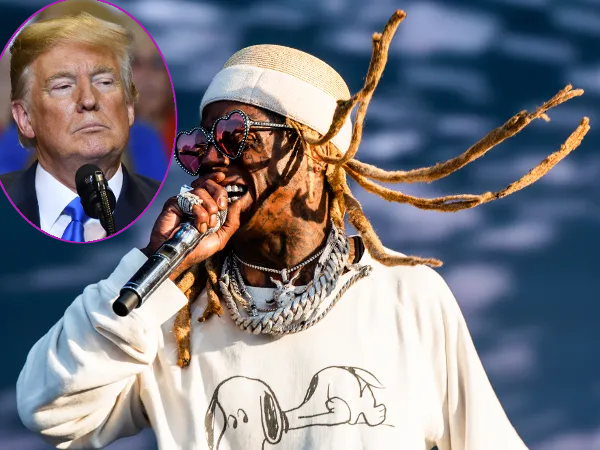 Trump has pardoned over 140 people before he officially left the White House. Rappers Lil Wayne and Kodak Black, along with ex-Detroit Mayor Kwame Kilpatrick, received pardons. More inside…
Trump is no longer the President of the United States. And most of us are thankful for it.
Before midnight, Trump commuted the sentences or pardoned 143 people during his 11th hour of presidency and some Hip Hop names were in the mix. The White House staff met over the weekend to compile the list, which was vetted by senior advisers. He ended up issuing pardons to 73 people and commuted the sentences of 70 people.
Lil Wayne is thanking his lucky stars after receiving a pardon from Trump. It seems his plan worked out exactly how he wanted it to. Promote Trump in exchange for a pardon, at least that's what appears to be the case for anyone with eyes.
The New Orleans native pleaded guilty last month after he was charged with criminal possession of a weapon when his chartered jet landed in Miami in December 2019. He had a hearing on January 28th in Miami where he faced up to 10 years in prison.
Weezy hopped on Twitter to thank Trump for his pardon:
I want to thank President Trump for recognizing that I have so much more to give to my family, my art, and my community. I also want to thank @bradfordcohen for working so diligently to secure another chance for me. Love!

- Dwayne Michael Carter Jr.

— Lil Wayne WEEZY F (@LilTunechi) January 21, 2021
A few months ago...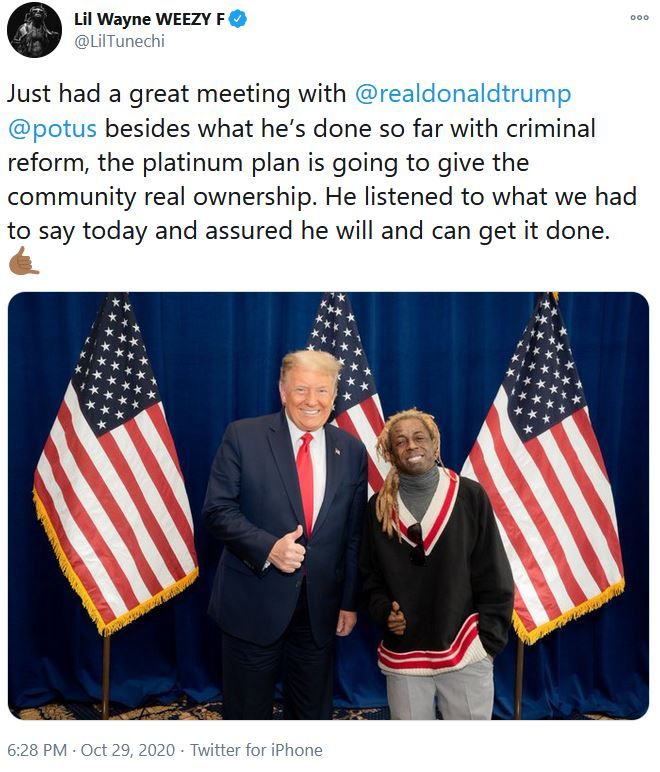 Days before the 2020 presidential election, the Young Money honcho - who can't even vote - met with Trump to discuss his proposed "Platinum Plan" for black economic empowerment. Weezy shared a picture of himself all smiles standing next to Trump, calling the plan "great."
Black Twitter ripped him to shreds for the clout-chasing (and clearly strategic) photo-op. Catch up HERE.
Rapper Kodak Black – who's currently incarcerated – has had his sentence commuted by Trump. You'll recall, Kodak praised Trump on social media before the 2020 election from behind bars. He's currently serving a 48-month sentence in prison on federal weapons charges in 2019. Kodak thanked Trump via Twitter:
I Want To Thank The President @RealDonaldTrump For His Commitment To Justice Reform And Shortening My Sentence. I Also Want To Thank Everyone For Their Support And Love.
It Means More Than You Will Ever Know. I Want To Continue Giving Back, Learning And Growing. @DanScavino

— Kodak Black (@KodakBlack1k) January 20, 2021
Kodak previously tweeted he would donate $1 million to charity if Trump pardoned him, but he ended up deleting the post. Not only that, he has been busy reposting tweets that call for Trump to commute his sentence.
BREAKING: The full pardon list is here:

notable names:

Kwame Kilpatrick
Lil Wayne
Kodak Black
Steve Bannonhttps://t.co/79ai73lbVQ

— philip lewis (@Phil_Lewis_) January 20, 2021
It's interesting. Two rappers who have been vocal about berating black women - the main group responsible for getting Trump TF out of here - being rewarded by a man who likely just learned their names a couple months ago.
Trump commuted the sentence of ex-Detroit Mayor Kwame Kilpatrick, releasing him from prison 20 years early for public corruption crimes he was convicted of in 2013. He served seven years of a thirty year sentence.
Trump also pardoned Roc Nation CEO Desiree Perez. In 1994, Desiree was arrested in 1994 for drug possession and in 1998 for grand larceny and possession of a firearm. In 2019, she was named CEO of Jay-Z's Roc Nation.
"Ms. Perez was involved in a conspiracy to distribute narcotics," the White House's statement said. "Since her conviction, Ms. Perez has taken full accountability for her actions and has turned her life around. She has been gainfully employed and has been an advocate for criminal justice reform in her community."
Former zoo operator Joe Exotic (real name Joseph Allen Maldonado-Passage) thought Trump was going to commute his sentence, but he was sadly mistaken! The star of Netflix's "Tiger King" had his team park a limo near the Texas prison he's in to pick him up as soon as Trump granted him a pardon, but it never happened.
This is the stretch Limo standing by at #JoeExotic Fort Worth Lawyers office. I'm told they're waiting on a call from the White House confirming the presidential pardon before heading to pick him up at the prison. @CBSDFW pic.twitter.com/1tJzQHefxD

— Ken Molestina (@cbs11ken) January 19, 2021
Womp.
Joe Exotic is one year into his 22-year sentence for creating a murder-for-hire plot against his rival, Carole Baskin, and killing five tigers.
Other people on Trump's pardon list includes his former chief strategist Steve Bannon, who is being prosecuted for fraud. No surprise there. Most of the list included white-collar criminals, politically-connected allies and friends and those who have endorsed Trump in the past. Again, NO SURPRISE.
CNN reports:
Many of the people Trump has chosen to pardon so far fall along predictable lines: associates such as Roger Stone and Michael Flynn who remained loyal to him through their legal troubles; criminals with friendly or familial ties to the administration, such as Jared Kushner's father Charles; celebrities or people connected to celebrities, such as Rod Blagojevich; and those whose cause was taken up by conservative media, such as Blackwater security guards who massacred Iraqi civilians.
While Trump's clemency list will not be highest of his recent predecessors, it'll likely be the most controversial.
We know a few people Trump did NOT pardon: Himself, his kids, and his son-in-law Jared Kushner. Trump's personal lawyer Rudy Giuliani was also missing from the list.
Trump waited until the last and final minute to release the names on his pardon list.
Also...
For his final address, Trump released a videotaped farewell message to wrap up on his presidency. Of course, he bragged about all the great things he did for the economy and foreign policy achievements.
In response to base of followers, he told them that "the movement we started is only just beginning." He didn't mention President-elect Joe Biden by name, but he extended "best wishes" to the new administration.
"As I prepare to hand power over to a new administration at noon on Wednesday, I want you to know that the movement we started is only just beginning," he said. "There's never been anything like it. The belief that a nation must serve its citizens will not dwindle but instead only grow stronger by the day."

"This week we inaugurate a new administration and pray for its success in keeping America safe and prosperous," Trump said. "We extend our best wishes, and also want them to have luck, a very important word."
Translation: Black people, STAY WOKE! Peep the clip above.
BYE-DEN! Good riddance. We never want to see you in office ever again. Let's keep our fingers crossed this impeachment plays out like it SHOULD for the sake of the American people.
Photos: Ted Alexander Somerville/ Evan El-Amin/Shutterstock.com
​ ​
​ ​ ​