At Just 22-Years-Old Amanda Gorman Is The Youngest Inaugural Poet In U.S. History, Pays Homage To Poet Icon Maya Angelou
​
Jan 20 | by _YBF
​ ​ ​ ​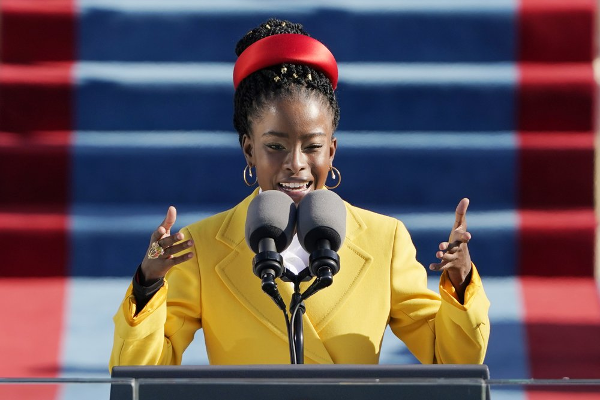 Talk about a breath of fresh air of #BlackGirlMagic! 22-year-old Amanda Gorman delivered a poem that amazed the world and she also paid homage to poet icon Maya Angelou, who came before her. Celebrate this bomb YBFer inside…
What a wonderful day to be a black woman! Watching all of the women take center stage during Inauguration Day warmed our hearts.
After four years of turmoil, the light at the end of the tunnel has arrived. And it came as a 22-year-old Los Angeles native.
Amanda Gorman took the stage as President Joe Biden's inaugural poet and she made HERstory. The 22-year-old YBF literary star became the youngest inaugural poet in U.S. history today at President Joe Biden & VP Kamala Harris' swearing-in at the U.S. Capitol. She's also the first national poet laureate in America, gaining the title in 2014.
She delivered an empowering poem titled, "The Hill We Climb."
Now, she's a part of a small group of poets who have been called on to help mark a presidential inauguration, including Maya Angelou, Robert Frost, Miller Williams, Elizabeth Alexander and Richard Blanco.
The young poet followed in the footsteps of late literary icon Maya Angelou, who delivered her poem "On the Pulse of Morning" at the first inauguration of President Bill Clinton on January 20, 1993. Amanda paid homage to Maya Angelou by accessorizing her Inauguration Day look with a ring shaped like a caged bird, a tribute to Angelou's famous poem, "I Know Why the Caged Bird Sings."
I have never been prouder to see another young woman rise! Brava Brava, @TheAmandaGorman! Maya Angelou is cheering—and so am I. pic.twitter.com/I5HLE0qbPs

— Oprah Winfrey (@Oprah) January 20, 2021
Turns out, media mogul Oprah gifted the ring – along with a pair of earrings – for Amanda to wear with her Prada look to carry out a tradition. Lady O's bestie/"CBS This Morning" co-anchor Gayle King spilled the tea about how the tribute came about during CBS News' live broadcast:
"Maya [Angelou] did Bill Clinton's address. She reached out to Amanda because [Winfrey] bought Maya her coat that she wore that day," King explained. "She said, 'I'd like to get a coat for you to carry on that tradition.'"

"[Gorman] said, 'I've already picked out my coat. It's yellow. It's my favorite color.'" So instead of a coat, Winfrey gave Gorman earrings and "a ring that's shaped like a caged bird" as a tribute to Angelou's ionic poem, "I Know Why the Caged Bird Sings."
Nice!
In her poem, Amanda - a recent graduate of Harvard University - called for "unity" and she didn't shy away from addressing the violent insurrection against the Capitol two weeks ago.
"We've seen a force that would shatter our nation rather than share it. Would destroy our country if it meant delaying democracy.And this effort very nearly succeeded. But while democracy can be periodically delayed, It can never be permanently defeated.

"We lift our gaze, not to what stands between us, but what stands before us. We close the divide because we know to put our future first, we must first put our differences aside," she said.
Amanda delivered words that invoked hope and a sense of purpose during a time where Americans are struggling to live a normal life during the COVID-19 pandemic, police brutality and partisan division. She did an amazing job.
Watch her moving poem below:
Forever First Lady Michelle Obama gave Amanda a big hug after her poem:
Former first lady Michelle Obama hugs Amanda Gorman, who made history today as the youngest poet in recent history to read at a presidential inauguration: https://t.co/2pnC6CISOp pic.twitter.com/GUr5LUkRnm

— ABC News (@ABC) January 20, 2021
Amanda nabbed pics with Forever President Barack Obama Forever FLOTUS, former president Bill Clinton & former First Lady Hillary Clinton. And she was freaking out: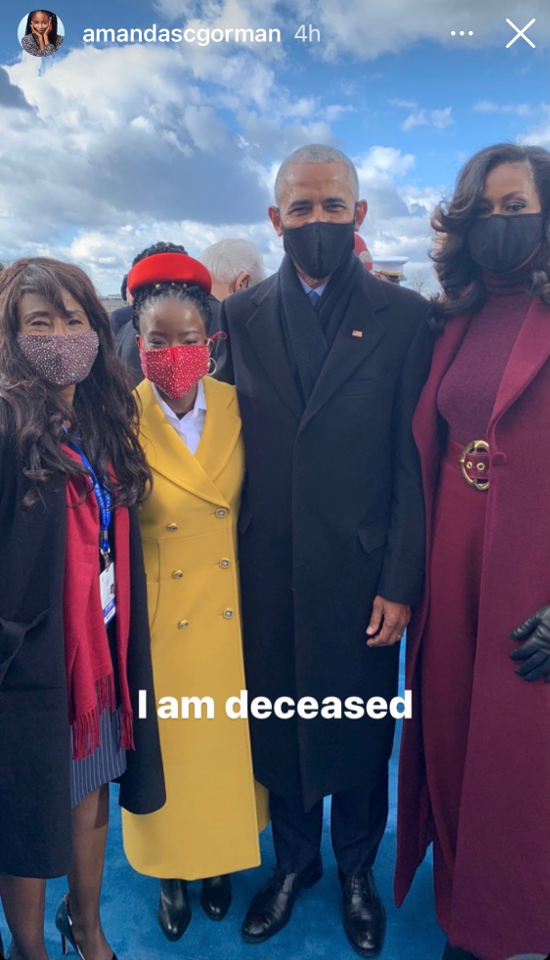 Aww! We feel you, girl!
After delivering her poem, she thanked Oprah for the special gift on Twitter:
Thank you! I would be nowhere without the women whose footsteps I dance in. While reciting my poem, I wore a ring with a caged bird—a gift from @Oprah for the occasion , to symbolize Maya Angelou, a previous inaugural poet. Here's to the women who have climbed my hills before. https://t.co/5Tegd20sko

— Amanda Gorman (@TheAmandaGorman) January 20, 2021
A grateful queen.
Check out this interview Amanda did with "CBS This Morning" where she talked about how powerful poetry can be in politics below:
"Poetry is a weapon" - a favorite @TheAmandaGorman quote from our interview today on @CBSThisMorning - she certainly used it as a weapon today (in the best way) at the #Inauguration2021 #AmandaGorman #JoeBiden pic.twitter.com/WVCNkht8Kj

— Anthony Mason (@AnthonyMasonCBS) January 20, 2021
We'll be keeping an eye on her!
Photos: Saul Loeb/Pool Photo via AP
​ ​
​ ​ ​