INAUGURATION DAY! Biden & Harris Sworn In + The Obamas Were A Major Flex + Heroic Capitol Officer Escorts VP Harris + Dior 1s Sneakers Trend
​
Jan 20 | by _YBF
​ ​ ​ ​
We've rounded up all of the Inauguration Day festivities from Biden/Harris getting sworn in, to the Obamas shutting ish down, love being shown to Eugene Goodman - the heroic Black Capitol police officer during the riot, to Dior x Air Jordan 1s trending on social media. Get it all inside…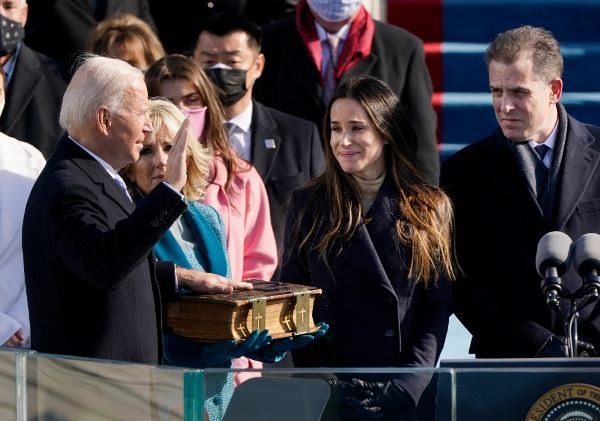 A spirit of unity filled the air in Washington, D.C. today two weeks after turmoil erupted when Trump supporters carried out a violent attack against the U.S. Capitol. It was a peaceful transfer of power to kick off a new era in America.
Joe Biden was sworn in and became the 46th president of the United States. He used a 19th century family Bible to be sworn in. The huge Bible is a family heirloom that has been in the Biden family since 1893.
In his inaugural address, President Biden called for the American people to come together after four years of division.
"Politics doesn't have to be a raging fire destroying everything in its path," Biden said. "We have to be different than this. America has to be better than this. I will be a president for all Americans," Biden said. "I will fight as hard for those who did not support me as those who did."
Watch Biden be sworn in and his inaugural speech below:
Biden also put up his first social media post as President:
"Let's get to work," Biden captioned a picture of himself.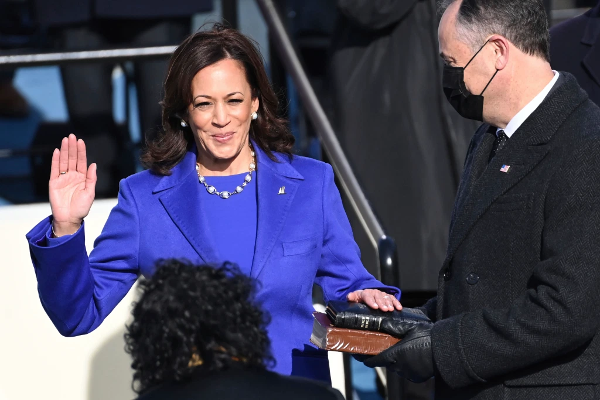 Kamala Harris was sworn in as the Vice President of the United States, making history as the first Black person, first South Asian-American and first woman to ever hold the office. She's also the first HBCU grad and first member of a Black sorority to do so.
Justice Sonia Sotomayor - the first woman of color to serve on the Supreme Court - administered the oath. VP Harris used two Bibles to be sworn in. One belonged to family friend Regina Shelton (whom Harris views as a surrogate mother). The second Bible was previously owned by the late Justice Thurgood Marshall, the first Black Supreme Court Justice and Harris' lifelong political role model.
Watch Madame VP Harris get sworn in below:
Woot!
And here are Kamala's first social media posts as Vice President:
Forever President Barack Obama and First Lady Michelle Obama were an entire FLEX!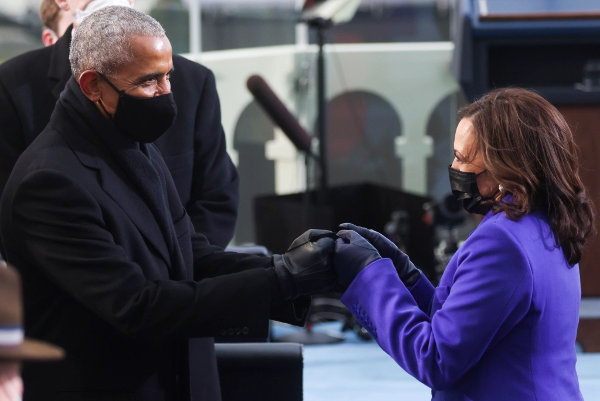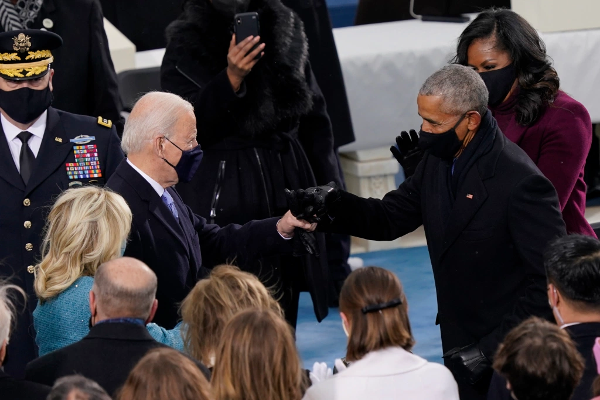 The power couple looked like royalty as they made their grand entrance:
It's the Kamala Harris Michelle Obama #Inauguration fist bump for me!pic.twitter.com/9h2kW1odYY

— It's Madam Vice President Harris to YOU! (@flywithkamala) January 20, 2021
The Obama-Biden Presidential fist bump pic.twitter.com/3oQ5OWubCs

— gifdsports (@gifdsports) January 20, 2021
Fist bumps for everyone!
Jennifer Lopez hit the stage to perform a melody of "This Land Is Your Land" and "America the Beautiful" along with a little "Let's Get Loud" thrown in. Peep her performance below:
Let's get loud... for our next president and vice president of the United States!

Thank you @JLo for coming and being a part of this historic moment! #InaugurationDay pic.twitter.com/nNNtqk7pRC

— Biden Inaugural Committee (@BidenInaugural) January 20, 2021
Lady Gaga served up a performance of "The Star Spangled Banner." Check it:
Here's Lady Gaga's stunning National Anthem in full.#InaugurationDay pic.twitter.com/kox1wGXlK4

— The Recount (@therecount) January 20, 2021
After the inauguration ceremony, President Biden & Madame VP Harris traveled from the U.S. Capitol to the Arlington National Cemetery to participate in a wreath-laying ceremony at the Tomb of the Unknown Soldier. Biden-Harris was joined by former Presidents Obama, Bush and Clinton, and the former first ladies.
Then, everyone hopped into limos for the inaugural parade, followed by the family walk to the White House:
President Biden, first lady Dr. Jill Biden and their family walk to the White House during the inaugural parade.⁠
⁠
Doug Mills / The New York Times via AP pic.twitter.com/l7ZJYtMQog

— NBC News (@NBCNews) January 20, 2021
WATCH: President Joe Biden runs over to NBC News' Al Roker on final portion of the inaugural parade. @AlRoker: "How does it feel, Mr. President?"@JoeBiden: "It feels good." pic.twitter.com/XcvU9xUW3H

— Meet the Press (@MeetThePress) January 20, 2021
The inaugural parade down Pennsylvania Avenue featured drumlines from the University of Delaware and Howard University to honor the alma maters of the new president and vice president. Howard's Band was LIT:
WATCH: Howard University's Showtime Marching Band escorts VP Harris to the White House. pic.twitter.com/v9GhrWBOgN

— NBC News (@NBCNews) January 20, 2021
Kamala Harri's great-nieces – Amara & Leela Ajagu – wore matching coats to honor her at the inauguration.
Kamala's great-nieces (daughters of her niece Meena Harris) wore custom fur coats that looked similar to the one their great-aunt wore in a throwback picture. Swipe above and peep the pics below.
Vice President Kamala Harris with her nieces and family walking to the White House #Inauguration pic.twitter.com/mF423oCqqr

— Stephanie Guerilus (@qsteph) January 20, 2021
Adorbs!
Speaking of Kamala's family…
Love it VP KAMALA Harris' nieces and her brother in law with the inauguration drip pic.twitter.com/l34MFtOgVw

— TUNA?!? Iont Eat No Dammm Tuna (@Org_Marsha) January 21, 2021
Nikolas Ajagu, the partner of Vice President Kamala Harris' niece, Meena, rocked a pair of d Dior x Air Jordan 1 sneakers, which are limited edition and have been reselling for over $10,0000. Once sneaker heads caught the coveted sneakers, Dior 1s started trending on Twitter.
Yes smh

— Meena Harris (@meenaharris) January 20, 2021
The entire sneaker community when they saw a pair of Dior 1s in the inauguration #InaugurationDay pic.twitter.com/OZFeaTfYLY

— Le Quack (@akaSosa13) January 20, 2021
Ha!
Also…
Capitol police officer Eugene Goodman - who defended the Capitol building and the Congresspeople inside during the Insurrection - escorted VP Kamala Harris into today's Inauguration. He has also received a promotion to Deputy Sergeant at Arms.
The man who saved the Senate.

Standing ovation and cheers for a true hero, Officer Eugene Goodman. pic.twitter.com/MtmQIr6gZk

— Rep. Jason Crow (@RepJasonCrow) January 20, 2021
A true hero.
In case you missed, you can watch Inauguration Day in its entirety below:
Photos: Carolyn Kaster/ Saul Loeb/ Patrick Semansky/Jonathan Ernst/Pool Photo via AP
​ ​
​ ​ ​