YFN Lucci Asks Judge For Bond (After Being Denied) 'To Support His Kids & Mom' Amid Murder Investigation, GF Reginae Says He'll Be Home Soon
​
Jan 22 | by _YBF
​ ​ ​ ​
YFN Lucci is asking a judge to grant him a "reasonable bond" so he can continue to provide for his four children and his mother amid a murder investigation involving a member of his crew. More inside…
After turning himself in to police for a murder charge a little over a week ago, rapper YFN Lucci is asking a Georgia judge to grant him a "reasonable bond" so he can continue to financially take care of his four young children and his mother.
As previously reported, the "Everyday We Lit" rapper (real name Rayshawn Bennett) is currently being held in Fulton County Jail after he was brought up on several charges, including felony murder, aggravated assault, participation in street gang activity and possession of a firearm during the commission of a felony.
You'll recall, his bond was originally denied shortly after turning himself in:
@YFNLUCCI denied bond during his 1st court hearing #YFNLucci #TheSavageRoom #Savage pic.twitter.com/76KsT6jjcs

— The Savage Room (@The_SavageRoom) January 15, 2021
In new legal documents (obtained by TMZ), Lucci asked the judge to set a "reasonable bond" for him to be released so he can get back to work and continue providing for "four underaged children whom he financially supports." The 28-year-old rapper provides a home in Fulton County, GA for his mother.
Other reasons he feels he should be released is that he has no felony criminal record and he feels he's not a flight risk. He argued he "poses no significant threat or danger to any person, to the community, or to any property in the community."
Umm...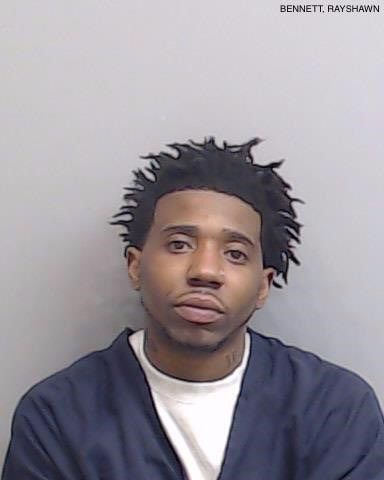 On December 10th, Atlanta police officers reportedly responded to calls of a person shot around 5:20pm. The police found 28-year-old James Adams lying in the street with a gunshot wound to his head after he was "manually ejected" from a white SUV. He was rushed to the hospital where he died.
Turns out, James Adams was a part of Lucci's crew. The police said they have a video before the shooting where James was allegedly heard saying, "We're fitting to f*** this city up, man!" and "yeah, we're f***ing this city up!"
Lucci and his homies were riding around ATL when they drove into a portion of the city controlled by another gang. According to the police, the SUV "entered an oncoming lane of traffic and stopped on the left shoulder, allowing Adams and the front passenger of the vehicle, Ra'von Boyd, to fire multiple gunshots from assault rifle style firearms at people in the rival gang territory."
After the shootout, Adams body was thrown out of the SUV and left in the street. A disturbing 9-1-1 call featured a woman who stumbled upon his body while walking down the street. She said she saw his body being thrown from the white SUV before "taking his last breath." Adams was reportedly shot in the head by the return fire.
Another man – Kevin Wright (not from Lucci's crew) – also sustained a gunshot wound. The 32-year-old was driven to the fire station by private vehicle with a gunshot to his abdomen.
Police were looking for three suspects in the murder investigation. The other two suspects, 23-year-old Ra'von Boyd and 17-year-old Leroy Pitts, were arrested before Lucci turned himself in.
Meanwhile...
Lucci's girlfriend Reginae Carter – who recently reunited with him – gave an update about her man from behind bars on social media. She said he wanted everyone to know he's in "good spirits" and he's "doing well." Lil Wayne's daughter also said "he'll be home soon."
We're not sure about "soon," but we'll see….
After Trump pardoned Lil Wayne, folks have been cutting up with the memes:
Photos: Lucci's IG/Fulton County Police Department
​ ​
​ ​ ​