DJ Spinderella Opens Up About Being Shut Out From Salt-N-Pepa's LIFETIME Biopic
​
Jan 23 | by _YBF
​ ​ ​ ​
DJ Spinderella breaks her silence before the premiere of Salt-N-Pepa's LIFETIME biopic. She said she's "disappointed" she was excluded from any involvement in the film. More inside…
Before the premiere of Salt-N-Pepa's LIFETIME biopic, the third member of the Grammy Award winning group is speaking out.
Yesterday, DJ Spinderella (real name Deidra Muriel Roper) took to social media to share her feelings about the upcoming LIFETIME biopic about the trailblazing female rap group, Salt-N-Pepa. The group's DJ said she was "disappointed" that she was shut out from "every aspect of development and production," especially when her likeness was used since she had an integral role in the group.
"Sorry but I gotta speak on this Lifetime special…," she started off tweeting.
Spin said she never thought the group who helped lift her up would also tear her down.
"Too often, Black women who have made meaningful contributions in their industry are left out of historical narratives. Back when Salt n' Pepa was building our legacy, which is rooted in empowering women, I could not have dreamed that this same group would one day disempower me," she tweeted.
"Words cannot fully express my disappointment when I learned a decision was made to move forward with a Lifetime biopic that wrongfully excluded me from every aspect of development and production… all the while using my image throughout, given that I played an integral role in the group's story and success."
Spin said she wished she could have met the actress who plays her in the biopic – Monique Paul – so she could have shared her P.O.V.
"There's nothing more unacceptable than a woman being silenced by another woman.
"It is for this reason, I will not be supporting it. I do, however, want to offer a huge congratulations to the talented actresses that represented us, including Monique Paul, who I wish would've been given an opportunity to share my true perspective with."
The famed DJ said she's finishing up her memoir that'll chronicle her personal journey navigating through life, relationships, and the music industry.
Peep her tweets below: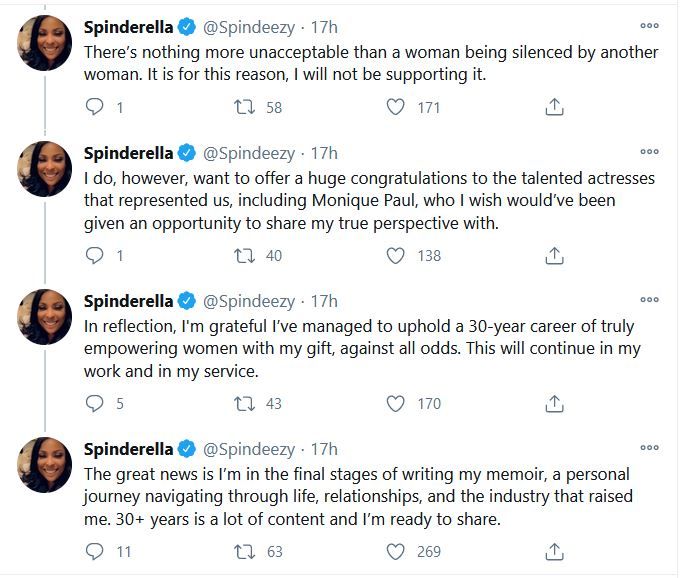 She also shared the message on her Instagram:
In May 2019, DJ Spinderella revealed she had been "fired" from the legendary Hip Hop group and kicked off their tour. She joined the group in 1987.
Two months later, Spin pulled the trigger on a lawsuit against her bandmates. She filed a breach of contract lawsuit in federal court in Texas against her former bandmates, Cheryl "Salt" James and Sandra "Pepa" Denton. She was seeking unpaid royalties for Salt-N-Pepa's 1999 Best Of album and royalties from the last ten years.
The federal suit states, "Roper was suddenly informed — in an unexpected telephone call from Denton — that James, 53, and Denton, 52, were holding the sum of $125,000 that would be paid to Roper. No such payment of $125,000 was subsequently made to Roper."
Spin also made claims that she was excluded the group's VH1 show "Salt-N-Pepa Show" in 2007 that chronicled the group's rise to fame. She said she was supposed to receive 1/3 of the funds, however, she was limited to just guest spots and was paid way less than the agreed upon amount. Spin agreed to appear at the 2018 Billboard Music Awards and said she was not paid. She also revealed SoundExchange, the company responsible for the distribution of royalties to artists, shared her groupmates received over $600,000 over the past decade and she hasn't received a dime.
After she filed the lawsuit, Cheryl & Sandra responded, saying she was bitter.
Salt-N-Pepa made a stop on "The Breakfast Club" this week where they were asked about the status of the lawsuit. Apparently, the ladies settled in mediation.
"It's gon' cost us $50,000 every time we say that name," Pepa said jokingly as she laughed. Salt then chimed in, "our lawsuit has been settled, it actually went to mediation."

"We wish Spinderella the best, we're open to what can happen in the future. I've reached out, I haven't gotten anything back, you know. But I still — my heart is open," Salt added.
You can listen to their full interview below:
It sounds like a reunion isn't completely off the table, so hopefully the ladies can at least hash things out behind the scenes and be cool.
"Salt-N-Pepa" premieres tonight at 8/7c on LIFETIME. Will you be watching?
Photo: DFree / Shutterstock.com
​ ​
​ ​ ​