ICYMI: Jennifer King Becomes 1st Full-Time Black Female Coach In NFL History! Washington Football Team Makes Her Offensive Assistant
​
Jan 24 | by _YBF
​ ​ ​ ​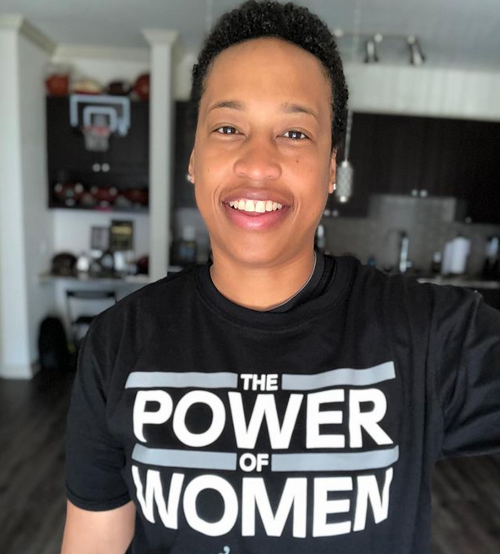 In addition to our first female Vice President, we now have our first full-time black female coach in the NFL! Celebrate Jennifer King's huge accomplishment inside…
Football heads better put Jennifer King on your radar!
Jennifer King has quite the resume. She played professional basketball in Australia, she served as a police officer, she was an assistant basketball coach at Greensboro College, and she played quarterback on a professional women's team, the Carolina Phoenix.
Now, Jennifer has a new gig that has landed her in the NFL's history books. She was recently promoted from intern to a full-time offensive assistant coach by the Washington Football Team. The new position makes her the first full-time Black female coach in NFL history. WOOT!
When they drop the @JohnCena music during pregame haha! #youcantseeme #playofftime pic.twitter.com/9bx8o1eIBQ

— Jennifer King (@JenniferKing5) January 9, 2021
It's been quite the journey. The Washington Football Team's head coach Ron Rivera hired her as an intern where she served almost a full-year before she was promoted. Ron Rivera first hired Jennifer as an intern with the Carolina Panthers back in 2018 when he was the head coach of the Panthers. She helped with coaching running backs for two seasons before Rivera hired her again – this time with Washington in February 2020. She was also an assistant wide receivers coach with the Arizona Hotshots in the Alliance of American Football.
So, as you can see, the Guilford College grad is more than qualified for her new position as offensive assistant. Her responsibilities will be similar to those of Katie Sowers, the San Francisco 49ers offensive assistant who in February became the first woman to coach in the Super Bowl.
Successful culture is driven by forward thinking, diversity and inclusion. https://t.co/REUpFzMHz3

— Jennifer King (@JenniferKing5) January 8, 2021
During an interview with the Washington Post last year, Jennifer opened up about how she landed the gig:
"I think the ultimate drive for me is to be successful and great at whatever I was doing," Jennifer said. "I think that drive is what got me here."
Jennifer is now the fourth full-time female staff member in league history. The number of female coaches has increased over the years, which is a step toward inclusion and diversity, two things the NFL has struggled with.
A direct testament to forward thinking head coaches and front office personnel willing to look at the entire talent pool to help build sustainable winning cultures which I feel ultimately leads winning games. https://t.co/THhH7xYj59

— Jennifer King (@JenniferKing5) January 5, 2021
In September, something major happened in football: It was the first NFL with females on both sidelines. The girl group consisted of Jennifer King with Washington, Cleveland Browns' chief of staff Callie Brownson and Sarah Thomas, a female official who will also be a part of the Super Bowl crew.
As for the post-season, the NFL Wild Card matchup between Washington and Tampa Bay marked the first post-season game with female coaches on both sides: Jennifer with Washington, along with Buccaneers coaches Lori Locust (assistant defensive line coach) and Maral Javadifar (assistant strength and conditioning coach).
We told y'all the future is female.
Last year, the Washington Football Team was at the center of a sexual assault scandal when former cheerleaders spoke out about being sexually harassed and assaulted. Former employees also spoke out about the toxic work environment in the front office of the organization. Ron Rivera vowed to change the culture of the team.
Since then, the team has been trying to clean up their image. One way they're doing it is by hiring minorities. In August 2020, the team hired Jason Wright as president, making him the NFL's first Black team president and the youngest in the league. A few days ago, the Washington Football Team hired Martin Mayhew – a black man – as its new general manager.
If you didn't know, the Washington Football Team was the last team in the NFL to hire a Black player. And they only hired Black players after original owner George Preston Marshall was threatened by the government to do so. Hmph.
Major congrats, Jennifer King!
Photo: Jennifer's IG
​ ​
​ ​ ​