Keyshia Cole Apologizes After VERZUZ Battle Drama With Ashanti, Reportedly Caught COVID-19 Before Battle
​
Jan 24 | by _YBF
​ ​ ​ ​
The Keyshia Cole vs. Ashanti VERZUZ Battle finally went down after being delayed several times. However, it came with drama. Keyshia was over an hour late and fans were heated about it. She's now apologizing and explaining what was happening behind-the-scenes. There's also a report she tested positive for COVID-19 just eight days before the battle. Get it all inside…
The long awaited Keyshia Cole vs. Ashanti VERZUZ Battle finally went down, but it came with some drama.
The battle was postponed twice because Ashanti tested positive with Coronavirus and then a spike in positive cases caused the second scheduled date to get delayed. Third time was a charm, but it started off rocky as hell.
Eager fans logged on to IG and Apple Music to finally watch two of their faves play their hits, however, Keyshia Cole was late late. She didn't show up until an HOUR after the battle was supposed to begin, pissing fans off. Some thought the battle would get canceled a third time. As fans got antsy, Ashanti hit the stage to keep everyone entertained until Keyshia got ready.
Turns out, Keyshia wasn't "late" to the battle. She was there, but she was struggling with technical difficulties. Fans quickly noticed how she seemingly had a bad attitude when she did finally show up:
After having an attitude, being rushy and off the liquor during the whole night, taking constant breaks and not playing many of her most important hits.
This is the moment Keyshia Cole knew she lost the battle and the most important round... #20.#Verzuz #AshantiVsKeyshiaCole pic.twitter.com/uG3AZWTs5G

— Truthfully 'THE EXCEPTIONAL' Ruthless (@FullyCalibrated) January 22, 2021
Us: "fix your attitude "
Keyshia cole: "I don't have a attitude "#verzuzbattle #Verzuz #versuz pic.twitter.com/WkgnHPlWcp

— Call me Joedy (@JoedyVibes) January 22, 2021
I just don't like how keyshia came in the live with attitude like we was the ones late ion like det #KeyshiaCole #Verzuz pic.twitter.com/fMLukTkg56

— Joanna Banana (@jodgaff) January 22, 2021
In an IG Live, the "Love" singer apologized for being tardy. She said her screen was blurry and the WiFi connection wasn't great, so her sound was off as well. She didn't want the battle to go down like the Teddy Riley vs. Babyface battle.
"I want to apologize for not sitting my a** in that seat. OK? Because I was there and I should've sat down," she said. "I should've just sat in the seat no matter if I felt like the visual wasn't clear - they said my music wasn't gonna be right or whatever it was."

"I think, more so than anything, people wanted me to sit, be present...even though they didn't know that I was present," she continued.
Yeah. Actually sitting in the seat to let fans know you were actually there would have helped. She also could have just came on and explained they were having technical issues instead of not showing her face at all.
The "Let It Go" singer also wanted people to know that she was not "saucy" (drunk) during the battle. She said she didn't have anything to drink until towards the end of the battle because it's hard to sing while being intoxicated.
Peep her apology and explanation below:
The day after the VERZUZ, Keyshia's DJ admitted there were technical issues holding Keyshia up.
"She didn't wanna come out 'cause her screen was blurry," he told 97.9 The Box. "On her end, her screen was blurry. She was there on time. I seen everything. She was there, but she didn't wanna come out because the screen was blurry and stuff wasn't right, you know. We couldn't hear [Ashanti's] side, so it was a lot of technical stuff going on there."
Check it:
Now get this…
After the battle, Keyshia revealed she contracted COVID-19 just eight days before. She reportedly told TSR she tested positive for COVID-19 on January 13th and was unable to rehearse with the VERZUZ team, which likely contributed to the tech issues. The VERZUZ Battle went down January 21st.
We noticed Keyshia wasn't wearing a mask around people in the studio, including rapper OT Genasis. The CDC recommends people to quarantine for 14 days after testing positive or being exposed to the virus.
In her IG Live, Keyshia mentioned her "illness" had nothing to do with how the battle played out.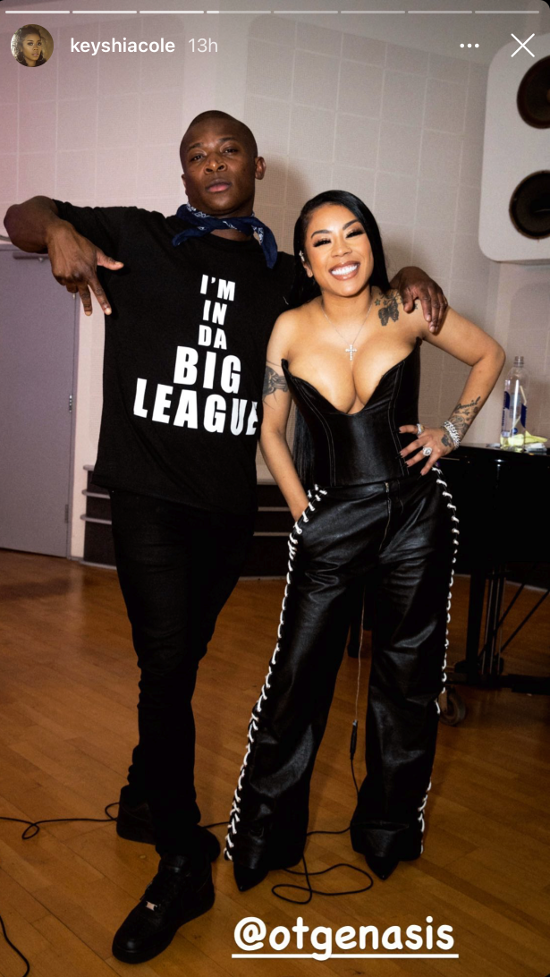 If you didn't know, Keyshia & O.T. had beef in the past. You'll recall, their weird beef started when O.T. released an off-key remix to Keyshia's hit track "Love," which he re-named "Never Knew."
During the battle, O.T. made a surprise appearance with a performance of "Love" with Keyshia:
O.T. Genesis really just hopped into Keyshia Cole and Ashanti's #Verzuz battle pic.twitter.com/9mNzTLyA1L

— XXL Magazine (@XXL) January 22, 2021
Ha!
Meanwhile, Ashanti was all glammed up for the battle:
Get into the details:
Slayed.
Despite the drama, the battle was a success. A HUGE success that broke a new record:
"The Keyshia Cole vs. Ashanti VERZUZ battle raked in over 8.1 million viewers across Instagram & Apple Music!"

"#VERZUZ does it again! More than 8.1 million people tuned in across Instagram and Apple Music to watch @Ashanti and @KeyshiaCole.

"We set a NEW RECORD with 6 million TOTAL Instagram Live viewers — 1.2M at one time !!"

"Thank you to everyone who tuned in (and waited) to watch the first VERZUZ of 2021. We appreciate each and every one of you!!!"
Sweet!
By the way, Ashanti dropped a new song titled "2:35 (I Want U)," which is currently available to stream on all major platforms. Keyshia will release a new single February 5th titled "I Don't Want To Be In Love."
Swipe through our gallery of hilarious memes that took over our timelines after the battle below!
Photos: Keyshia's IG/Ashanti's IG
​ ​
​ ​ ​