Andra Day Drops 39lbs, Starts Smoking & Drinking To Play Billie Holiday – 'I Asked God To Give Me Her Pain & Trauma'
​
Jan 26 | by _YBF
​ ​ ​ ​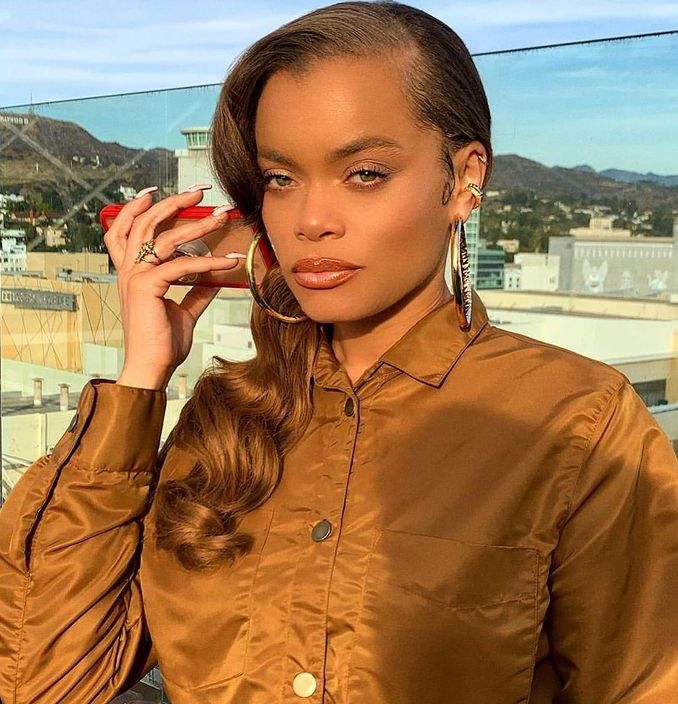 Andra Day went through a whole body and life transformation in preparation to play legendary jazz singer Billie Holiday. She dropped almost 40lbs, she started smoking, drinking and hardly ever coming out of her role in her real-life during filming. More inside…
There was a lot of preparation that went into Andra Day prepping for her first major movie role. The soulful songstress is set to play legendary jazz musician/civil rights activist Billie Holiday in Hulu's upcoming film, The United States vs. Billie Holiday, directed by Lee Daniels and written by Suzan-Lori Parks. Let's just say Andra totally switched up her lifestyle to really get into the role.
"I basically abused my body for a long time," Andrea told Leslie Odom Jr. (who plays Sam Cooke in Regina King's One Night in Miami) during one of Variety's Actors on Actors interviews. "I'm joking and not really joking."
In preparation, she lost 39 pounds. She also started smoking and drinking to force herself tap into character on a deeper level. She doesn't advise others to do it, but she went to the extreme because she wanted to slay her first major role.
"I got the role at the very top of 2018. Reading everything I could get my hands on. Listening to every interview. Apparently, I exhausted the internet of Billie Holiday photos. Apparently, the internet will tell you that you've reached the end. I put my family through it; I put myself through it. I went from 163 pounds to 124 pounds. I would talk like her and I don't drink or smoke, but I started smoking cigarettes and drinking alcohol. Not that I recommend people do this; I just was desperate because this is my first role. I just asked God to give me all of the pain and trauma. I asked him to give me her pain and give me her trauma."
It's one thing to play a character in a movie and then there's a higher level of wanting to perfect your performance when you're portraying someone who once walked this earth. Andra said she almost turned down the role because she wasn't confident she could pull it off. She opened up about that one thing this project gave her that she needed.
"Fear. As simple as that sounds, fear was a huge thing I had to work through. I had to work through and work with it as well. Because she had good reason to be afraid — the fact that she was singing "Strange Fruit" with everyone coming down on her. We're so used to protest songs now, right? We hear them all the time. We make them all the time. But we don't know what it's like to say, "If I sing this song tonight, I may not make it out of this club alive."
"I can self-sabotage. I'll find reasons why … and that's what I tried to do with this movie. I'm like, "Oh, the timeline doesn't work out. I don't know if the story's really for me." Every day on set was working through fear. And then using my fears to help me work through her fears of facing audiences, of facing the federal government, of facing her addiction and her pain and her trauma."

"Even if she had not had all that trauma in her childhood, it was traumatic enough to simply be Black back then. In order to stand on those stages and do those things, it was almost like she needed the battery in her back. She was trying more than to survive, but to thrive in virtually impossible circumstances."
Although Billie Holiday died in 1959, Andra said Billie visited her in her dreams and they held conversations.
"I did, and we've had conversations. It was comforting in a way that was problematic for me when we wrapped. It was something that I was not really willing to let go. And honestly, this year I felt myself sort of spiraling a little bit, trying to gain my bearings. It's what made me want to retire from acting after the first role. How do you do that, by the way?"
Sounds intense.
Peep clips from the interview below:
Andra Day talks taking on the role of Billie Holiday: "There was a lot of fear I had to work through just upon accepting the role and embarking on this insane journey" | #ActorsOnActors presented by @AmazonStudios pic.twitter.com/8EUWPk1f2k

— Variety (@Variety) January 23, 2021
Andra Day says Billie Holiday is her "foremost inspiration." "She is my biggest inspiration musically, everything, you know. And just her character, everything. But I never thought I would play her" | #ActorsOnActors presented by @AmazonStudios pic.twitter.com/jxnzkmqXFq

— Variety (@Variety) January 23, 2021
You can read Andra and Leslie's full interview here.
What's the craziest thing you've heard a celeb do to prepare for a role?
The United States vs. Billie Holiday is set in the 1940s New York City when the federal government was hunting Billie Holiday down for her drug use, but what they really wanted was for her to stop singing her controversial song, "Strange Fruit." Director Lee Daniels spoke with Deadline about how the movie's themes about racial injustice, police brutality and censorship are relevant today.
"This movie is more of a call to arms," Lee said during the Hulu film's panel at Deadline's Contenders Film awards-season event. "I'm not a politician. I'm not an activist. I'm a filmmaker. I'm a storyteller. I can only do my duty by telling stories that are in the ether."

"Through this story, we learn about her singing 'Strange Fruit,' which was about lynching Black people, and that the government didn't want her singing 'Strange Fruit.' They didn't want the story to be told," he said.
Watch the trailer for The United States vs. Billie Holiday below:
I am changed & forever grateful for for these people,, for this experience,, for her.
I love u Lady Day.

thank You Lord... walkin on water
Matthew 14:24-33@USvsBillie #USvsBillieHoliday @hulu pic.twitter.com/Cr9ZY8rwqV

— Andra Day (@AndraDayMusic) January 13, 2021
It'll be available to stream February 25th on Hulu.
Photo: Andra's IG
​ ​
​ ​ ​