Former Seahawks Player Chad Wheeler Arrested For Brutal Domestic Violence! Allegedly Said 'Wow, You're Alive?' After She Regained Consciousness + Celebs Sound OFF
​
Jan 27 | by _YBF
​ ​ ​ ​
Seattle Seahawks player Chad Wheeler was arrested for domestic violence. He allegedly beat his girlfriend to a pulp and when she regained consciousness he allegedly said, "Wow, you're alive?" More inside…
UPDATE:
— Seahawks PR (@seahawksPR) January 27, 2021
Chad Wheeler is no longer on the Seattle Seahawks' roster. In part, the organization said:
"The Seahawks are saddened by the details emerging against Chad Wheeler and strongly condemn this act of domestic violence. Our thoughts and support are with the victim. Chad is a free agent and no longer with the team. We encourage Chad to get the help he needs. If you are experiencing mental health issues, please reach out for help."
Read the full statement above. Umm...this isn't it! They're saddened? They encourage him to get the help he needs? What about the VICTIM? They could have kept this.
The free agent was released on a $400,000 bail on Tuesday, three days after he was arrested on suspicion of felony assault-domestic violence. The King County prosecutor's office told ESPN that charges are expected Wednesday afternoon after a hearing.
The USC grad also released an "apology" where he blamed his actions on a "manic episode."
I apologize profusely for the turmoil that I have caused to my family, teammates, fans and those closest to me. The most important thing right now is that Alleah gets the care she needs and I get help. Both are happening.

— Chad Wheeler (@ChadWheeler72) January 27, 2021
It is time for me to walk away from football and get the help I need to never again pose a threat to another. I cannot express my sorrow or remorse enough. I am truly ashamed.

— Chad Wheeler (@ChadWheeler72) January 27, 2021
Bye, sir.
--------------------------------------------------------------
This story made us SICK to our stomach.
Seattle Seahawks lineman Chad Wheeler was arrested over the weekend for allegedly brutally assaulting his girlfriend. The details are very disturbing. Like, GROSSLY disturbing.
Last Friday, Chad and his girlfriend reportedly got into a heated argument that turned physical in Kent, Washington.
According to a Kent Police Department report (obtained by The Seattle Times), a woman called 911 following a "physical fight" with her boyfriend and said that she was being "killed." She told cops she was bleeding and had suffered a dislocated arm.
Police pulled up on the scene during the attack and it's reported they heard screaming coming from a bathroom. Chad - the USC lineman who went undrafted before playing in 2017 - was standing next to her in the bathroom when police arrived.
Here's where things get weird…
The police revealed the altercation began after Chad's girlfriend REFUSED to BOW to him. TF? After she declined, he allegedly went into a rage where he threw her on the bed and choked her out until she was unconscious.
When she regained consciousness, Chad said, "Wow, you're alive?" SICK!
That's when she ran to the bathroom and locked herself inside to call for help. The USC grad picked the lock and got inside, but luckily police arrived. That's where they found him when they got to the scene.
Now get this: The police report said Chad was "uncooperative with officers," but was eventually arrested and booked on a domestic charge. This man is 6'7" and 310 pounds. You mean to tell us the cops didn't "fear for their lives" while he was being "uncooperative" and had just almost killed a person? Cops get real trigger happy when OTHER FOLKS are simply just existing, while this whole football player, who's significant other is a woman of color, was taken into custody without a scratch. Just an interesting note to point out. By the way, Chad's girlfriend is 5'9" and 145 pounds.
On Sunday, Chad was arrested on suspicion of felony domestic violence and booked into the King County Jail, according to jail records. He was released on $400,000 bond Tuesday morning, jail records show.
The woman's name wasn't revealed in the report. However, one of her friends posted pictures of what she claims are her injuries.
WARNING – the images could be triggering: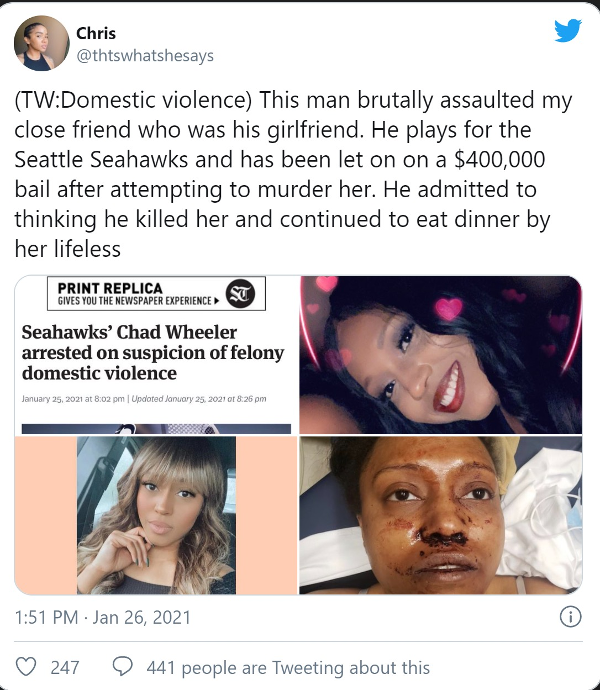 If he is found guilty in any way, we hope the book is thrown at him.
The friend deleted the tweet, but she has been reposting people's reactions and responding to fans:
Here's another tweet as reference. There was a picture in mine that she asked me to take down and of course I'd have to take down the whole post to do it but I seriously appreciate all of the support that she's getting https://t.co/U4FbfUvJIb

— Chris (@thtswhatshesays) January 26, 2021
@USC @USCTrojans he does not deserve to be celebrated by your university pic.twitter.com/eqKrqqH8qv

— Chris (@thtswhatshesays) January 26, 2021
Below is a video of the woman before the attack:
Took down the post, but here's my girl. Unapologetically black, heart of gold, and deserving of so much more. I'm so glad that she's still here on this earth and am here to help her heal. Love you sis pic.twitter.com/uABV2QT1vp

— Chris (@thtswhatshesays) January 26, 2021
Turns out, the sports world has been a bit hush-hush on the situation. It's interesting, when a Black player is arrested it's breaking news on networks like ESPN. Now, they're quite. Rapper Plies and sports journalists Jemele Hill & Taylor Rooks sounded off wondering why the story isn't getting as much exposure:
Dear @nfl @espn (An all other news/sports outlets) U Should Be Embarrassed. I've Been Watchin ESPN All Morning & Y'all Haven't Said One Thing About Chad Wheeler Arrested For Beaten Up His GF. An This Happen Monday Night & It Still Ain't News!! #ItsTwoDifferentAmericas pic.twitter.com/Uu6dy9wVV3

— Plies (@plies) January 27, 2021
I am not going to repost the pictures of Chad Wheeler's victim, but if this horrible situation isn't seen in the context of hate crime, journalists are being irresponsible. I'm also wondering why this isn't considered attempted murder.

— Jemele Hill (@jemelehill) January 27, 2021
My prayer is that this deserved and necessary outrage for Chad Wheeler is here all of the time for black women who have been abused.

— Jemele Hill (@jemelehill) January 27, 2021
ESPN's Marcus Spears 'We're about to make Chad Wheeler famous cause he needs to be a face that everyone knows and sees how wrong disrespectful and how bad it is" Anytime this situation arises best believe NFL Live is going to make the perpetrator famous" @mspears96 pic.twitter.com/RCObFWisb5

— gifdsports (@gifdsports) January 27, 2021
@AdamSchefter be quick to post about other athletes getting into trouble but nothing about this situation

— (@Champagnephilly) January 27, 2021
Chad Wheeler of the @Seahawks tried to kill his girlfriend because she wouldn't bow to him. He was even surprised at her survival.

If you're not outraged, you're part of the problem. @NFL handle this swiftly & decisively. pic.twitter.com/R2IF1HwMow

— Emmanuel Acho (@EmmanuelAcho) January 27, 2021
This is terrible. Chad Wheeler needs banned from the NFL for life. And his ass should be in prison. https://t.co/1NOtro94wt

— Matt Miller (@nfldraftscout) January 27, 2021
What Chad Wheeler did is horrific. My heart breaks for the survivor.

The silence of the Seahawks, NFL + national media is disturbing. Her life matters, and he deliberately tried to take it, in rage; Wheeler, a white man, nearly killed his girlfriend, a Black woman

— Alexis Mansanarez (@almansanarez) January 27, 2021
In a statement released on Monday night, the Seahawks said they were aware of the situation and still gathering information. Nothing about the arrest on their Twitter as of yet. Hmph.
Y'all, hop on Twitter and share this story! We need to make some noise about this reported assault.
We pray the woman heals and gets the therapy she needs following this reported brutal attack.
Photos: AP/@thtswhatshesays
​ ​
​ ​ ​