T.I. & Tiny Accused Of Sexual Assault By MULTIPLE Victims - Allegations Of Drugs, Rape, Coercion, Underaged Victims & More
​
Jan 29 | by _YBF
​ ​ ​ ​
Several women have come forward with sexual assault allegations made against rapper T.I. and his wife/singer Tameka "Tiny" Harris after Tiny's former friend Sabrina Peterson blasted Tip for abusing her. Now, alleged victims of the couple are sharing their stories. Also, Tiny's bestie Shekinah said Sabrina used to HELP the couple recruit girls & that she's only seeking attention. More inside…
Rapper T.I. and his wife/singer Tameka "Tiny" Harris might be receiving the "Surviving R. Kelly" treatement after they were accused of sexually assaulting several women. The accusations come after Tiny's former friend, Sabrina Peterson, spoke out about being abused by the Atlanta rapper.
Over 30 women have come forward accusing the couple of coercing them into sexual situations that allegedly involved drugs, rape and more. It started after Sabrina Peterson went on Instagram where she claimed that T.I. held her at gunpoint.
"The sad part about being a woman & BEING A BLACK WOMAN IS THIS! The public PRAISES OUR PREDATORS! @troubleman31 you PUT A GUN TO MY HEAD IN FRONT OF CHILDREN & I NEVER CALLED THE POLICE ON YOU!," she wrote on IG.

"But for years you have painted me as the VILLAIN! AS BLACK WOMEN! It's hard to heal from RAPE, VIOLENCE OR ANYTHING BECAUSE YOU ARE PAINTED AS THE PROBLEM OR REASON THIS HAS HAPPENED TO YOU! LETS NORMALIZE THE ALLOWING BLACK WOMEN TO HEAL! It's so hard being the VICTIM OF RAPE & BEING PAINTED AS THE REASON IT HAPPENED!
Check it:
Tiny hopped on IG to defend her husband against Sabrina's abuse claims.
"Hold up… So you want your abuser to train your sons? He was just uncle 2 years ago Now when did you say my husband assaulted you? Did you change your mind or change it back? What wit you today Pooh? I'm confused," Tiny wrote in the caption of a picture of T.I. with Sabrina's children. "Stop Harassing My Family. You strange. Everybody know you been special (face slicing seminar lady). Please get help but LEAVE US ALONE."
Also, Tiny's bestie Shekinah Jo hopped on IG Live to defend her friend, however, she seemingly confirmed the accusations about the couple recruiting women for sex. She said Sabrina is just looking for attention and that she's OBSESSED with Tiny. She said Sabrina wants Tiny for herself as her girlfriend.
Peep her IG Live below:
After a while, Shekinah got emotional and started crying while talking about the drama:
After putting Tip on blast and threatening "civil legal action," Sabrina asked her followers who have been victimized by T.I. to contact her. Since then, over 30 women have sent messages to Sabrina, detailing alleged sexual abuse incidents. In the screenshots, Sabrina asked the women would they be willing to share their story as part of a documentary, which is giving us "Surviving R. Kelly" vibes.
The Glam University CEO started posting screenshots of the DMs she received where women shared their experiences with the couple. One woman detailed an incident during CIAA in Charlotte in 2016. The women said she ended up at the couple's hotel suite at the Ritz-Carlton and before she could go in, her phone was confiscated. Soon after, molly and cocaine was handed out to everyone there. But get this, you couldn't stay in the suite unless you removed your pants. The woman said "one girl was crying because she wanted to leave but they refused to give her phone to call an Uber."
Luckily for the unidentified woman, she knew someone in T.I.'s entourage who told Tip "she's good," so he left her alone. However, other women weren't so lucky. At one point, the woman said she heard T.I. tell his security to "come pick this b*tch up off the bed" because she was unable to walk. They took her from the bedroom to the bathroom and left her there. The woman said she able to sneak in the bathroom to check on the woman and said she was barely conscious.
"He is an absolute monster who uses money to and power to MANIPULATE people and Tiny is his secret weapon," the woman shared.
Another woman alleged the "You Can Whatever You Like" rapper referred to the women as "cattle."
One woman accused the couple or "rapping girls with toys so high they couldn't keep their heads up. I say f*cking dead bodies how it seemed."
Many of the women allege Tiny was moreso the ringleader as she would be the one to recruit the girls.
One woman – who admitted to having sex with the couple for pay - revealed she used to hang out with T.I. & Tiny in 2013-2014 and was allegedly raped by a man named Brandon, who used to hang around the couple a lot. She said Tiny texted her to come over and instructed her to bring an overnight bag. She said she got there and they immediately started encouraging her to drink alcohol. Later, Brandon gave her a pill, she took it (after she was pressured by Tiny), and when she woke up she didn't have her bra or panties on. She said her vagina was hurting, so she knew something happened, but she didn't know what exactly. The couple was no where to be found, so she left. Three weeks later, Tip hit her up to come back. She said she went back because she wanted to ask them what happened that night. Eventually, she found out Brandon had sex with her while she was knocked out cold from the pill.
One victim claimed she and her friend were underage when they were "pressured for sex and to take drugs even with him and his team knowing we were underage" during 2005 NBA All-Star Weekend in Colorado. She said she was 16 and her friend was 15 at the time.
One woman claimed T.I. bought her a Benz because "Tiny got jealous while on vacation and told her she had to leave."
One woman accused T.I. of giving her an "incurable STD." She said they met in ATL in 2012 and that they made an agreement that she would have sex with them an exchange for money.
"He'd give me molly water to loosen me up," she said.
When Tiny wasn't around, the woman said T.I. would have sex with her unprotected and that's how she got infected. Another woman backed those claims, revealing two dancers at Magic City were also infected with an STD after having sex with the rapper.
Another woman said in 2017 she had just started stripping in Atlanta. She was 18 at the time. One night she ended up meeting Tip & Tiny and was asked to dance at a "private party." She took an Uber to their hotel and when she got there they confiscated her phone. After that, she said the couple forced her to take an X pill to "loosen up." Soon after, she realized it wasn't a private party, but more like an orgy party. She said Tiny was "doing coke and told me to do a line and when I said no she acted as if I disrespected her." The woman said she got scared, so she eventually just did everything T.I. told her to do. She blacked out after that. She said the next morning her vagina and anal area was in "so much pain." That morning, she said Tip grabbed her arm and told her to "get the f*ck up, take my shit and get out."
We've compiled the alleged victims' allegations below:
In 2017, Rob Kardashian popped off on Tip, saying he and Tiny had a threesome with his daughter's mother, Blac Chyna:
Oh?! If there was ever a time to pop and have a middday drink, NOW is that time. #RobKardashian vs. #TI. https://t.co/B1WmeEi7lR pic.twitter.com/bIhZbsc4Pd

— YBF CHIC (@TheYBF) July 5, 2017
This morning, Sabrina posted up a message, which seems to be in response to Shekinah defending Tiny.
Here's what Sabrina said: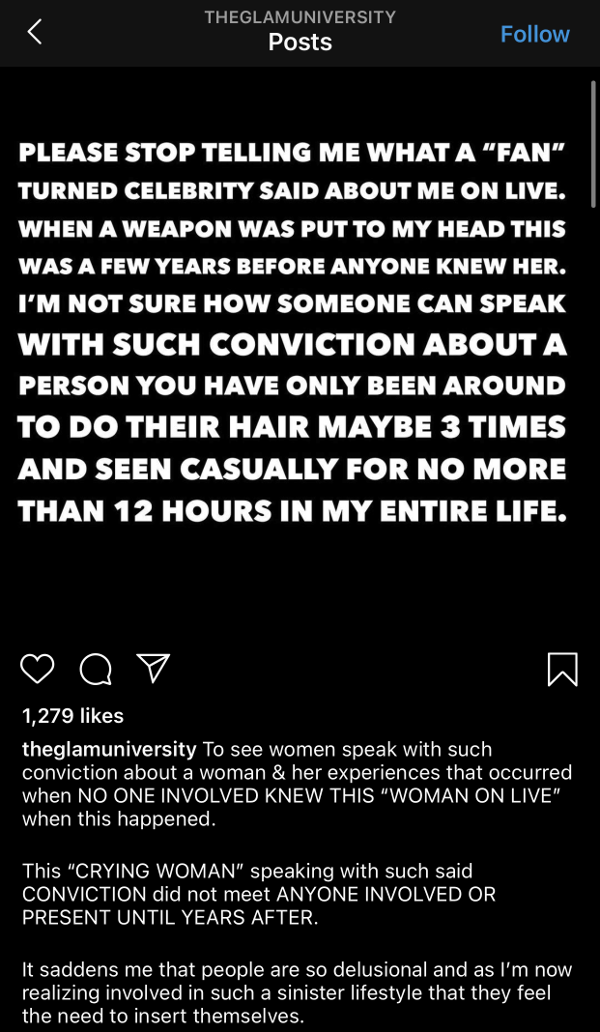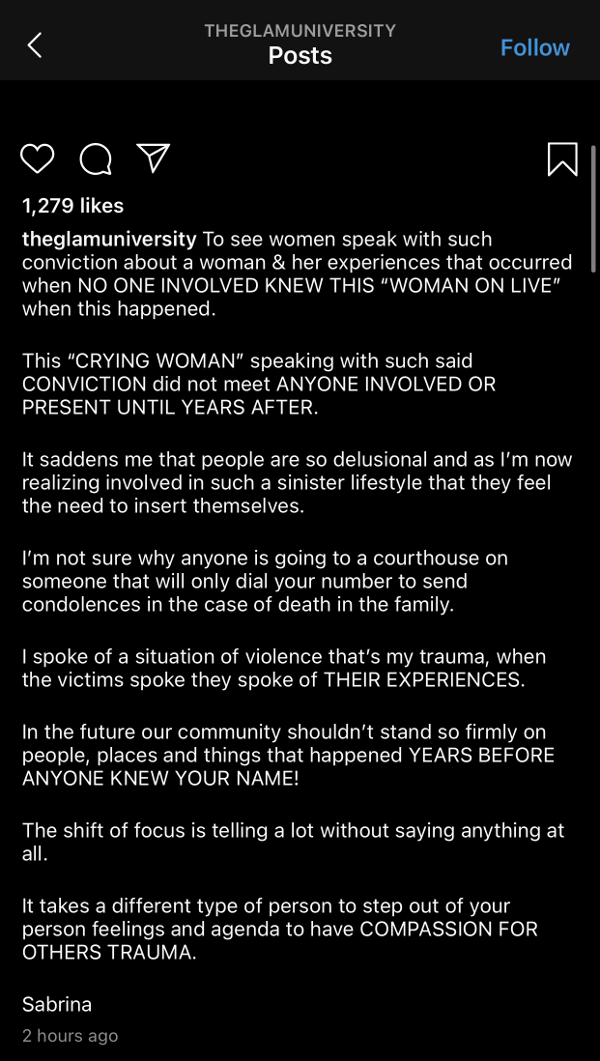 As of now, there's no official response from T.I. and Tiny (other than her previous IG comment) about these allegations.
Thoughts?
Photo: Tiny's IG

​ ​
​ ​ ​