'T.I. & Tiny' Production Suspended Amid Sexual Abuse Allegations + Toya, Kandi & Lauren London Dragged Into The Mix + Lisa Bloom Enters The Chat
​
Feb 05 | by _YBF
​ ​ ​ ​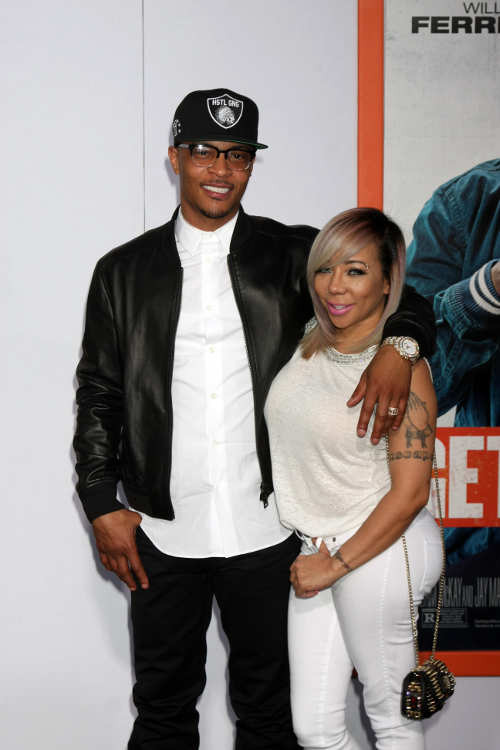 MTV has suspended production of T.I. and Tiny's reality show amid sexual abuse allegations. The couple's former friend, Sabrina Peterson, sounded the alarm and now she's dragging Tiny's friends Toya Johnson & Kandi Burruss, along with T.I.'s former co-star Lauren London into the mix.
Get the latest, plus how famed attorney Lisa Bloom is tied into it all inside…
Rapper T.I. and his wife/singer Tameka "Tiny" Harris are feeling the wrath of the sexual abuse allegations that were recently brought against them. The Hip Hop couple has been accused of drugging and coercing women into sexual situations, some allegedly against their will.
Mr. & Mrs. Harris vehemently deny the allegations and have even threatened legal action against their former friend Sabrina Peterson, who spearheaded the allegations.
As details about the alleged sexual abuse continue to come out, production for their VH1 family-themed reality show, "T.I. & Tiny: Friends & Family Hustle," has been stopped.
"We are aware of the allegations, and while they are not connected to our show, we have reached out to T.I. and Tameka Harris, as well as local and state officials," an MTV Entertainment spokesperson said in a statement to Deadline. "Given the serious nature of the allegations, we have decided to suspend production in order to gather more information."
Sources told the publication the decision to pause proution was a mutal one between MTV Entertainment, Tip & Tiny. Apparently, there were plans to announce a Spring Season 4, but that's put on hold right now.
Last week, Tiny's former friend Sabrina Peterson spoke out about being abused by the ATL rapper. She said T.I. held her at gunpoint and she was scared for her life. After publicly sharing her story on Instagram, she put up a post asking anyone who had been abused by the L.I.B.R.A. rapper to contact her.
The alleged victims told stories centered around threesomes, being forced to take drugs, sexual coercion, being kidnapped, and more.
Soon after Mr. & Mrs. Harris released a joint statement denying all of the allegations made against them. The rapper and singer said they have been having "difficulty" with Sabrina for over a decade and that they are taking the matter "very seriously." If the slander doesn't stop their next move is legal action.
Read the full statement below:
"Mr. and Mrs. Harris want to be on record and more importantly want the public to know they emphatically deny in the strongest way possible the egregiously appalling allegations being made against them by Sabrina Peterson. The Harrises have had difficulty with this woman for well over a decade. They are taking this matter very seriously, and if these allegations don't end, they will take appropriate legal action."
The self-proclaimed King of the South also hopped on Instagram and posted a video denying the allegations. Receipts of random people sending Sabrina information that she reposted appeared online and Tip didn't waste any time to share the evidence on his IG.
The legal threat hasn't stopped Sabrina from talking about the alleged abuse. In a recent IG Live video, Sabrina said the couple's friends Toya Johnson, Kandi Burruss, Lauren London and Shekinah Jo know all about the couple's alleged inappropriate behavior, but they remain silent.
Peep the clip below:
When all of the sexual assault allegations were being aired out on social media last week, Tiny's BFF Shekinah Jo hopped on IG Live to defend her friend and her husband, but it only made matters worse. The hairstylist alluded to some sexual things going down, but then she came back and retracted her comments.
After the Harrises denied the allegations, Sabrina demanded they take a lie detector test. To prove she isn't lying, she took one herself and posted the alleged results:
An unidentified woman who claims she was sexually abused by the couple has hired famed attorney, Lisa Bloom. If you didn't know, Lisa and her mother, Gloria Allred, represent a lot of sexual assault victims in high-profile cases.
Turns out, Lisa Bloom is now representing one of the women who came forward:
And now I represent one of them.

— Lisa Bloom (@LisaBloom) February 4, 2021
"Good Lord. So many accusers," Lisa responded to a screenshot of the sexual abuse allegations made against the Harris couple.
"And now I represent one of them," she said in a follow up tweet.
We'll just have to wait and see how this all will play out…
Photo: Kathy Hutchins/Shutterstock.com
​ ​
​ ​ ​