Cardi B Drops 'Up' Video, Rappers Mir Pesos & Mir Fontaine Claim She STOLE Their Song + Watch Meg & DaBaby's 'Cry Baby' Visuals
​
Feb 05 | by _YBF
​ ​ ​ ​
Hours after Cardi B just dropped the video for her new track "UP," rappers Mir Pesos & Mir Fontaine called her out for allegedly stealing their track. They blasted her on Twitter and she responded. More about Cardi's "Up" drama, plus Megan Thee Stallion & DaBaby in their new "Cry Baby" video inside….
Cardi B is back to making a splash on the music scene.
After sweeping the music charts with her record-breaking hit "WAP" featuring Megan Thee Stallion, Cardi B is back with another one. The Bronx baddie dropped her "UP" visuals at midnight and her fans are loving it.
There is actually a naked white guy in the case Cardi B is sitting on. pic.twitter.com/UoYkPzkUBc

— NkechiTheVillageWarrior (@NkechiBalogun) February 5, 2021
Before the video's premiere, she hosted a livestream where she shared her inspiration behind the new single.
"I wanted a more hood song. I feel like my last song ['WAP'] was too sexy," she explained. "I wanted to do something more gangsta, more cocky."
On "Up," she rapped:
Jewelry on me, flashlight/I been lit since last night/Hit him with that good good/Make a nigga act right/Broke boys don't deserve no p*ssy/(I know that's right)
Felt that broke men line.
Big bag bussin' out the Bentley Bentayga/Man, Balenciaga Bardi back and all these bitches f*cked/ It's big bags bussin' out the Bentley Bentayga, man/ Birkin bag, Bardi back and all you bitches f*cked (Woo)
In the visuals, she made sure to bring the dramatics and choreography to keep us entertained. You have to give it to Cardi for always serving up a show.
@iamcardib cardi kissing other girls in 4k #UP
pic.twitter.com/BhDUa4ALzW

— diego UP (@cardipower) February 5, 2021
Go "UP" with Bardi below:
Hours after the Grammy Award winning rapper released her new single, up-and-coming rap duo Mir Pesos & Mir Fontaine called her out for allegedly STEALING their song, "Stuck."
Both rappers put up comparison videos on their Twitter accounts with their song and Cardi's song so people can hear the similarities:
@iamcardib we want my money @MirFontane pic.twitter.com/qtpIpTJhgK

— mir Pesos (@PocketRocketPes) February 5, 2021
— MELODY MONSTER (@MirFontane) February 5, 2021
— MELODY MONSTER (@MirFontane) February 5, 2021
https://t.co/FqmdGmDn6G pic.twitter.com/8KEDCh7B8O

— mir Pesos (@PocketRocketPes) February 5, 2021
A Cardi fan whipped out receipts to prove the former reality star didn't STEAL anything. A video of Cardi with Meg in August (while promoting "WAP") was shared where you can hear Cardi singing some of the hook from her "UP" track. The fan pointed out Pesos & Fontaine didn't release their track until September. Take a listen below:
Explain this real quick. You dropped your song on September 15th, 2020 yet here is Cardi on August 7th, 2020 giving us a lowkey preview of her hook which means she's been recorded it. Good luck with taking this to court #up https://t.co/J29ofLnf2T pic.twitter.com/DgimdO1wRd

— cockgang (@TheFactChecker8) February 5, 2021
The rap mom went on to say if she was inspired from their track, she would have shown them some love, but that's not the case with "UP." Peep her tweets below:
Mir Fontaine responded: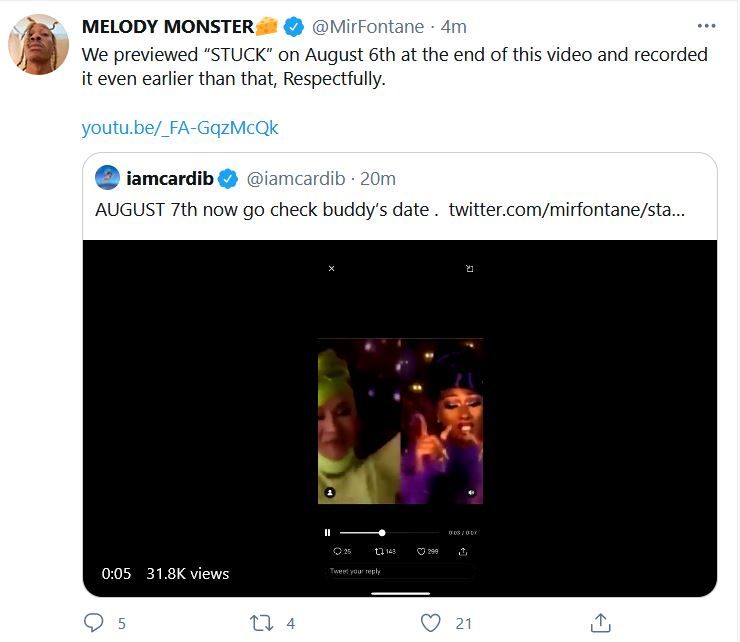 Do the songs sound similar to you?
Sounds like the drama Cardi was involved in over the summer when rapper Dela Wesst accused her of stealing her lyrics as well.
First of all you weird ass bitch u been trying me for hot minute .You really cross the line when u stalkin my fans page and put this shit on a pic of me & my kid .SO YES THATS I'm bringing my kid https://t.co/hsosqK3HC1 pic.twitter.com/2HamR9tJwr

— iamcardib (@iamcardib) June 30, 2020
Anyhoo, are you loving the "UP" video?
After hopping on her livestream, Cardi was seen making her rounds in West Hollywood rocking a skin-tight printed bodysuit and orange hair.
You can see her outfit in the videos below where she talked about her new song and video:
Please have patience guys I been harassing all day .In the mean time digital sales are finally up and make sure you check out #up on all streaming platforms. pic.twitter.com/IzlXvwUx5w

— iamcardib (@iamcardib) February 5, 2021
Sorry for the inconvenience on iTunes .I have a link on my twitter and IG story. pic.twitter.com/dBwg7nIvaM

— iamcardib (@iamcardib) February 5, 2021
We worked so hard on this shit ! pic.twitter.com/imzAqghIik

— iamcardib (@iamcardib) February 5, 2021
Also on the music video front...
It's another Megan Thee Stallion & DaBaby collabo! The Houston Hottie dropped the visuals for "Cry Baby" featuring rapper DaBaby after previewing the video earlier this week.
— HOT GIRL MEG (@theestallion) February 3, 2021
"Cry Baby" is a cut from Meg's debut album Good News, which she released last year. So far, the track has reportedly sold more than 70,000 units in the United States. In December, Meg kicked off the #CryBabyChallenge, which swept social media.
Previously, Meg & DaBaby joined forces on "Nasty" and "Cash Sh*t." There's a possibility more Meg x DaBaby tracks could be coming down the pipeline after she hinted at a full-length collaborative project with DaBaby during an interview on SiriusXM's Hip-Hop Nation.
Also...
Meg has a song with Bobby Sessions titled "I'm A King" from the Coming 2 America soundtrack. Take a listen above.
According to Billboard, Def Jam Recordings will release the Coming 2 America Original Motion Picture Soundtrack on March 5th. The movie will premiere exclusively on Amazon Prime Video the same day the soundtrack will be available via Amazon Music, Spotify, Apple Music and all streaming platforms.
Photo: YouTube Screenshot
​ ​
​ ​ ​