Male Escort's Account Of Andrew Gillum's Drug/Sex Scandal Is Completely Different From The Politician's, The Gillums Embracing 'Radical Honesty'
​
Feb 05 | by _YBF
​ ​ ​ ​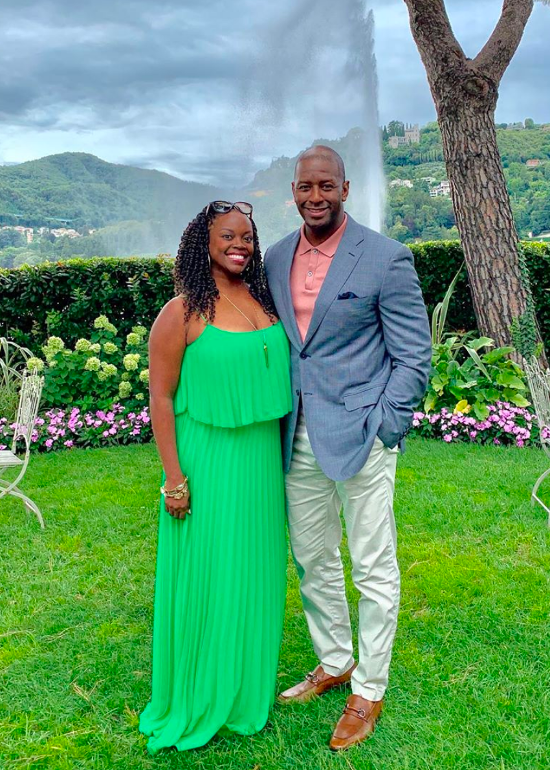 Politician Andrew Gillum and his wife R. Jai spoke with GQ about how they saved their marriage following that high-profile hotel scandal. Andrew believes he was set up. However, the male escort who Andrew linked up with in the hotel room tells a totally different story. Read both sides inside….
Former Florida Gubernatorial candidate Andrew Gillum rocked the political world when pictures of him inebriated in a Miami Beach hotel room (with two other men) leaked online. He had a promising political career and it was heavily talked about that he would be considered for the VP position on the Democratic Presidential ticket. However, a scandal crushed his political empire.
In the photos, the married politician was pictured butt naked on the floor, laid out in a pool of his own vomit. According to the police report, there were two other men present – including a sex worker - and three bags of drugs (suspected methamphetamine) were found.
After appearing on the "Tamron Hall Show" for his first interview, the former Tallahassee Mayor and his wife, R. Jai (who was also present for the Tamron interview) spoke with GQ magazine about how they've had to embrace a new dynamic of "radical honesty" in their relationship, following the hotel scandal.
How @AndrewGillum's marriage survived a night of scandal https://t.co/UZo4l4HT1u pic.twitter.com/MFnZ1wx2dk

— GQ Magazine (@GQMagazine) February 4, 2021
In GQ's "Modern Lovers" issue, Andrew gives his account of the night he was found in a hotel room with a sex worker and drugs. And it's the same story he shared with Tamron.
On March 12, 2020, Andrew said he had spent most of the day drinking on Miami Beach as he waited for his wife and their friends to arrive at the rented home they were staying in to attend a wedding that Andrew was set to officiate.
At some point, he met up with Travis Dyson – a 30-year-old nurse and sex worker at the time – who Andrew claims he had met a couple of months prior, although he didn't explain HOW they met. The politician hopped into an Uber, went to the hotel, and went up to the room Travis was staying in.
"He offers me something to drink.… I'm not really sure, like, what it is and what's in it because I'm already kind of [drunk].… The last memory that I have is sitting up drinking," Andrew recounted. "Because I didn't take a drug test until two or three days later, I don't know if there was something in my drink. But all I know is, I'm knocked out. At the point that I come back present, it's like 11 at night and I'm in the bathroom. I don't have any clothes on. I have no idea why. And I'm there with like five, six police officers."
Andrew believes he was set up because he claims he has never met the third person who was found in the hotel - Aldis Mejias. He claims he never KNOWINGLY consumed drugs that night and he also didn't have sex with anyone.
"What I'm reading in this report is some tryst, some three people, this, that, and the third, and all of these are things that I have no recollection of. I never even met this third person," Andrew said. "So at this point I'm like, 'This is set up.' "
Still, he said, he should have never been in that hotel room. "Me being and putting myself in this situation to even communicate with another adult at that level was a mistake on my part," Andrew told me. "I'm an adult, and I know that you don't put yourself in certain situations. And I still made choices to put myself in that."
Travis Dyson has a totally different account of what happened last March. According to him, he met Andrew on Grindr (a dating app), a week or two prior to the incident, and had allegedly met up "multiple times for paid sexual encounters."
Travis said Andrew DID knowingly take drugs – something called "G," which is an ecstasy-type drug allegedly used by gay men to enhance their sex drives - before he passed out. Travis said that on that night and "on on multiple occasions together," both he and Andrew used G and other drugs.
Travis explained the third man found at the scene was allegedly another client who had a later "appointment" with Travis, but when he got to the hotel room, he found BOTH Travis and Andrew passed out (seemingly overdosed) and called the police.
"Everything I did was trying to help Andrew," Travis insisted.
Since the scandal, Travis' life has been in shambles. He separated from his fiancé, he was forced to leave his graduate nursing program, and he now pays the bills by selling nudes and porn on OnlyFans. Damn.
Travis admitted he took the photos of Andrew, but he was adamant he did NOT send them to the media. He did however send the pictures to some of his friends and they likely shared the photos with people they knew. Before long, Andrew's disturbing pics were viral.
After the Gillums learned the GQ reporter contacted Travis for comment, they canceled their scheduled follow-up interviews and declined to respond on the record to Travis' version of events.
We wonder why.
People were shocked Andrew's wife decided to stay with him after the public embarrassment. However, there was turmoil within their marriage before the night in question. Previously, Andrew dated both men and women during adulthood. He said he knew if he wanted R. Jai as a life partner, he had to tell her.
"I had a lot of questions, some of which he could answer, some of which he couldn't," R. Jai recalled. "But I guess maybe it was that confidence in me really believing what he had to say about me and us [that] made it better.… It made me want to at least say, 'Okay, let's see. Let's figure this thing out.' "
According to R. Jai, "What mainly concerned me, it was for me: What does this mean for our relationship? How does this work?" They decided that Andrew's sexuality didn't have to mean much at all for them. It was part of who he was but didn't mean that he wanted to be with anyone else or loved her any less. "Once we got past all that, nothing has changed [from] the Andrew that I've dated on and off for about six years, Andrew that I've known as a friend for even longer," she said. "So now I'm like, 'We're just a couple dealing with the same things that other people deal with.' There is nothing different."
Yet there was something different about the Gillums: Their partnership was a public one. By the time they married in May 2009, Andrew had been an elected official for six years. They briefly considered having him come out publicly before his 2014 Tallahassee mayoral run—Andrew said he knew the fact that he had dated men in the past could be revealed and thought sharing his personal story would aid his advocacy for marriage equality—but feared losing what remained of their private lives and prompting public questioning about their marriage. "I had a political adviser whom I'd spoken to who was not just 'No,' but like, 'Hell no!' And Jai said no too," Andrew recalled. And so he continued his public life as presumptively straight, even as his growing prominence soon brought waves of new attention.
"A political person has his share of admirers, whether he's married or not," R. Jai told me. "It's like, well, in addition to having women who are sometimes disrespectful, you now also have men?"
Now, the couple – who have three children - is working on their relationship with the help of therapy.
"He goes to therapy on his own, I go to therapy on my own, and we've had group therapy, couples counseling. And it is, I think for us, deep and intimate conversations that probably would have once been extremely painful and hard to do," R. Jai said. "We bought these relationship cards where we just ask each other questions, and it's been kind of cool to talk in a way that I think is just different."
You can read the full piece here.
If it works for them, who are we to judge?
Photo: Andrew's IG
​ ​
​ ​ ​