#GorillaGlueGirl UPDATE - ER Visit Supposedly A Fail, She Has Reportedly Lawyered Up + Gorilla Glue Issues Statement
​
Feb 08 | by _YBF
​ ​ ​ ​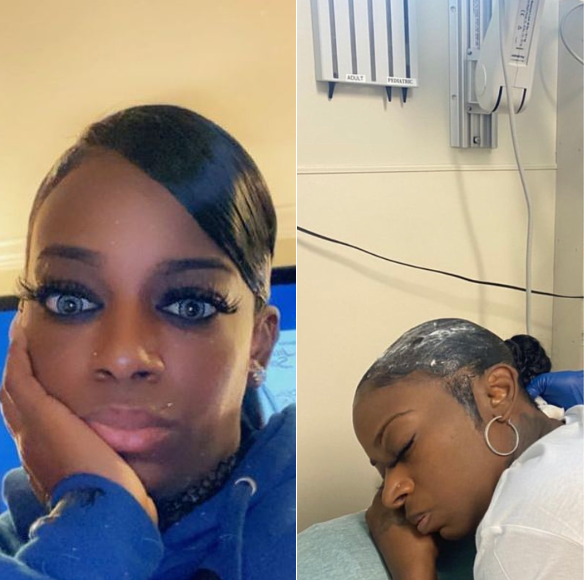 Tessica Brown – the woman who went viral after sharing she used Gorilla Glue spray in her hair – could possibly be considering legal action after her emergency room visit was unsuccessful. Once news hit that she was lawyering up, Gorilla Glue issued a statement. Get it all inside…
Here's an update about the woman who went viral for using gorilla glue adhesive spray in her hair instead of got2b Glued hair spray.
Tessica Brown – who is now blue check verified on Instagram – is keeping her word on updating folks about her sticky situation.
In case you missed it, Tessica went viral after uploading a TikTok video explaining how she ran out of Got2B Glued hair spray, so she used Gorilla Glue adhesive spray to lay her hair down for her braided ponytail. It's been over a month now and she can not get the glue out of her hair. Sis has tried every recommendation she has received, which include using coconut oil, tea tree oil, rubbing alcohol and shampooing her hair multiple times ("fif teen times" to be exact).
FIF TEEN TIMES

— elissa girl (@eminentlou_) February 7, 2021
Nothing worked.
Over the weekend, Tessica finally decided to seek medical help and made her way to the emergency room at St. Bernard Parish Hospital in Chalmette, Louisiana.
Sources tell TMZ she spent 22 hours in the ER and the staff was "dumbfounded" at her condition. Healthcare workers reportedly used acetone on the back of her head, but it "burned her scalp" and, sadly, made the glue harded back up. YIKES!
They gave her some supplies (acetone wipes and sterile water), and sent her home to keep trying:
"This is really going to be a long process," she wrote in the caption of a picture of the supplies the ER gave to her.
Now, Tessica is possibly considering filing a lawsuit against Gorilla Glue.
Our sources say Tessica's hired an attorney and is weighing her legal options against Gorilla Glue. We're told the label on the product she used says do not use on eyes skin or clothing … with no mention of hair, which Tessica feels is misleading.
Ma'am….
GG says all of its products are considered permanent and the packaging states it too … but we're told Tessica felt it was OK because the product said multi use.
Now, sis!
Well, people have sued for less and gotten more so do you.
Gorilla Glue suggested she use rubbing alcohol to get the glue out of her hair, but other than that, the company was mum. Once they got wind of her considering legal action, they issued a statement, saying they were "very sorry to hear" about Tessica's incident and "wished her the best."
Peep their tweet below:
We are very sorry to hear about the unfortunate incident that Miss Brown experienced using our Spray Adhesive on her hair. We are glad to see in her recent video that Miss Brown has received medical treatment from her local medical facility and wish her the best. pic.twitter.com/SoCvwxdrGc

— Gorilla Glue (@GorillaGlue) February 8, 2021
To continue treatment, Tessica has started a GoFundMe account to help with her medical bills. She requested $1,500, but has raised almost $9,000 in one day.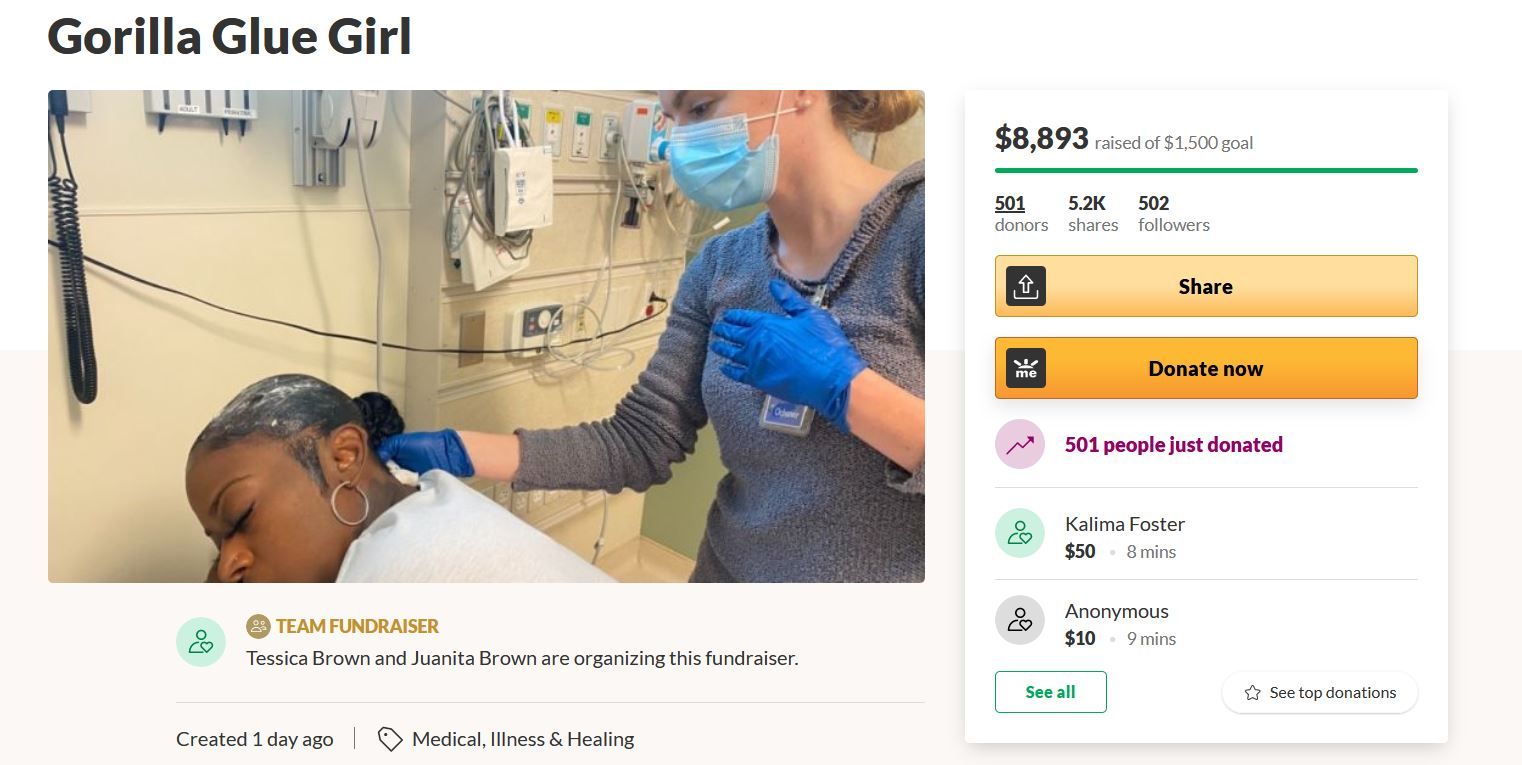 Comedian LaLa Milan posted a comedic video about the incident and said she donated to Tessica's GoFundMe:
And she did. She donated $500.
You can donate here.
Today, Tessica thanked everyone who has been praying for her and showing her love:
Tessica also did an interview with KISS 92.5 after her ER visit and talked about what happened when she got to the hospital. She explained the "white stuff" in her hair in the picture she posted was cotton ball residue after trying the tips she got from social media. A nurse said she could probably get it out, but it would take 20 hours. Tessica said every time she started the process it burned so bad, so she asked the nurse if she could try at home instead.
Also, Tessica admitted to intentionally using the Gorilla Glue spray because she thought she would be able to leave it on for a few hours and then wash it out when she got back home later that day.
Take a listen here.
Chance The Rapper saw the video and tweeted out support: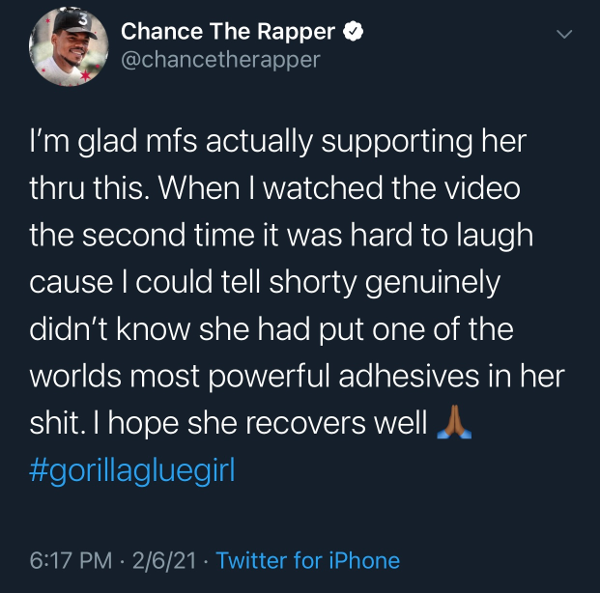 "Thanks so much @chancetherapper," she wrote on IG.
Cardi B tweeted a meme in reference to her new "UP" video and Gorilla Glue Girl: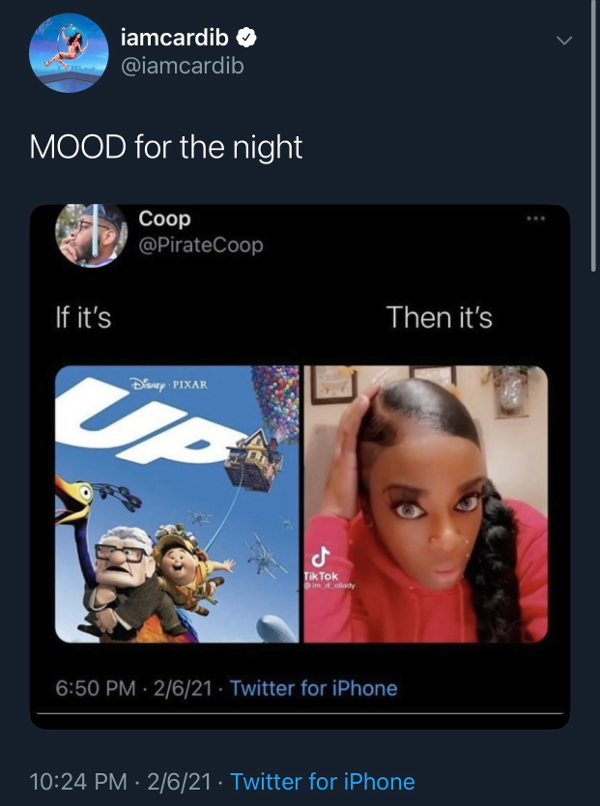 Tessica shared the tweet on her IG Stories: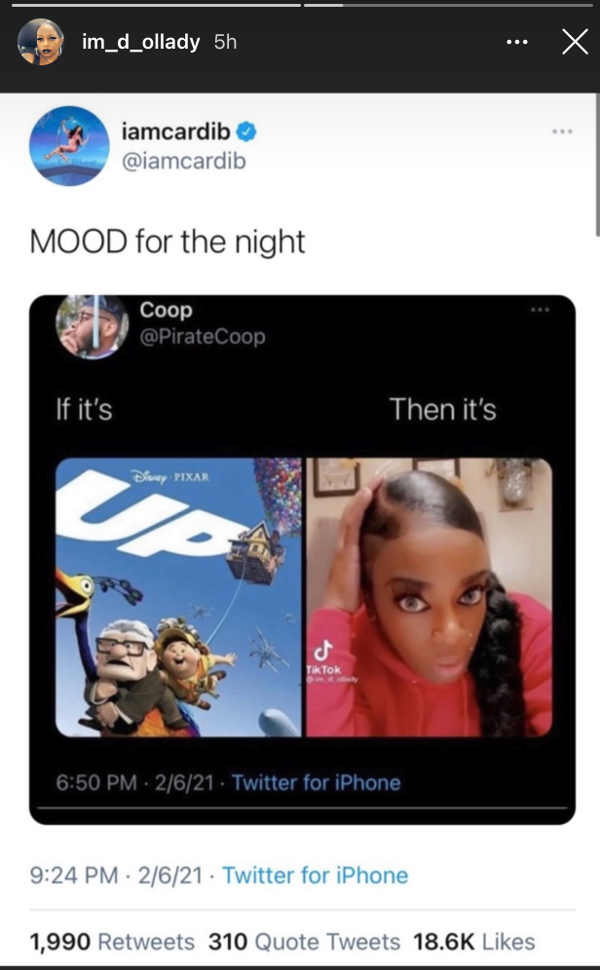 She also shared a screenshot, confirming she's 40 & FAB: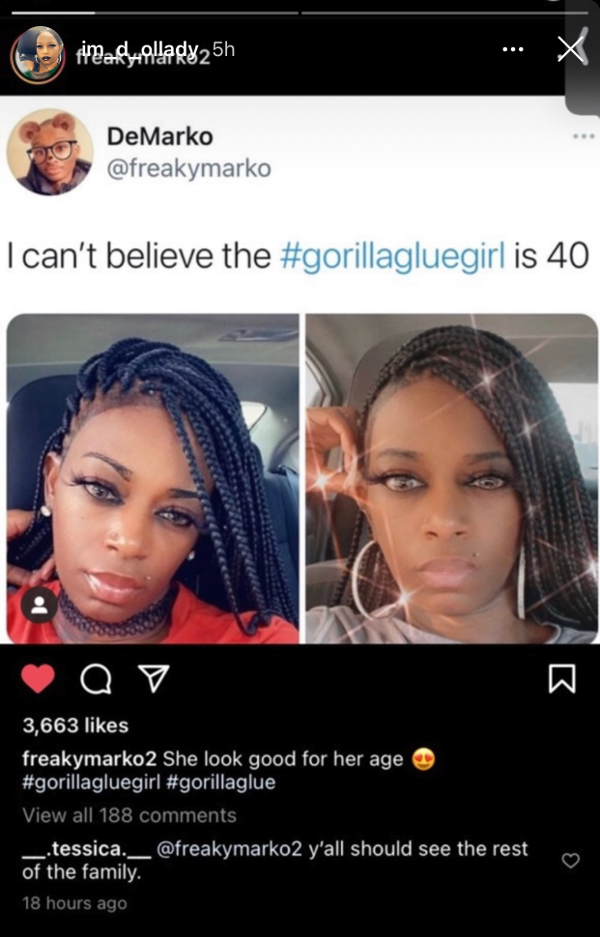 Poor thing.
Everyone isn't convinced she's genuinely and solely looking for help, though. Some folks believe she's clout chasing:
We really hope she can get this glue out of her hair and hopefully it doesn't leave her with lifelong damage.
Photos: Tessica's IG
​ ​
​ ​ ​