Chad Wheeler's Ex-Girlfriend Alleah Taylor Does 1st Interview Since Brutal Domestic Violence Attack
​
Feb 09 | by _YBF
​ ​ ​ ​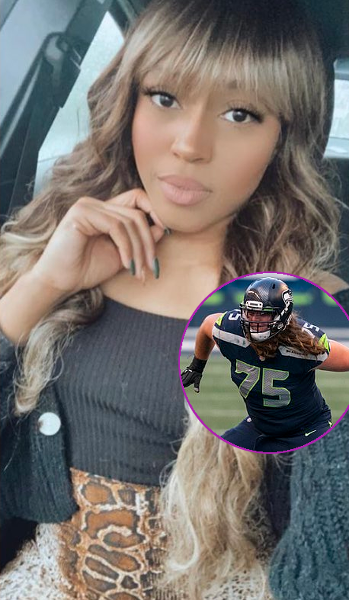 The ex-girlfriend of Chad Wheeler is publicly speaking out for the first time after she was brutally attacked by the former Seattle Seahawks lineman. Deets on Alleah Taylor's interview inside….
The ex-girlfriend of former Seattle Seahawks lineman Chad Wheeler has spoken out publicly for the first time following the alleged brutal attack on her life.
Alleah Taylor spoke with CBS correspondent Jericka Duncan in a sit-down interview – set to air tomorrow morning – and detailed what happened before she locked herself in a bathroom as she escaped her abusive ex-boyfriend. And hearing her share the details of what happened is CHILLING.
"I had touched my face and I looked down and there was blood on my hand and I remember getting up and running to the bathroom," Alleah said fighting back tears.
You'll notice a blood clot in one of her eyes, an injury she received as a result of the attack.
"Chad was standing by the bed, by the doorway and he was sipping his smoothie and was like, 'Wow you're still alive?'" she continued.
Alleah described Chad's indifferent demeanor after he choked her unconscious and dislocated her arm in the early hours of Saturday, January 23rd.
"I was able to run to the bathroom, he went back into the living room to continue eating. I had texted his dad too and told him that Chad was trying to kill me, Chad's dad called him while he was eating and while I was in the bathroom and he answered and he didn't have any worry at all," she shared.

"Chad was like, 'I'm just eating dinner, nothing's going on' and that, that terrified me."
Peep a clip of the chilling interview below:
TOMORROW: The ex-girlfriend of former Seattle Seahawks' Chad Wheeler is speaking out.

Alleah Taylor told @JerickaDuncan about the moments after last month's reported domestic assault.

We'll have more of our exclusive interview Wednesday on @CBSThisMorning. pic.twitter.com/JjggKpcbj3

— CBS This Morning (@CBSThisMorning) February 9, 2021
It's reported Chad got upset Alleah wouldn't BOW DOWN to him and he went into a rage, violently attacking her. Alleah called 911 following a "physical fight" with her boyfriend and said that she was being "killed." She told cops she was bleeding and had suffered a dislocated arm.
Police arrived on the scene and ish only escalated. Cops said Chad Wheeler was "uncooperative" when they tried to arrest him and detailed how they savagely struggled to get him in handcuffs. They tried to use a taser on him, but it had "little to no effect." Three grown men (who are trained police officers) on his back wasn't enough to stop the 6-foot-7, 310-pound footballer either.
And yet, at no point during the struggle did these three cops fear for their lives and pull out their service weapons – a story we hear ALL THE TIME when there are other people involved.
The former Giants player was arrested and released on $400,000 bail days after he was arrested on suspicion of felony assault-domestic violence.
The 27-year-old free agent – who said he would be taking a break from the game following the brutal attack – was charged with first-degree domestic violence assault, domestic violence unlawful imprisonment, and resisting arrest by King County Prosecutors. He pleaded NOT guilty to all of the charges during his arraignment at the Maleng Regional Justice Center in Washington State.
Chad took to Twitter to explain he was having a "manic episode" during the attack. The police report revealed he hadn't been taking his medication for bipolar disorder. Supposedly.
Before he was issued bail, Alleah appeared during his court hearing to beg the judge not to release him because she feared for her safety.
"I want you to know that I believe that as long as (Wheeler) is not in custody, I am not safe," the victim said in a statement read in court, according to KOMO News.

"Chad never called the police (after the assault) even though he thought I was dead. Now, Chad is out of custody staying in a hotel watching this play out on social media. This current status places my safety at risk, and I do not believe that a protective order or a condition of release is sufficient to keep me safe."
It's reported the victim asked if Chad was released, that he stay with family in Los Angeles under close monitoring. Sadly, the judge didn't honor her request. Chad's lawyers requested that he be permitted to await trial at his Hawaii residence, but the judge denied. Thankfully.
The judge ruled that Chad would be released with a GPS ankle monitor on house arrest, where he's required to stay within King, Pierce and Snohomish counties.
The trial is set to begin April 6th. Let's keep our fingers crossed that justice will be served in this case.
Alleah's full interview is set to air tomorrow morning. We'll keep you posted.
Photo: AP/Twitter
​ ​
​ ​ ​