THE VIRAL SAGA IS OVER! Sexy Surgeon Saves #GorillaGlueGirl Tessica Brown's Hair
​
Feb 11 | by _YBF
​ ​ ​ ​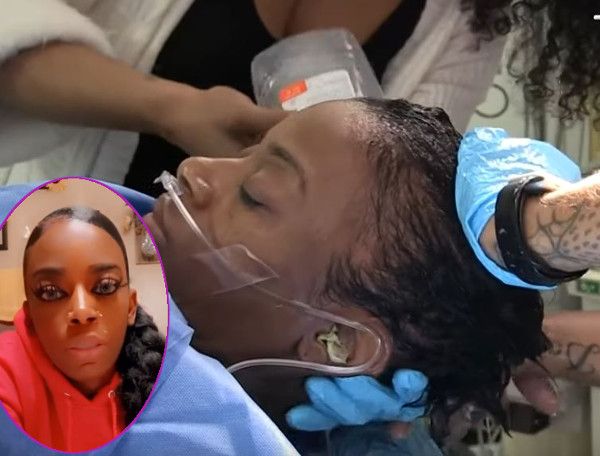 The Internet just let out a collective sigh of relief after learning "Gorilla Glue Girl" Tessica Brown's hair saga is finally over. The woman who put Gorilla Glue spray adhesive in her hair is finally free thanks to sexy surgeon, Dr. Michael Obeng. Celebrate with Tessica inside…
It's. Finally. Over.
Tessica Brown's scalp can finally breathe after six weeks of suffering. The 40-year-old Louisiana teacher went viral after posting a video on TikTok explaining how she glued her hair to her head using Gorilla Glue adhesive spray.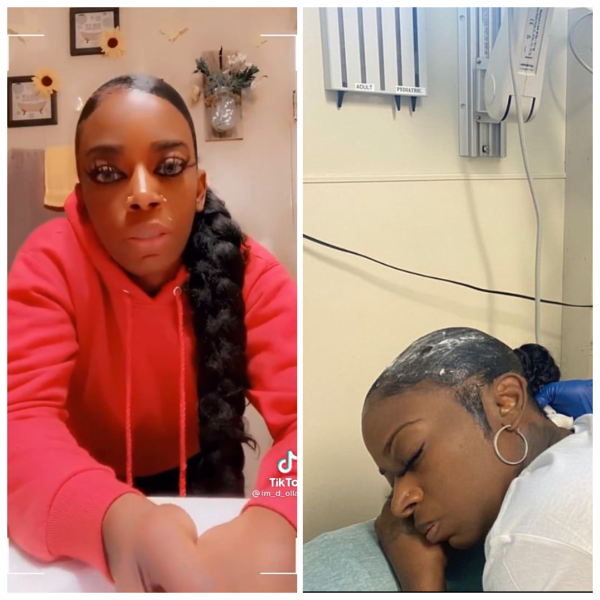 At first people assumed she mistakenly used the spray thinking she was using another hair product, but nope. She said she ran out of Got2B Glued hair spray, so she used the GG spray.
In a radio interview, Tessica admitted to using the adhesive spray to slick her hair down. She said she thought she could leave it in her hair for a few hours and later wash it out, but as well know, that was not the case.
Sis tried everything she could think of and she even tried every piece of advice she received from online users, but nothing worked.
#GorillaGlueGirl went to the ER, but that was a fail as well!
Now, all of that is behind her!
Ghanaian-American plastic surgeon Dr. Michael Obeng offered to do a $12,500 procedure on her for free, so she hopped on a flight to L.A.
Dr. Obeng's procedure WORKED! Yep, he saved her hair, scalp and edges.
Before seeing her in person, he initially predicted the procedure would be a process that would take 2 -3 days, but he was able to get all of the Gorilla Glue adhesive spray out of her hair in four hours!
TMZ photogs were in the operating room to capture clips from the surgery. Check it out below:
While under a light anesthesia, Dr. Obeng used a concoction of medical grade adhesive remover, aloe vera, olive oil and a dash of acetone to get the glue out of her hair. The mixture was able to break down the polyurethane, which is the main ingredient in Gorilla Glue.
And look at how relieved she is after the procedure was complete:
"How's it feel like to feel your hair like that again?" someone asked her as she touched her head.
"Now I wish I would've waited to cut my pony tail off," Tessica responded. Peep the clip above.
Below is a video of Dr. Obeng explaining the special procedure:
Dr Obeng has such compassion

His tender bedside manner, great beats, a professional team, sterilized combs & implements, head massage & NO judgement.

He's basically the BEST black hair salon in America.

I'll bet he started on schedule, too... #GorillaGlueGirl pic.twitter.com/GlpQgpHn88

— Refilwe Moloto (@RefilWest) February 11, 2021
Shout out to this man!
So glad #gorillagluegirl is free. And great to see that it was a black surgeon who came up with the solution and was so gentle and dedicated to preserving her hair! May Dr Obeng recieve all his flowers

— Hazelnut Hues (@hazelnut_hues) February 11, 2021
A rep for Gorilla Glue told TMZ, "We are glad that Miss Brown was able to be treated and we hope that she is doing well."
You'll recall, the company remained mum about the situation outside of posting a tweeting with tips on how to get the adhesive spray out. Once news broke that Tessica was considering legal action, GG released a statement saying they were "very sorry to hear" about Tessica's incident and "wished her the best."
We're SO happy Dr. Obeng was able to save Tessica's hair and scalp! After surgery she said she has to get her hair done so she can celebrate Valentine's Day. We're sure it'll be a wig since she said she was using the money she raised on GoFundMe for wig purchases. We know she "gots2b" relieved that this hair saga is finally over. We sure are.
Photos: Tessica's IG
​ ​
​ ​ ​