IMPEACHMENT UPDATES: Prosecution Rests, Most Senate Republicans Still Aren't Convinced (Shocker) + Trump's Legal Team Make Their Case, 3 GOP Senators/Jurors Meets With Them
​
Feb 12 | by _YBF
​ ​ ​ ​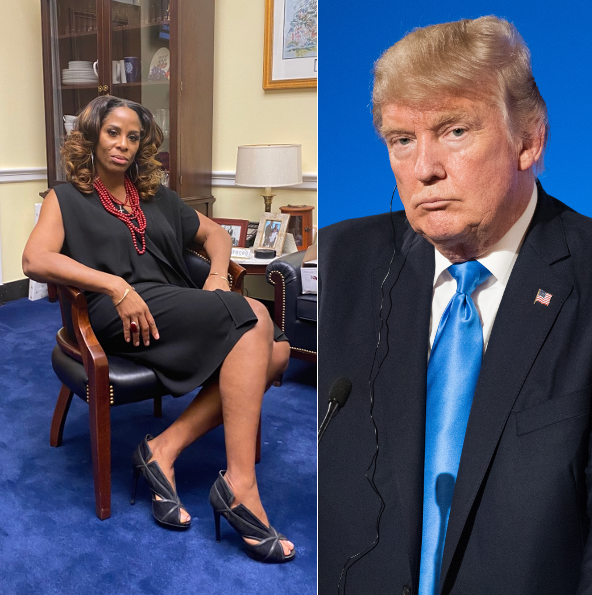 House Democrats concluded their arguments in the prosecution of former president Donald Trump at his Senate impeachment trial. Now, it's Trump's legal team's turn.
Details about the Democrats' powerful arguments, why most Senate Republicans aren't convinced and more about that "friendly meeting" Trump's legal team had with three GOP Senators before making their case inside…
House Democrats came out swinging with FACTS in their arguments to prosecute former president Donald Trump during his SECOND impeachment trial.
House Dems concluded their arguments on the third day of the proceedings after highlighting Trump's rhetoric and actions during the January 6th insurrection attack on the U.S. Capitol. Representative Jamie Raskin, the lead House impeachment manager who tragically lost his son at the beginning of 2021 – was incredible. Barely having time to properly grieve his son, the Maryland representative delivered gripping presentations during the trial to urge Senators to find Trump guilty.
He left them with five questions to do some deep thinking about:
1. Why didn't he tell rioters to stop ASAP?

2. Why did he do nothing until hours AFTER the attack?

3. Why didn't he support Capitol police?

4. Why didn't he condemn the violence that day?

5. Is this a high crime?
"If you think this is not impeachable, what is? What would be?" said Rep. Raskin said. "If you don't find this a high crime and misdemeanor today, you have set a new, terrible standard for presidential misconduct in the United States of America."
Peep a powerful clip from his presentation below:
Rep. Raskin on then-President Trump's incitement of the Capitol insurrection: "What is impeachable conduct if not this? I challenge you all to think about it. If you think this is not impeachable, what is? What would be?" pic.twitter.com/gMLNRoboK1

— MSNBC (@MSNBC) February 11, 2021
The impeachment managers presented EXTREMELY compelling video evidence, media reports and court documents as evidence that the attack was carried out at Trump's direction. They even used rioters' own statements to back their claims.
USA Today reports:
In court documents, media interviews and through official attorney statements, staunch supporters of former President Donald Trump who carried out the attempted coup argue they were merely doing what they thought the nation's leader had asked, some citing a cult-like loyalty.

Though experts said it's unlikely the Senate would call the alleged rioters as witnesses, a handful volunteered to testify against Trump in his impeachment proceedings. Short of that, legal scholars said, Congress could enter their statements about Trump's influence into the record during the Senate trial.
Rep. Raskin played video of Trump joking at a rally after extremists plotted to kidnap Michigan Gov. Gretchen Whitmer, prompting his followers to chant, "Lock her up!"
'This was not a hidden crime. The president told them to be there, so they actually believed they would face no punishment,' said Democratic congresswoman Diana DeGette as she told the Senate that the Capitol riot was done for Donald Trump pic.twitter.com/iyQ0Dv8gnD

— Reuters (@Reuters) February 11, 2021
Yesterday, Rep. Diana DeGette kicked off the Dems' presentation with how insurrectionists were taking their orders directly from Trump.
"They truly believed that the whole intrusion was at the president's orders, and we know that because they said so," Rep. Diana DeGette said. "This was not a hidden crime. The president told them to be there and so they actually believed they would face no punishment."
Peep the clip above. Rep. DeGette played a video clip that showed rioters turned up when they first got to the Capitol. The MAGA mob screamed at police officers that they were there because they were "listening to Trump."
"Let's call Trump. Yes, dude, let's tell Trump what's up. ...He'll be happy. ...We're fighting for Trump!" a rioter said in another video played by Rep. DeGette.
The impeachment managers warned that failure to convict Trump would "set a dangerous precedent that future presidents — or Mr. Trump himself — could exploit." They also focused on Trump's lack of remorse after the attack.
Congressman Joe Neguse continued presenting clear evidence that Trump should be convicted.
"The president was delighted. Enthusiastic. Confused that others didn't share his excitement as we watched the attack unfold. He cared more about his effort to overturn the election than he did about saving lives," Congressman Neguse said.

"He sided with them—the insurrectionists—who had left police officers battered and bloody." "Ask yourself how many lives would have been saved, how much pain and trauma would have been avoided, if he had acted the way a president is supposed to act."
For centuries, we have accepted the peaceful transfer of power as fact.

We can no longer take it for granted.

Our constitution must be vindicated, so that what occurred on January 6th never happens again. pic.twitter.com/FQRfsiiVWs

— Rep. Joe Neguse (@RepJoeNeguse) February 10, 2021
Also…
During my presentation in the impeachment trial yesterday, I made two references from the hip hop genre: "The truth is usually seen and rarely heard" from GZA of the Wu-Tang Clan and "Truth is truth, whether denied or not," from Run the Jewels. You can see it below: pic.twitter.com/uLUYp6H8nN

— Rep. Stacey Plaskett (@StaceyPlaskett) February 12, 2021
Rep. Stacey Plaskett went all out Hip Hop on Congress! The YBF politician quoted lines from Run the Jewels' "Early" and GZA's "Breaker, Breaker" in her remarks on Wednesday (Feb. 10th).
The Prosecution Rests its Case #ConvictAndDisqualify #ConvictAndDisqualifyTrump #ConvictTrumpSaveAmerica #ForThePeople pic.twitter.com/lE9GqMq0Pw

— Rep. Stacey Plaskett (@StaceyPlaskett) February 12, 2021
Rep. Plaskett is the first non-voting Congress person to lead an impeachment case. She made history as "the first delegate ever to be on a team of impeachment managers in American history."
CNN reports:
Plaskett is a delegate because she represents a US territory rather than a state, so she is not able to cast votes on the House floor. That means she couldn't vote to impeach Trump when the full House took that step in January. But Plaskett is now acting as a prosecutor against the former President during the Senate trial, where House impeachment managers have argued that Trump incited an insurrection at the Capitol and are urging the Senate to convict.
During the violent attack on the Capitol, Rep. Plaskett and her team were on lockdown in her office. And they were on READY.
Below are the never-seen-before security video clips that showed how close rioters got to lawmakers presented during the trial:
House Democrats wrapped up their arguments yesterday (Feb. 11th) and its reported most Republicans aren't convinced by their arguments.
CBS News reports:
Despite the powerful presentation from House managers attempting to connect Mr. Trump to the events of January 6, most Senate Republicans have made statements indicating they are unconvinced by the Democrats' arguments.

GOP Senator Mike Braun told reporters on Thursday evening that he didn't think the managers' arguments had swayed any Republicans. Senator Mike Rounds argued that the impeachment trial itself was unconstitutional, even though the Senate voted earlier this week to dismiss the constitutionality question.

Other Republicans said that the arguments by impeachment managers were redundant.

"I thought today was very repetitive actually. I mean, not much new," Senator Josh Hawley, who spent much of his time in the visitors gallery reading documents during the impeachment managers' arguments, told reporters.

"I think the end result of this impeachment trial is crystal clear to everybody," Senator Ted Cruz said. "Donald Trump will be acquitted. And every person in the Senate chamber understands there are not the votes to convict him. Nor should there be."
Oh, and get this. Republican Senators Ted Cruz, Lindsey Graham and Mike Lee - all jurors in Trump's Senate trial - met with his legal team Thursday night for what Cruz called a "friendly" meeting.
Wait, since when can jurors meet with the legal team of the accused?!
"We were discussing their strategy for tomorrow, and we were sharing our thoughts in terms of where we thought the argument was and where it should go," Cruz said.
Today, Trump's legal team present their case. They are expected to argue the trial is unconstitutional and that Trump's comments didn't incite the insurrection on the Capitol. The defense team is also expected to show video of Democrats using fiery political language to defend its First Amendment defense.
It's reported his team plans to conclude their arguments in a single day. After their presentation, both sides will field questions from Senators before lawmakers consider any requests for witnesses or admission of additional evidence.
If House managers decide not to seek witness testimony, there could be a vote on whether to convict or acquit as early as tomorrow. If not, then next week.
If you thought MAGA supporters had already reached the highest level of delusion…guess again.
According to reports, QAnon supporters have teamed up with Trump supporters to spread a new conspiracy theory that Trump – who LOST the 2020 presidential election - will become president again on March 4th. No, really. They insist that on March 4th Trump will be inaugurated in Washington, DC, and, ultimately, return to power.
Oh, and get this. Trump International Hotel in Washington, DC is already hiking up the prices of suites around that period. According to Forbes, rates for rooms have reportedly tripled in price on the nights of March 3rd and 4th.
Ha! No surprise there.
Photos: Rep. Plaskett's Twitter/Frederic Legrand - COMEO/Shutterstock.com
​ ​
​ ​ ​