'#GorillaGlueGirl' Tessica Brown's GoFundMe Money Released After Investigation, Her New Management & Agency Team Demands Blogger To Stop Lying On Her
​
Feb 18 | by _YBF
​ ​ ​ ​
Tessica Brown – the woman dubbed "Gorilla Glue Girl" – shows off her new cropped coif after her Gorilla Glue hair fiasco. But now, there's more drama as her GoFundMe account has been FROZEN after the company received tips that she has been trying to make a come up. Tessica has sent a cease-and-desist letter to a blogger who says that she's clout chasing. More inside…
UPDATE:
The GoFundMe money has been released!
GoFundMe has ended their investigation into Tessica Brown's fundraiser, a rep confirmed to the The Post.
"The GoFundMe Trust & Safety team has released the funds and they should be on their way to Tessica," a spokesperson for the website wrote in an email of the $23,893 windfall Brown has been waiting for so she could donate it to charity.
Tessica wasn't allowed to withdraw the money because she hadn't confirmed which charities she planned to donate the money to. Also, many people had reported the account as "fraudulent," which prompted an investigation. The spokesperson said "the organizer stated she would donate the funds to a charity and to families" in her town and the company was in the process of working on a withdrawal plan with her.
In the meantime, Tessica is also gearing up to make a splash in Hollywood. The mother-of-five will reportedly jet back to Los Angeles for another hair treatment by Dr. Michael Obeng, but that's not the only reason she'll be there. She reportedly has plans to sit down with her A-list celebrity management team to hash out how she'll turn her 15-minutes of fame into lasting, reality stardom.
Well alright.
-----------------------------------------------------------------
The #GorillaGlueGirl saga ended last week. However, Tessica Brown's name is still in the headlines.
After a Beverly Hills surgeon freed her hair from the Gorilla Glue adhesive spray for free, the 40-year-old Louisiana teacher showed off her new hairstyle on her social media after she had to cut her ponytail off:
"#IAMNOTMAHAIR Shout out to @supa_dee0223 over at BELOW ZERO for my new cut,if your comfortable with your hair let see those pictures also wanted you guys to know I love y'all so much The good outweighed the badAnd I am forever grateful," she wrote in the caption.
Before Dr. Michael Obeng completed the $12,500 procedure on Tessica, she started a GoFundMe asking people to donate money to help her get the strong hold adhesive out of her hair. At first, Tessica said she was going to use the money for surgery and was asking for $1,500. By the time Dr. Obeng operated on her for free, Tessica's GoFundMe account racked up $20,000. In an interview, she said she was going to use the money for wigs and aftercare.
Then, she had a change of heart. She decided she was going to donate a bulk of the money to a reconstructive surgery organization:
"With the remainder of the money I will be blessing three local families thanks for all the support love you guys so much thank you," she wrote.
However, it doesn't look like that's going to go down...at least not now. According to reports, Tessica's GoFundMe account has been frozen and is being investigated after the site was hit with claims that Tessica was trying to pull a fast one.
As of the time of this post, Tessica's account has raised $23,893 and the fundraiser is no longer accepting donations.
TMZ reports:
Tessica says GoFundMe has frozen the account after it got flooded with claims she's pulled a fast one. As you probably know, there's a conspiracy theory out there that Tessica didn't really Gorilla Glue her hair, and she cooked this all up to milk the Internet for sympathy dough.

Sources with direct knowledge tell TMZ ... GoFundMe has asked Tessica for an update on where the $23,000 in the account will be donated. We're told she's provided that info, and is now waiting for a response.
Amid the controversy, Tessica was contemplating suing Gorilla Glue, but now she has new legal drama on her hands. She sent a cease-and-desist to a blogger for writing stories that allege she's just clout chasing. The blogger claims she really didn't spray Gorilla Glue in her hair and that her story isn't adding up.
Tessica now has a managemt team and an agent to help her get to the bottom of this.
TMZ reports:
An attorney repping Tessica's management team fired off a cease and desist letter to the person who appears to run the IG and Twitter accounts @gossipofthecity_ -- telling them to stop spreading the claim TB hustled everybody into thinking she sprayed Gorilla Glue into her hair.

The account has been posting about it for several days now, including messages and videos to both accounts -- which have close to 610,000 combined followers -- insisting Tessica is a liar and that she pulled a fast one ... especially on those who donated money to her.

The account even re-posted a 15-minute video from another woman who claimed to have sprayed Gorilla Glue in her own hair, trying to debunk Tessica's account. The post read, "Salute to this sister who actually deserves the money y'all donated to that liar. #girlbye."
Check it:
The cease-and-desist letter reads:
This firm represents the management of Tessica Brown ("Tessica") and has been engaged on Ms. Brown's behalf. It has recently come to our attention that you have made disparaging statements regarding Tessica to third-parties through social media alleging that she fabricated an unfortunate and traumatic incident which has recently been reported upon by various news attempting to capitalize on her misfortune. The statements you have made are false, defamatory and to our mind, are being made with sole intention of causing loss and damage to Tessica personally and professional, for your own gain.
You can read the full letter here.
It doesn't look like the IG blog has taken down any of the posts about Tessica as of now....
...so we shall see.
Through it all, her man, Dewitt Madison, has been holding her down: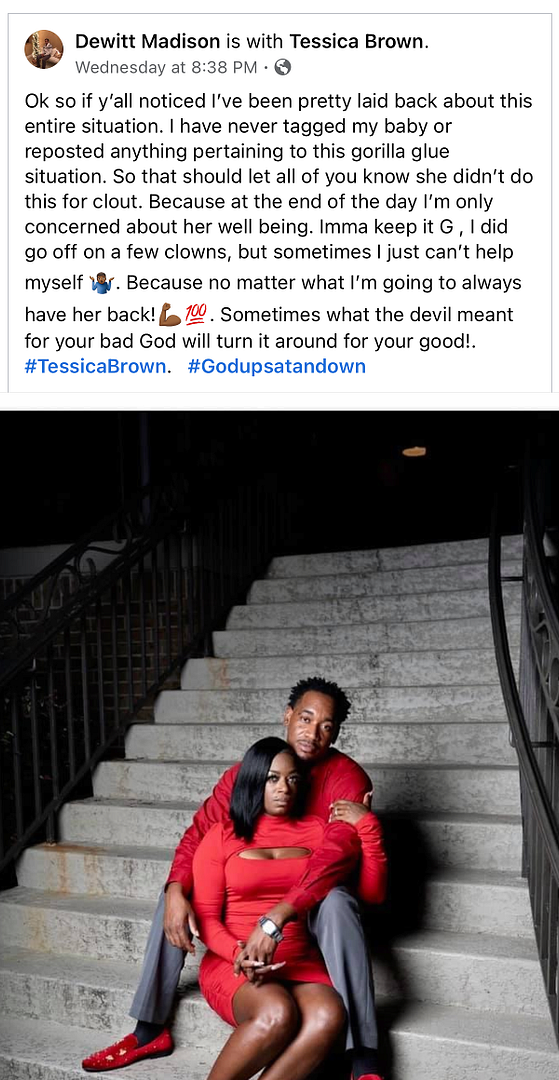 Photo: Tessica's IG
​ ​
​ ​ ​