Megan Thee Stallion & Pardi Confirm They're A Couple Then He Shares How He Spoiled Her On V-Day + The College Hottie Covers Harper's Bazaar
​
Feb 20 | by _YBF
​ ​ ​ ​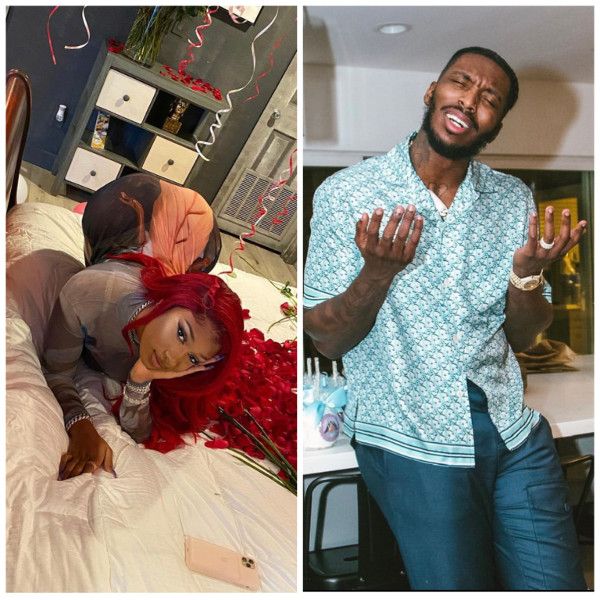 Hip Hop has a new couple! Megan Thee Stallion and Pardison "Pardi" Fontaine are dating. See how the rapper/songwriter made Valentine's Day special for Meg, plus find out what she said about graduating college soon in her new Harper's Bazaar cover story inside….
Fans have been speculating if Megan Thee Stallion has a new man in her life after rapper/songwriter Pardison "Pardi" Fontaine put up several posts seemingly shooting his shot at Meg. On the flip side, the Houston Hottie was also very heavy in his comments when he popped up on IG Live, so dating rumors sparked.
Now, it's official. Meg & Pardi are an item!
During a recent IG Live, the "WAP" raptress confirmed Pardi is her new man. She started the conversation off first by saying she wasn't feeling how people were talking bad about him following her birthday drama that went down on social media.
Last week, Meg was partying with Pardi and her friends to celebrate her 26th birthday when things seemingly got heated between the rappers. Apparently, a friend of Megan's was on IG Live when Pardi was heard aggressively trying to break into the bathroom while Meg was inside.
It's alleged Pardi was arguing with Meg's security guard, but it's unclear why. Either way, he shouldn't have been acting all aggressive toward Meg & her friends. And fans weren't feeling the way he reacted and made sure to let him know how they felt on social media.
So she addressed it while confirming that's her BOO:
"I don't be liking some of the stuff on the internet," she said in her IG Live. "People don't know what the hell they talking about, they just be saying anything. I didn't like what they was trying to say about Pardi. 'Cause he is so calm and so sweet. And very, you know. That's my boo. And I really like him!"
Listen below:
The confirmation comes days after she hinted at having a "boo" in a birthday tweet.
"I'm healthy, I can take care of myself, my friends & family love me, my boo love me (he mad at me rn but he still love me) shiddd Beyoncé love me," she tweeted at the time. "I'm just happy and blessed lol."
Now that the cat is out of the bag, Pardi also made their relationship IG official. He put up a collage of photos and videos of how he surprised Meg on Valentine's Day. And he went all out for their "Pardi with a Hottie" themed surprise:
Aww! That menu tho!
After their announcements, the couple went on to star in their first joint IG Live (that they were aware of) where they played Truth or Dare. Below is a clip:
Check out more from their IG Live below:
On the magazine front:
The "Savage" rapper landed double covers for Harper's Bazaar March 2021 Spring Fashion issue, serving up more natural vibes over full-out glam. Styled by editor-in-chief Samira Nasr, the 26-year-old rap star posed it up in high fashions, including Alaïa, Chanel, Valentino, Prada and Saint Laurent.
Megan Thee Stallion covers Harper's Bazaar US March 2021 issue in Saint Laurent and wears Prada & Valentino respectively pic.twitter.com/Ry8hJIpEzD

— hautelemode (@hautelemess) February 19, 2021
megan thee stallion for harper's bazaar by collier schorr pic.twitter.com/sPWKu3Wu7C

— (@saintdoII) February 19, 2021
Sometimes less is more, according to the Head Hottie.
"I'm realizing that I don't have to be in full glam every time you see me, because I'm just getting more comfortable with myself and more comfortable with my skin," she told the publication.
While she continues to top the charts, she's also finishing up her college course at Texas Southern where she has been working online towards her health administration degree. As you know, Meg is the caption of #HotGirlSummer, but after each summer, she's all about #HotGirlSemester. Now, she's almost at the finish line.
"This semester, I was like, 'Four classes. Let's go.'" she said about finishing college. "I cannot wait. I'm going to have the biggest graduation party. You fought through the procrastination. You fought through crazy professors. You made it home the next day from the party and still went to class. You know what I'm saying?"

"Before my mom passed, she really would be on my butt about getting my degree." Now, her great-grandmother has been applying pressure, asking her, "You are going to get them papers?"
Loves it.
The TINA SNOW rapper also recently confirmed on Twitter she'll be copping her degree this fall:
Mam Im abt to Graduate in the fall and still gone open my facility.. hope you get them retweets doe https://t.co/b6FmQVU2rh

— TINA SNOW (@theestallion) February 16, 2021
Sis also gave her own stamp of approval about her rapping abilities.:
"I feel like when it's all said and done, when people want to talk about female rap…they are definitely going to have to put my name up there with the OGs," she said.
Better put some respeck (no typo) on her name.
After Meg shared her photoshoot flicks on her Instagram, a hoard of fans sounded off on Meg's "boring" and "minimalist" photoshoot, setting blame on photographer Collier Schorr.
Schorr took to her Instagram account and said Meg had a hand in the editing of every image after she shot them:
"A most remarkable experience making pictures with Megan Thee Stallion who discussed each picture and edited afterwards with me," Schorr wrote. "In charge of her self Total collaboration as it should be to make together new images of her at this moment in her life. The styling by @samiranasr allowed for all the play and exploration. Grateful to work this way. Sharing visions."
You can check out Meg's full cover story and photoshoot here.
Also…
The "Body" rapper dropped some skincare gems in a tutorial style video of how she prepares her face before she goes to bed. Take notes above.
There's more…
Meg shared this selfie with the caption, "Werking."
Looks like she's filming for the second season of HBO Max's competition series "Legendary."
"Even though I'm not working a traditional job, I still treat it like: 'This is work. I need to work hard for this," Meg said. "I want to be here. I want to do this. I want to be Megan Thee Stallion.'"
And we're here for it.
Photos: Pardi's IG
​ ​
​ ​ ​