AND THAT'S GAME! Naomi Osaka Wins 2021 Australian Open, Claims Her FOURTH Grand Slam Title!
​
Feb 20 | by _YBF
​ ​ ​ ​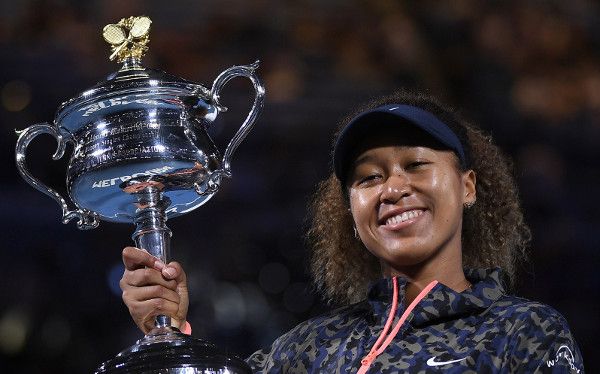 She came. She saw. She conquered…Serena Williams. And then she WON the 2021 Australian Open trophy, claiming her FOURTH Grand Slam title. Woot! Celebrate with Naomi Osaka inside….
A new tennis queen is in the making.
After defeating her idol Serena Williams during the semi-finals earlier this week, Naomi Osaka reigns supreme as she just won the 2021 Australian Open!
Absolute madness. number 4 #ausopen pic.twitter.com/cjFNcl7iQH

— NaomiOsaka(@naomiosaka) February 20, 2021
"Absolute madness. number 4," Naomi tweeted.
This is the 23-year-old tennis star's second Australian Open title and her FOURTH Grand Slam title. She defeated Jennifer Brady in a 6-4, 6-3 in the women's singles final today in under an hour and a half.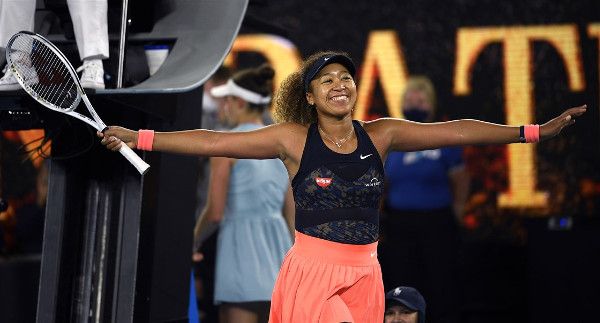 And get this, Naomi is 4-0 in major finals, making her the first female tennis player to start her career that way since Monica Seles reportedly did it 30 years ago. The fab tennis player also has a 12-0 record so far in the quarterfinals, semifinals and finals at the majors.
With four Grand Slam titles under her belt, this win pushes Naomi to the #2 spot of up WTA's ranking of women's tennis players. The number one spot is currently held by Australian player Ashleigh Barty.
Seemingly a bit nervous, Naomi delivered her victory speech to a crowd of fans. She stopped her speech to ask her opponent if she preferred to be called Jennifer or Jenny. The player responded "Jenny," but Naomi ended up calling her Jennifer anyway:
— Kicks Deals (@KicksDeals) February 20, 2021
Aww! Likely nerves.
The four-time Grand Slam winner thanked her family and team before thanking the fans for coming out to watch her play.
During her last Grand Slam tournament, fans weren't allowed in the stadiums due to COVID-19 protocols.
"I want to thank you guys [the fans], thank you for coming and watching … I didn't play my last grand slam [the US Open] with fans so just to have this energy it really means a lot, thanks so much for coming. Thank you for opening your hearts and your arms towards us and for sure I feel like playing a grand slam right now is a super-privilege … so thank you for this opportunity."
Check it:
It's a privilege for us to watch you @naomiosaka #AO2021 | #AusOpen pic.twitter.com/84dxjSnec0

— #AusOpen (@AustralianOpen) February 20, 2021
In a post-game interview, Naomi said the biggest thing she wants to achieve is to play long enough to play a girl who considered her their favorite player:
"Hopefully I play long enough to play a girl that said I was once her favourite player."@naomiosaka is winning Grand Slams and inspiring tennis stars of the future #AusOpen | #AO2021 pic.twitter.com/BaYA3JkZhx

— #AusOpen (@AustralianOpen) February 20, 2021
Peep highlights from their game below:
The 2020 AP Female Athlete of the Year is also on a 21-match winning streak that dates to last season, which includes at last year's U.S. Open, the 2018 U.S. Open, and the Australian Open in 2019.
Boss mode #AusOpen | #AO2021 pic.twitter.com/v9DcgxJsKN

— #AusOpen (@AustralianOpen) February 20, 2021
Boss mode indeed.
A message from your @AustralianOpen champion, @naomiosaka #AO2021 pic.twitter.com/AJ9i7sveY8

— wta (@WTA) February 20, 2021
Naomi's rapper boyfriend YBN Cordae congratulated her on her big win:
Congrats, Naomi!
Also...
Naomi & her boyfriend YBN Cordae landed on the GQ's The Modern Lovers issue. Inside, Cordae said he had no idea Naomi was a tennis superstar before they started dating:
"It's not my sport," the rapper, born Cordae Amari Dunston, told GQ for their Modern Love cover. "If you asked me about tennis, before being immersed in it because of Naomi, I could only give you Venus and Serena Williams, you know? Because they're just a part of the culture."
The Grammy-nominated rapper also talked about how he felt when he went to his first-ever tennis match to support his girlfriend at the 2019 U.S. Open.
"I don't know if I ever told Naomi this or not, but I felt really out of place. Like, that was my first time being in an environment like that in my entire life," he told GQ. "My elementary school, middle school, high school was 99.9 percent Black. Kids who look like me. It just felt really weird for me being in that space. That was my first tennis match ever."
Aww. You can read more about their love story here.
Photos: Andy Brownbill/AP
​ ​
​ ​ ​