Deion Sanders' JSU Debut Victory Spoiled By Bizarre Locker Room Drama + Troy Aikman's Surprise Visit Brought Him To Tears
​
Feb 22 | by _YBF
​ ​ ​ ​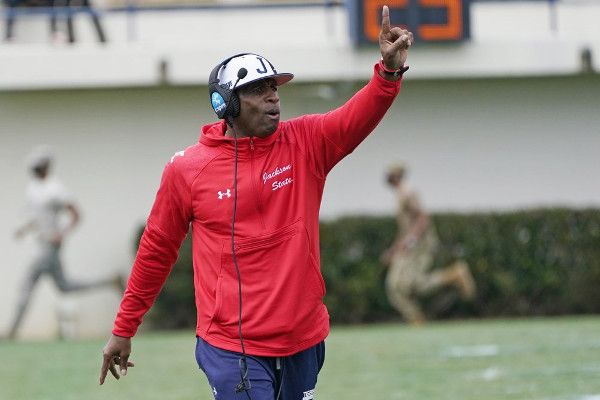 Deion Sanders coaching debut at JSU was overshadowed by a bizarre story about someone STEALING items from his lock room after his first victory. He's adamant that items were stolen and said he even has a witness. Deets on the wild case of stolen items, plus Deion's reaction when his former Cowboys teammate Troy Aikman paid him a visit inside…
NFL icon Deion Sanders made his collegiate head coaching debut over the weekend. And while he brought home a victory, the post-game drama has almost overshadowed the win.
On Sunday, the two-time Super Bowl champ (aka Coach Prime) led Jackson State University (an HBCU) Tigers' 53-0 blowout victory over NAIA program Edward Waters.
Deion Sanders made his CFB coaching debut today.

His Jackson State Tigers beat Edward Waters, 53-0 pic.twitter.com/jIf4Uxbp7i

— SportsCenter (@SportsCenter) February 21, 2021
However, there was some drama in the locker room after the game that left him with "mixed emotions" about the day. He said someone snuck into the locker room and stole a lot of his personal belongings.
"I'm pissed off right now, because I have mixed emotions," the former NFLer said during a post-game interview. "We won, the kids played really well, but while the game was going on someone came in and stole every darn thing I had in the locker room, in the coaches office. Credit cards, wallet, watches. Thank God I had on my necklaces. How? So when I talk about the quality, raising the standards, that goes for everyone, man. Not just the people on the field, not just the coaches, not just the teachers, not just the faculty, but everybody. Security and everybody."
Peep the clip below:
A sad, bizarre and unfortunate situation. After his first win as Jackson State's head football coach Deion Sanders reveals that his personal items were stolen during the game. pic.twitter.com/S0CyJMN1VW

— Joe Cook (@JoeCookSports) February 21, 2021
Shortly after, there was discussion online about the alleged stolen items after the school the school told ESPN Deion's items were never stolen, but simply misplaced.
So there was a miscommunication in what was happening with @DeionSanders stuff. So when he came in the presser he thought it was stolen and but member of the JSU staff had it secured.

It was his first game at the stadium. The first for JSU at home since 2019. Hectic week.

— Steven J. Gaither (@stevenjgaither) February 22, 2021
However, Coach Prime said that was not the case. In a series of tweets, Deion revealed a female staff member walked in on the theft, but didn't confront the alleged thief because "she couldn't fight a dude off."
"Whomever putting out the lie that my belongings wasn't stolen is LYING," he tweeted. "My belongings were taken out of a zipped bag in my office and more items were taken as well from my office. We have retrieved them since being reported. My Staff member witnessed the crime."
Peep his tweets below:
Back in January, Deion said his belongings were stolen out of his truck on campus. He hopped on social media to ask for help from the people of Jackson, Mississippi, after his truck was broken into. Sheesh.
Later, Jackson State athletic director Ashley Robinson issued a statement that read:
Official Statement Regarding Incident pic.twitter.com/pDKQNtd7dd

— Jackson State Athletics (@GoJSUTigers) February 22, 2021
"Immediately following our win today, several items belonging to Coach Prime were taken from the locker room. Those items were quickly recovered and returned. While we consider this an isolated incident, we are thoroughly reviewing security protocols to ensure this does not happen again. However, we refuse to let this dampen the victory for our JSU Tigers, who have worked hard for this moment."
Glad all of his personal belongings were found and returned.
Also…
Issa Cowboys reunion! Hall of Fame cornerback Deion Sanders said he was "brought to tears" when his former Dallas Cowboys teammate/Hall of Famer Troy Aikman popped up on him before his coaching debut.
"My man @troyaikman showed up to Veterans Memorial Stadium to watch some @gojsutigersfb today and brought me to tears that he would come to support me and my dream after a difficult week regarding weather in Texas & Mississippi," Deion wrote.
Watch the former Cowboys teammates reunite:
A LEGEND just showed up to support our guy @DeionSanders at his first game @21standprime pic.twitter.com/SrSiKYeXq8

— Barstool Sports (@barstoolsports) February 21, 2021
Deion and Jackson State will host Mississippi Valley State on Saturday, kicking off the Southwest Athletic Conference season. Hopefully, drama free.
Photo: AP Photo/Rogelio V. Solis
​ ​
​ ​ ​