Charlamagne Responds To LaKeith Stanfield's Gun-Toting TikTok After Reigniting Their Beef
​
Feb 23 | by _YBF
​ ​ ​ ​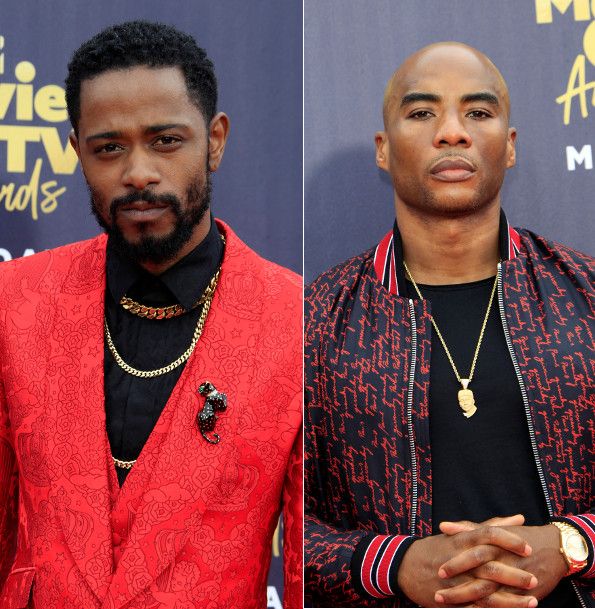 After reigniting their beef earlier this week, Charlamagne tha God is responding to LaKeith Stanfield's gun toting TikTok video. Find out what he said about it inside….
Beef between actor LaKeith Stanfield and Power 105's "The Breakfast Club" radio host Charlamagne tha God was reignited this week during an interview with LaKeith's Judas and The Black Messiah co-star Daniel Kaluuya.
In the movie, LaKeith Stanfield plays informant William O'Neal, the man who infiltrated the Black Panther Party. During the interview, radio host Charlamagne tha God asked Daniel if he looked at LaKeith differently for playing William O'Neal "too well."
LaKeith caught wind of Charlamagne's comments and responded on his IG account. Then, he deleted the post.
"Hoes. This is what hoes do," LaKeith wrote in the caption of a clip from Daniel's interview. "Get sonned by reality. Get off me bro u a lame. Daniel ain't an idiot. Leave me be dog and find somebody else @cthagod."
Following his post-and-delete, LaKeith hopped on TikTok where he posted a bizarre video of himself brandishing a gun that was pointed at a picture of Charlamagne. The Get Out actor also pointed the gun at a mirror while he was dancing around and then stuck his middle finger up in front of a picture of his on-screen character William O'Neal (a real FBI informant). In the same clip, he was also seen dancing in the mirror with a mannequin head. The "Atlanta" star ended up deleting the TikTok video as well.
Watch the cringey clip below:
FYI - We do NOT condone violence in any way, shape or form.
Also...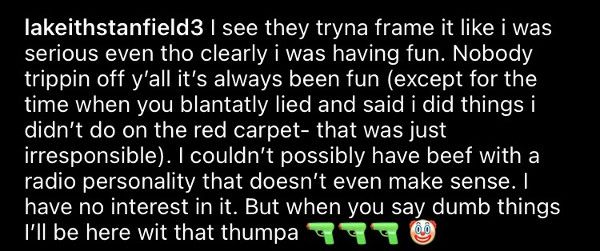 The "Knives Out" actor explained people shouldn't take his video "serious" and that he was "clearly having fun."
"I see they tryna frame it like I was serious even tho clearly I was having fun. Nobody trippin off y'all it's always been fun (except for the time when you blantatly lied and said I did things I didn't do on the red carpet - that was just irresponsible). I couldn't possibly have beef with a radio personality that doesn't even make sense. I have no interest in it. But when you say dumb things I'll be here with that thumpa," he said, along with gun and clown emojis.
The clip was enough to get Charlamagne to respond:
During Angela Yee's "Rumor Report" segment, Charlamagne said LaKeith is now trying to play victim and told him he needed to stop "dishing it" if he can't "take it."
"What Lakeith does is he gets online and he plays the victim and he makes it seem like I'm always coming at him," Charlamagne said, explaining how he ignored LaKeith's diss track he previously made towards him.
In November 2019, Charlamagne gave LaKeith Donkey of the Day after LaKeith dubbed black media outlets like "The Breakfast Club" as anti-black. LaKeith responded with a diss track titled "Automatic" and they have been beefing ever since.
"But he does that all the time. When he made comments about Kamala's hair last year and got backlash, he got online and said he can say what he wants and no one can force him into not saying what he wants. All good but if you gon' have that energy of saying what you want, don't play victim when people say something back," the radio host continued.
Peep the clip above.
This is petty.
Photos: Kathy Hutchins/Shutterstock.com
​ ​
​ ​ ​