[UPDATE] Tiger Woods 'Awake & Responsive' After Getting Rods, Screws & Pins To Repair Injured Leg Following Single-Car Rollover Accident
​
Feb 24 | by _YBF
​ ​ ​ ​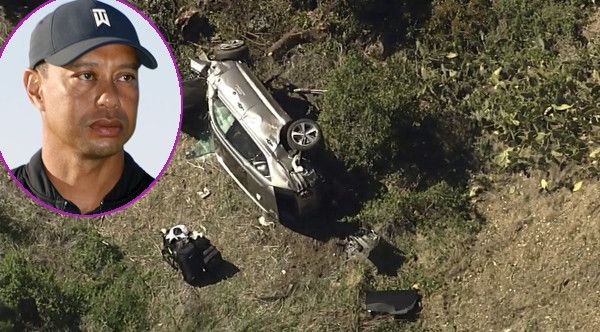 Tiger Woods is undergoing surgery for "multiple leg injuries" after he was injured in a single-car accident in suburban Los Angeles. More inside…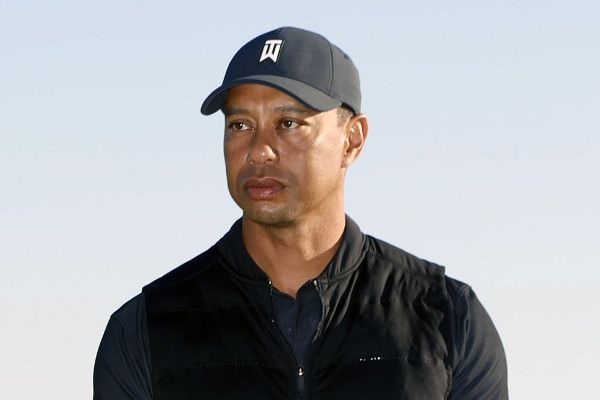 [UPDATE]:
Tiger Woods is now "awake and responsive" after undergoing emergency surgery on his legs following a serious single-car wreck in Los Angeles yesterday (Feb 23rd). The 45-year-old father-of-two underwent hours of surgery to repair what doctors called "significant orthopaedic injuries" to his lower right leg and ankle.
An official statement was post to Tiger's Twitter account that said the 15-time major champion suffered "comminuted open fractures affecting both the upper and lower portions of the tibia and fibula" in a car accident. Comminuted open fractures are when bones are broken into more than two pieces and with breaks in the skin. Ouch!
The statement said the golfer is "awake, responsive, and recovering in his hospital room," according to the post.
Check it:
— Tiger Woods (@TigerWoods) February 24, 2021
During yesterday's press conference, Deputy Carlos Gonzalez said Tiger was lucid and could speak at the crash scene. He said the golfer did not appear to be under the influence of alcohol or any other substance.
You can watch it below:
Also...
TMZ Sports obtained a video of Tiger driving Tuesday morning on Hawthorne Blvd, minutes before the crash. Peep the clip above.
According to a crew member working on the TV show "Grown-ish," Tiger nearly struck a TV director before his accident.
TMZ reports:
Tiger was staying at a hotel where a major network television show was being shot. Production sources tell TMZ, when the director arrived just before 7 AM, Tiger was driving his SUV very fast as he was leaving the property and almost hit the director's car. The director was shaken enough to tell production staff about it after he parked.

A crew member who saw Tiger as he got in his SUV at the hotel tells TMZ, once Tiger got in his vehicle, there was a delay in driving off -- we're told his SUV was blocked by another car that was loading luggage -- and he appeared "agitated and impatient." The crew member says once the delay was over, Tiger "took off fast."

Golf Digest says Tiger was scheduled to arrive at Riviera Golf Course at 7:30 AM PT for a shoot ... he was reportedly going to give Drew Brees lessons. The issue is Riviera is at least an hour drive from the resort where Tiger was staying. You get the picture ... if he was heading out just before 7 AM, then he knew he was running late.
Peep the clip below:
---------------------------------------------
Gold star Eldrick "Tiger" Woods has been hospitalized and is undergoing surgery for "multiple leg injuries" following a single-vehicle rollover car accident in suburban Los Angeles today (Feb. 23rd).
This morning @LMTLASD responded to a roll-over collision in which @TigerWoods was injured. Please see our statement... pic.twitter.com/cSWOxKZC1w

— LA County Sheriffs (@LASDHQ) February 23, 2021
The crash happened around 7:15am PST in the Rancho Palos Verdes area. The 15-time major golf champion was reportedly alone in the vehicle.
It was previously reported fire crews had to use the "jaws of life" to extract Tiger from the vehicle. However, Capt. James Power (from the sheriff's department) said the jaws of life were NOT used to rescue him. He said first responders popped open the windshield and was able to get him out.
It took six minutes from the time of the accident for officials to arrive on scene. The famous golfer was rushed to the hospital via ambulance in serious condition. No other cars were involved in the wreck.
"Tiger Woods was in a single-car accident this morning in California where he suffered multiple leg injuries," said his manager, Mark Steinberg. "He is currently in surgery and we thank you for your privacy and support."
Story updated with statement from Woods' agent Mark Steinberg:

"Tiger Woods was in a single-car accident this morning in California where he suffered multiple leg injuries. He is currently in surgery and we thank you for your privacy and support."https://t.co/z7kdbXOmLZ

— Daniel Rapaport (@Daniel_Rapaport) February 23, 2021
According to the Los Angeles County Fire Department, Tiger's vehicle was traveling northbound on Hawthorne Boulevard when it crashed at Blackhorse Road. As seen in the photos of the wreckage, the vehicle sustained major damage. It appears the whole front of the car was torn off and air bags appear to be deployed.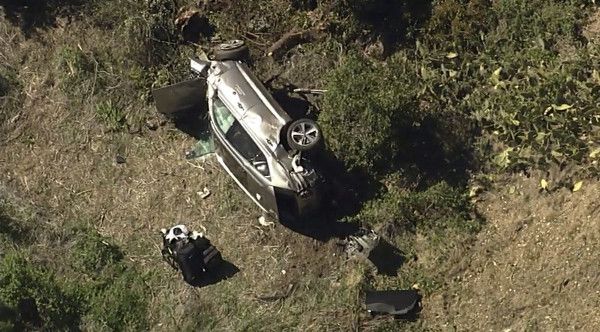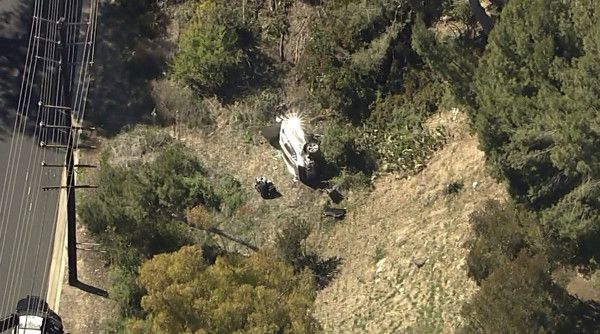 A second crash happened near Tiger's accident when a vehicle that stopped to help the golfer got hit. Christopher Thomas, a spokesman for the Los Angeles County Fire Department confirmed that wreck was very minor, and no one was hurt.
A press conference with Sheriff Alex Villanueva to discuss the single vehicle rollover traffic collision will go down at 3pm PST.
Fresh off an eventful weekend, Tiger – who has been recovering from his fifth back surgery - was in L.A. being tournament host of the Genesis Invitational at Rivera, where he presented the winning trophy. The golfer was set to film with Discovery-owned GOLFTV on Monday and Tuesday. Actress Jada Pinkett-Smith and former NBA star Dwayne Wade linked up with Tiger yesterday and they shared candid flicks of them while playing golf:
— GOLFTV (@GOLFTV) February 24, 2021
Oddly enough, this isn't the first time Tiger has been involved in a car investigation. It's his third. In 2009, Tiger was caught up in cheating drama with his wife that resulted in his SUV running over a fire hydrant and hitting a tree on Thanksgiving. That incident almost ruined his career, causing him to lose major corporate sponsorships. He ended up going to rehab and took a five-month hiatus from golf.
In 2017, the golfer reportedly fell asleep behind the wheel of a car parked awkwardly on the side of the road in Florida. Cops arrested and charged him with DUI. He made claims that he had an unexpected reaction to prescription drugs. In court, he pleaded guilty to reckless driving. He also checked himself into a rehab clinic to get help with prescription medication and a sleep disorder.
The last time Tiger played golf was back in December in the PNC Championship with his 11-year-old son, Charlie. After the tournament, he underwent his fifth surgery on his back (a microdiscectomy) and gave no indication when he would return to the game. Looks like he just got set back even further.
Prayers for a speedy recovery.
Photos: Ryan Kang/AP Photo/KABC-TV via AP
​ ​
​ ​ ​