BIRKIN BAG DEBATE SETTLED: Hermès Bags Are Considered Investments & They're Quite Profitable
​
Feb 24 | by _YBF
​ ​ ​ ​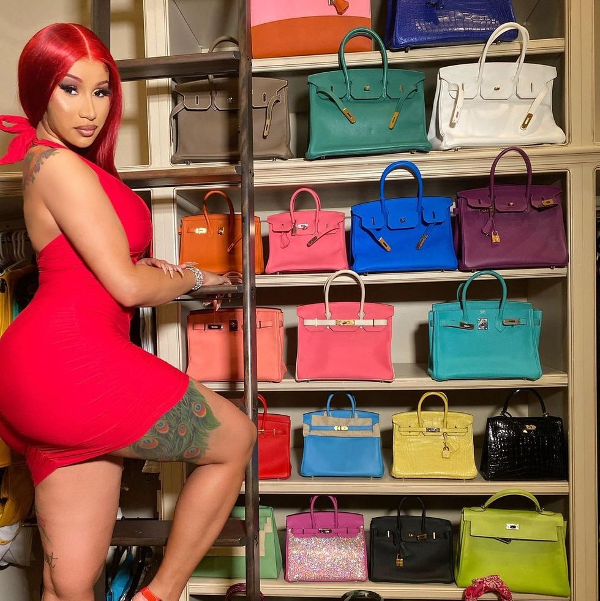 The Birkin bag debate is settled! While some may not understand why someone would spend over $10,000 for a purse, the rich and famous have no problem dropping bands for the newest Birkin bag. Turns out, the most sought-after bag is actually a profitable investment. More inside…
2020 birthed the popular Birkin Bag debate!
If you didn't know, rapper Cardi B is a huge Birkin Bag Baddie who has a plentiful collection of luxury bags from French luxury goods company, Hermès.
Earlier this month, Cardi B shared a video of her newest Birkin bag, revealing she had been looking for it all over the world.
Due to the style's exclusive nature, Bardi said she paid "triple" for it, which means she likely coughed up to $240,000 on her new accessory.
"I wanted this f*cking Birkin so bad. Y'all don't understand, I called every f*cking Hermès store, it just came out this year … I had to pay triple but I just love it," she said in an IG video "I just thought it was so amazing, she's so pretty."
Even Cardi's 2-year-old daughter, Kulture, has a Birkin…or a few.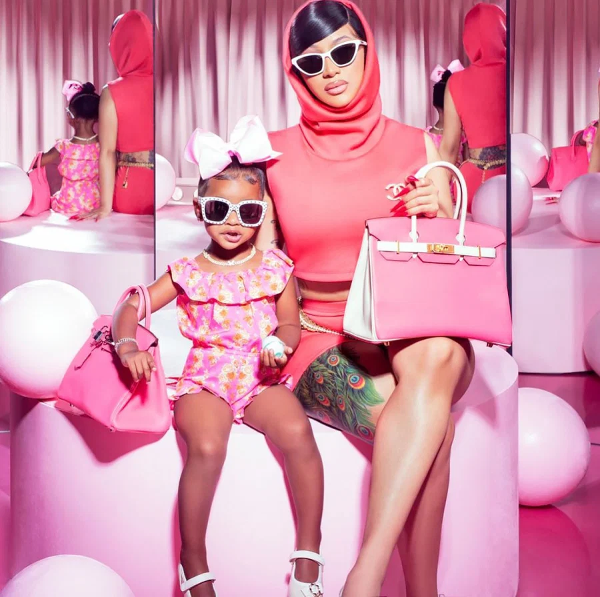 Rapper Saweetie is another celeb who loves herself some Birkins.
The "Best Friend" raptress loves the coveted bag so much that she created an official IG account for her collection called Birkin Bag Bratz:
Ha!
Last year, Saweetie's boyfriend Quavo gifted her two Birkin bags and she literally lost it:
Quavo gifted Saweetie with two Birkin bags for her birthday pic.twitter.com/U9ZEMhKKMa

— RapCentury (@RapCentury_) July 3, 2020
Back in October, Saweetie started a debate on social media after she said all men should buy their woman a Birkin bag.
"If he not getting you a Birkin, if he not paying for your bills, then throw that n*gga back to the streets," she said in an IG Live video alongside Quavo.
Later, she clarified her comments, stating a man should spoil his woman according to his tax bracket, but folks (especially men) were up in arms about what she originally said. If you can't afford a Birkin, just say that a move on people.
Socialites also like to lace themselves in the hard-to-get bag: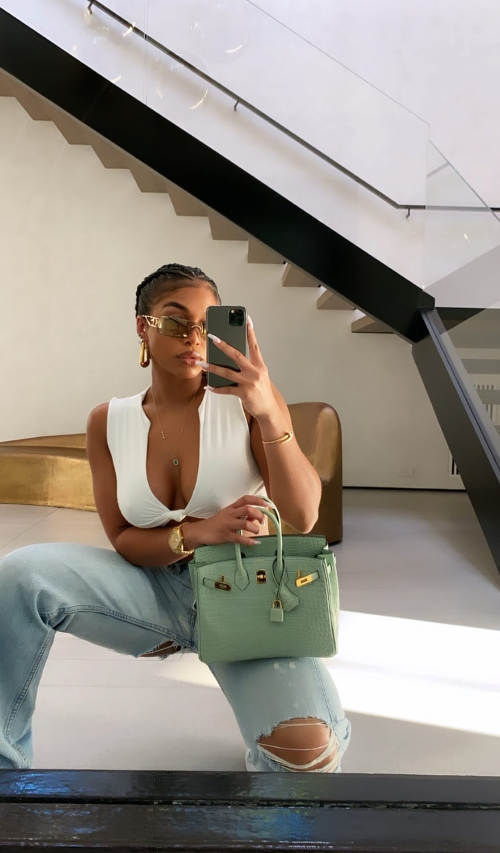 Lori Harvey – daughter of Steve & Marjorie Harvey – often shares Instagram photos of herself rocking bags from her Birkin collection.
On Valentine's Day, Lori's actor boyfriend, Michael B. Jordan, gifted her a certified slip showing he purchased Hermès stock in her name.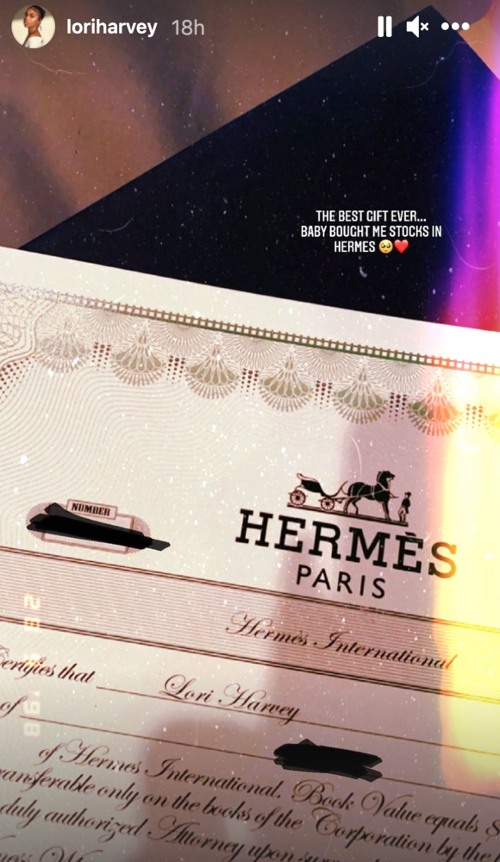 A gift that will keep on giving.
Due to the Birkin bag's rarity and exclusiveness, they also increase in value over time, making them a popular collector's item.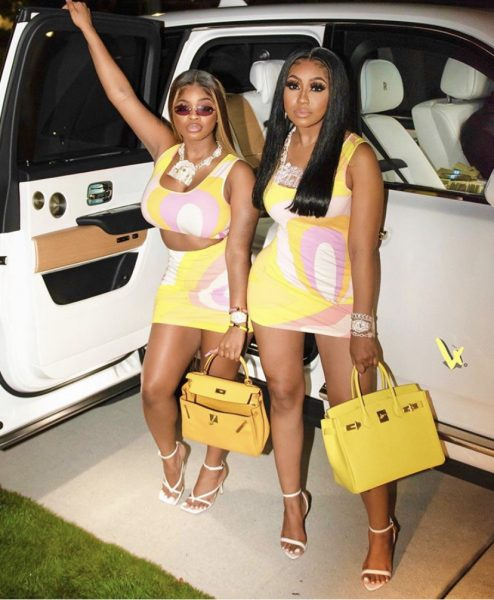 However, folks on social media have been sounding off about how Birkins have "literally lost their value" because "the City Girls and Cardi" make them seem "easy to get" and less "exclusive."
The "WAP" rapper popped back at the Birkin trolls in an IG post, calling that type of commentary racist:
Cardi B has clapped back at trolls saying female rappers devalue Birkin Bags pic.twitter.com/01yxsKb7fU

— MTV UK⁷ (@MTVUK) October 26, 2020
Debate over a Birkin bag was also brought up on social media when Yaya Mayweather – Floyd Mayweather's daughter – sounded off about celebrities rocking "fake" Birkins.
"Wait a minute… this is getting out of hand," Yaya posted. "I'm starting to see too many people on this app with Birkins like their just some regular bags that you can go buy. Some of these Birkins gotta be fake and I'm not saying everybody's is fake. I'm not trying to be funny but let's make something crystal clear. For one, you can't just walk into an Hermès store and buy a Birkin. You have to be like a member in order to buy them. Two even if you are a member you can only buy so many a year (and because of this is why my dad sometimes goes overseas to purchase them)."
Some of what she said is true.
Due to the slow and precise crafting of the bags along with materials and leathers that are difficult to source, only a handful of bags are actually made by Hermès each year. With only a limited amount made a year, this makes it harder for a consumer to get a new bag directly from Hermès, which created the infamous years-long waiting list.
Some would argue that a Birkin bag is a better investment than stock and gold. And with the way prices are continuing to rise for the bag, it appears to be a safe investment. And here's why:
The French luxury icon's handbags have been one of the clear winners from the coronavirus crisis. The price of one Hermès bag outperformed other luxury items last year, according to a report published by property consultant Knight Frank, rising by 17%. Wine and collectible cars rose 13% and 6% respectively. Over the last decade, the group's bags have risen 108%, handily trouncing gold's 29% return.

That might explain why Hermès International shares are now trading at a toppy 51 times forward earnings, valuing the company run by Axel Dumas at 99 billion euros ($121 billion). The good news is that the supply of its key customers is still rising.
A bag in good to very good condition can reportedly fetch up to more than 80% of what the previous owner invested. A bag in excellent condition can fetch up to more than 100% of what the previous owner invested and a bag in pristine condition up to more than 120% of the previous owner invested. Sheesh!
According to BagHunter.com, an Hermès bag can stand up against traditional investments, such as diamonds, gold, silver, stock markets, and real estate. While these investments can both appreciate and depreciate, Hermès bags have only risen in value.
Peep the math:
Let's look at the figures – a standard Kelly bag could have been purchased in 1950 for $900. By 1960 the same bag cost $1,300, by 1970 it was $2,450, 1980 saw it sell for $4,000, 1990 for $5,100, and at the turn of the century it cost $7,400. Today, that exact bag has increased in value to $9,250! The same increase is seen with Birkin bags with a standard Birkin setting customers back $2,000 in 1980, $2,750 in 1990, $4,000 at the turn of the century, and today sells for between $10,000 and $12,000!
So, while fans may not understand why a celebrity would drop up to hundreds of thousands of dollars for a purse, copping a Birkin is actually a profitable investment if you take care of it.
Debate done.
Photos: Cardi's IG/Saweetie's IG/City Girls' IG
​ ​
​ ​ ​