DaBaby Sued For Allegedly Punching Rental Property Owner's Tooth Out After He Tried To Shut Down Music Video Shoot
​
Feb 25 | by _YBF
​ ​ ​ ​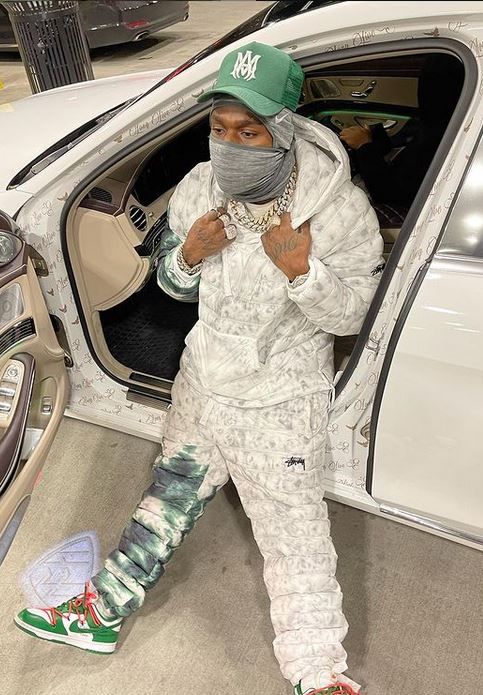 DaBaby is being accused of punching someone…AGAIN. A rental property owner claims the rapper knocked his tooth out when he tried to shut down a music video shoot that wasn't following COVID-19 protocol. Deets inside…
Rapper DaBaby named his 2020 album Blame It On Baby. And that's what's happening.
DaBaby has found himself involved in more legal drama after a man made claims the rapper punched him so hard he knocked his tooth out. The reason? Apparently, an unauthorized music video shoot is what started the drama.
Now, DaBaby (real name Jonathan Kirk) will have to "fight" in court to tell his side of what went down because the man has filed a lawsuit against the North Carolina rapper, according to Variety.
So here's what went down…allegedly.
A man named Gary Prager is accusing the "BOP" rapper of assault and running out on payment for the Runyon Canyon vacation home he rented to film a new music video back in December. The 64-year-old man claims DaBaby violated the lease by inviting 40 people to the home for the shoot, which is a violation of their contract because only 12 people were allowed to be on the site due to COVID-19 restrictions.
Upon pulling up to the rental home, Prager said he saw DaBaby sitting in a car with YouTuber Jake Paul, who was also involved in the music video shoot. The lease terms prohibited the property from being used for any commercial purpose, according to the complaint.
When Prager tried to shut the music video shoot down that's when all hell allegedly broke loose. The man said once he started asking people to leave, he was allegedly knocked to the ground by an unknown person. Then, he said the "Rockstar" rapper got out of a car, chased him back inside the home. That's when DaBaby allegedly punched him in the mouth, knocking out one of the man's teeth. Ouch!
At this point, DaBaby and his homies allegedly kicked, stomped, and spat on the man, warning him he better not call the police. The man was unable to call authorities because the rapper and his friends allegedly tossed his phone back-and-forth while taunting him.
Someone ended up calling the police, which resulted in DaBaby and his crew to flee the scene. Prager claims DaBaby ran off (with his phone and "valuable kitchenware") after only paying a portion of the rental bill. Not only that, Prager claims DaBaby and his crew left the home with thousands of dollars in damages, including security cameras to hide they were breaking COVID-19 protocol.
So, he's suing DaBaby and his manager Kinsza Virgil. You can read the lawsuit here.
DaBaby has a checkered past which includes several run-ins with the law. In January, DaBaby was arrested during a shopping spree on Rodeo Drive in Beverly Hills, California after police found a gun in his car.
In September 2020, DaBaby was sued after a physical altercation with a Beverly Hills hotel employee. The rapper said the worker was harassing him for a picture while he was with his daughter.
Peep the altercation below:
In May 2020, DaBaby was accused of punching a Las Vegas driver during an argument. It's alleged he hit the driver because the driver wouldn't allow him and his friends to smoke a joint in the Sprinter van. DaBaby refuted the reports, writing "100% False," on IG Stories. "The devil gone always try you when you doing good," he continued.
In March 2020, DaBaby was accused of slapping/punching a female fan at a Tampa concert. After the backlash, he hopped on social media to apologize to the woman, but she still filed a lawsuit.
In January 2020, DaBaby was arrested in connection to a robbery in Florida after an altercation with concert promoters. The promoters sued DaBaby for $100,000 and eventually were able to reach a settlement.
As for his rap sheet, he has charges that range from marijuana possession to more serious charges like the concealed-weapon charge he was hit with in 2019. The judge determined DaBaby was using self-defense and he was sentenced to a year's probation.
Whew, chile!
Meanwhile…
DaBaby's "Yellow Bone" ex-girlfriend DaniLeigh and his daughter's mom MeMe got into a social media feud last night.
Meme hopped on IG Live to remind everyone she's not "intimidated by no b*tch."
"I'm not intimidated by no b*tch when it comes to a n*gga I was with for real. It ain't no smoke, it ain't no nothing, like, honestly that sh*t is nothing new," Meme said in the video. "You know how many b*tches I done seen come and go? I hate to say it's normal or it's regular but I mean, it is... I'm not ever worried about no b*tch."

"Plus, I'm secure within myself. I never needed validation from no n*gga, so I know what I bring to the table. I know what's up with me. I don't know it to have no problem with it."
DaniLeigh caught wind of her Live video and first tweeted, "Lol sad … but ok …"
Then, she came back with another tweet that said:
"Can't wait to be disconnected to that situation… in due time … we all human.. we all make mistakes when we in love and dumb. But it's all about growing fr .. so I'll take my lessons and keep goin .. even with all the hate I received it's fine .. in due time," she said.
Girl, bye.
Photo: DaBaby's IG
​ ​
​ ​ ​