Meghan & Prince Harry Call Recent Attack After Oprah Sit-Down A 'Calculated Smear Campaign,' Couple Blames Buckingham Palace + Toxic British Media Still Doing The Most
​
Mar 03 | by _YBF
​ ​ ​ ​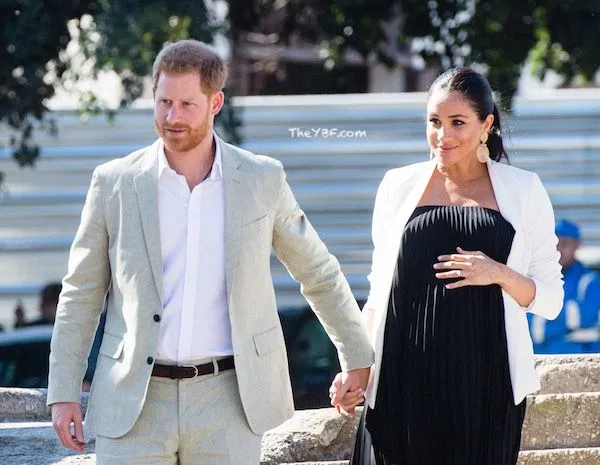 Meghan Markle and Prince Harry are still wrapped up in drama with British media almost a year after officially stepping back as senior royals. A few royal aides brought up bullying accusations in a new report days before Meg & Harry's highly-anticipated Oprah interview.
Speaking of that interview, the Brits have been begging the Duke & Duchess of Sussex to postpone the release of their interview since Prince Philip (Harry's grandfather) is gravely ill. More inside…
[UPDATE]: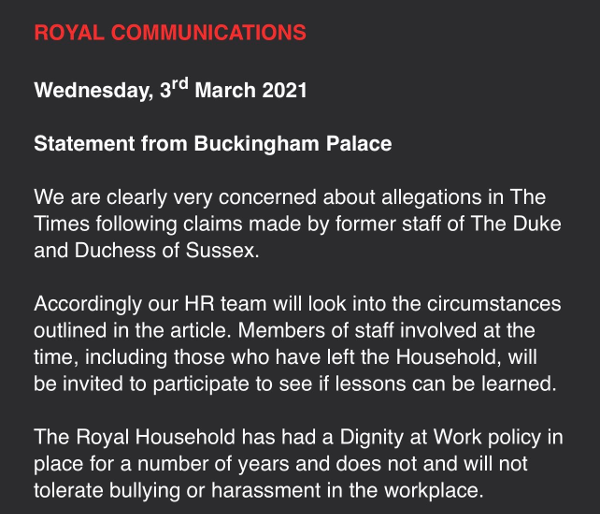 Buckingham Palace announced they will launch an investigation into the "bullying" allegations made against Meghan Markle during her time at the palace.
"Accordingly, our HR team will look into the circumstances outlined in the article. Members of staff involved at the time, including those who have left the Household, will be invited to participate to see if lessons can be learned," the statement said.
Read the full statement above.
--------------------------------------------------
Around this time last year, Meghan Markle and Prince Harry left Canada and moved to the United States (Los Angeles, California) right before the country closed its U.S. border. The move came just months after announcing their step back from the royal family. As you know, the couple decided to step away from being full-time senior royals due to all of the scrutiny from British tabloids and media.
Last month, Buckingham Palace confirmed Prince Harry & Megan will not be returning to royal duties, and Harry will give up his honorary military titles.
Here we are a year later and the royal couple – who's expecting their second child together - is STILL dealing with British media drama.
Meg & Harry are set to sit down with their friend/media mogul Oprah for a highly-anticipated interview set to air this Sunday. And the Brits HATE to see it.
British Media and British folks are more pissed off at Harry and Meghan for doing an interview with Oprah Winfrey than they are with Prince Andrew being an accused Pedophile who's still refusing to speak to the FBI about his relationship with his late, pedo bestie Jeffrey Epstein. pic.twitter.com/XEriiZul0L

— Geralt of Rivia (@IMMY_ISLAM) March 1, 2021
Before the premiere of their tell-all interview with Lady O, a new bombshell report posted by The Times in the U.K. claimed Meghan bullied a royal aide during her time at Kensington Palace.
So get this…
The original complaint was made in October 2018 by the couple's former communications secretary Jason Knauf. Now, "sources" are speaking out again about the incident because "they felt that only a partial version had emerged of Meghan's two years as a working member of the royal family and they wished to tell their side.
The complaint claimed that she drove two personal assistants out of the household and was undermining the confidence of a third staff member.
Well, Meg and Harry are responding to the extensive report, calling it a "calculated smear campaign" spearheaded by…Buckingham Palace! They blamed Buckingham Palace for USING the paper to "peddle a wholly false narrative."
Yes, they're putting Buckingham Palace on BLAST! It's getting really REAL.
In a statement, the couple responded to the report:
"Let's just call this what it is — a calculated smear campaign based on misleading and harmful misinformation. We are disappointed to see this defamatory portrayal of The Duchess of Sussex given credibility by a media outlet. It's no coincidence that distorted several-year-old accusations aimed at undermining The Duchess are being briefed to the British media shortly before she and The Duke are due to speak openly and honestly about their experience of recent years."
And that's literally what their interview with Oprah is about – well, at least part of it. In the promo clips, Harry talked about leaving the royal family to protect his wife from the unbearable scrutiny his mother, the late Princess Diana, experienced.
Peep the clip below:
As expected, the new report about her "bullying" a royal aide has "saddened" the former "Suits" star, but she's committed to continue minding the business that pays her.
"The Duchess is saddened by this latest attack on her character, particularly as someone who has been the target of bullying herself and is deeply committed to supporting those who have experienced pain and trauma. She is determined to continue her work building compassion around the world and will keep striving to set an example for doing what is right and doing what is good."
When news about their Oprah interview hit the Internet (where no subject is off limits), the British media didn't waste any time to slam them about opening up in the tell-all interview.
While the royal couple is working to construct their own narrative, the British media will not let them be great. British commentators in the U.K. have urged Meg & Harry to ask CBS to postpone the airing of their interview since Prince Philip (the Queen's husband) is gravely ill. The 99-year-old came down with an infection and has been hospitalized.
Royal sources have been quoted by British newspapers saying the family is "pretty appalled" at the idea of the interview while Philip is so sick.
"I think it would be a marvelous turnaround for Harry's image if he took the brave step of canceling the whole thing this weekend—or, if that's not practical, postponing it at least," Robert Lacey, historical consultant for The Crown and author of the definitive royal biography Majesty, told The Daily Beast.
"Oprah is their friend and neighbor and would undoubtedly comply if asked and the gesture would I am sure be appreciated by the royal family. If an interview has been extended, as this recently has, it can also be postponed, as this undoubtedly should be," Royal commentator and former editor of Who's Who Richard Fitzwilliams said.
"With the Duke of Edinburgh clearly very unwell, the fact that the couple plan to go ahead with airing their self-indulgent, no-holds-barred interview with chat show queen Oprah Winfrey makes them appear heartless, thoughtless, and supremely selfish," royal biographer Robert Jobson told the Mail.
"For U.S. broadcast network CBS, this interview is a coup, all about securing big viewing figures and big advert sales around the airing of their exclusive interview. So even if they wanted to, Harry and Meghan probably couldn't dictate terms to Oprah Winfrey and the network now. Too much has been invested."
Oh well. They'll just have to deal.
Meanwhile, we're getting our snack list ready because we'll be glued to the TV this weekend to tune in to the couple's 90-minute interview with Lady O titled, "Oprah With Meghan and Harry: A CBS Primetime Special," which airs on CBS on Sunday, March 7th at 8/7c. Let the tea SPILLTH!
Photo: MEGA
​ ​
​ ​ ​