Did Nicki Minaj & Convicted Sex Offender Kenneth Petty Try To Use Money & Intimidation To Silence Rape Victim? Here's Her Story.
​
Mar 05 | by _YBF
​ ​ ​ ​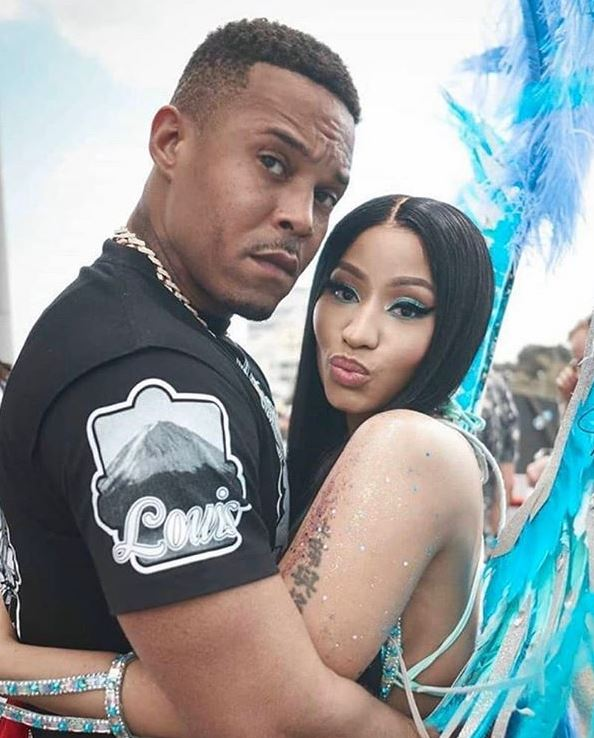 The woman who accused Nicki Minaj's husband Kenneth "Zoo" Petty of rape is speaking out. And she claims Nicki and people on her team have been doing the most behind-the-scenes to try and silence her. We're talking threats against her life and even financial payments to keep quiet. Read her story inside…
Ever since the public learned about Nicki Minaj's relationship with a childhood friend, there's been nothing but controversy, rumors and accusations surrounding the man in her life. Once the Head Barb revealed Kenneth "Zoo" Petty has her main man, folks were quick to dig up info on him and it didn't take long for the world to find out rape allegations made against him.
Folks dragged Nicki for hopping in a relationship and then eventually marrying a man who was previously charged with rape and manslaughter. Daytime talk show host Wendy Williams said Nicki was ruining her brand with her coupledom situation with Petty.
The NYC rapper is her man's ride-or-die. After tying the knot in 2019, she used her Queen Radio platform to respond to people criticizing her relationship with a convicted sex offender, defending her decision while adding she must stay "prayed up" so she can continue to "cover her husband in prayer."
Well, Kenneth's accuser – who's only going by her first name Jennifer – is now speaking out about some recent foolery that allegedly has been going on behind-the-scenes at the hands of Nicki and her camp. In an exposé by the Daily Beast, Jennifer claims Nicki and people from her camp have used severe intimidation and bribery to get her to recant her story.
First, a little back story…
In April 1995, Petty was convicted of attempted first-degree rape for a 1994 assault that occurred when both he and the victim were 16. Jennifer said she walking to school when Petty came up behind her, pressed an object to her back and instructed her to "keep walking." They ended up at Petty's residence and she said he allegedly forced her upstairs and began to rape her at knifepoint. She was able to strike him with a bottle, escape, and immediately reported the incident.
Both Nicki & Kenneth – who welcomed a son last September – both deny the incident ever happened and claim the two were actually a couple. Jennifer says that's completely untrue.
In 2020, Jennifer said she was being harassed by Nicki's associates to recant her story.
"I'm hoping for the truth to come out, and whatever comes from that truth, to let it be," Jennifer said. For a while, she'd tried to avoid implicating other people. But now, "after everything that has happened, it's like, these people were willing to sacrifice me so this guy could remain in the public eye," she said. "I feel like my family was willing to sacrifice me."
The Daily Beast reports:
She says she never submitted a letter recanting—but alleges that associates of Minaj and Petty's spent months last year harassing her to do so, going so far as to offer hundreds of thousands of dollars on their behalf. At one point, Jennifer says, she also spoke with Minaj herself. (Minaj and Petty did not respond to requests for comment.)

Jennifer moved three times in 2020 out of fear for her safety—the final time out of state, separating her from her 22-year-old daughter. And since she's come forward, a section of the gossip blogosphere has also exploded, as Minaj stans and even some estranged family members attempt to discredit her claims.

The state of California dismissed its case against Petty for failing to register as a sex offender last year in light of similar federal charges, for which Petty faces trial in June. In an interview with The Daily Beast, Jennifer described the "mindfuck" that began last March, when Petty's arrest in California prompted a web of family members and neighbors to contact her on his and Minaj's behalf.
Jennifer also said she's been in contact with U.S. Marshals, who recently told her that an investigation of the Pettys is underway and that they've found evidence. A source familiar with the conversation confirmed this, and said that the authorities called the investigation a "high-priority case."
Below is a clip of an interview Jennifer did with blogger NoseyHeauxLive, who has been advocating for her on Jennifer's behalf.
In the article, Jennifer revealed her adoptive mother blamed her for the rape incident:
Jennifer said, she was simply told, "Sorry you got raped, but you should have screamed."
At that point it was as if NO ONE believed her:
Petty's parents, Jennifer added, responded to his arrest by telling her adoptive family that the two had been dating. (She is adamant they were not.)

"My family allowed his mother and father to take me to go see a district attorney and pretend like [they were] my aunt and uncle," she told The Daily Beast. "I think I kind of always just felt like people wanted me to be a liar."

Jennifer insists she never wrote a letter recanting any part of her account. But in the months that followed Petty's arrest, his friends allegedly harassed her family so severely that her adoptive aunt—the older daughter of the woman who raised her—brought her to the courthouse to drop the charges against Petty. Jennifer didn't drop the charges; overwhelmed, she moved to Florida as the case proceeded. (Jennifer's family members—and Barry—did not respond to requests for comment for this story.)
In November 2020, Jennifer detailed the circumstances of the assault after Nicki's friend, TT, discredited her story in a YouTube video, telling her, "You need to cut it out. You really need to before you get yourself hurt out here, homegirl."
Below is the video Jennifer posted in response:
Since the attempted rape conviction, Petty received more criminal charges in separate incidents:
Petty was convicted in 1995 of one count of attempted rape in the first degree, assault in the second degree, unlawful imprisonment in the second degree, and criminal possession of a weapon. In 2006, he pleaded guilty to manslaughter—a reduction from the original charge, murder in the second degree, after a plea bargain—in the shooting death of Lamont Robinson, whom the original complaint alleges Petty shot multiple times. Petty served seven years of his 10-year sentence before his release in 2013, after which People reports he was on supervised release for five years.
Last March, Petty was arrested and faced state charges for failing to register as a sex offender in California. That's when the harassment began for Jennifer.
Four days after Petty's arrest last March, a man named Barry, who Jennifer remembered had been close with her brother when they were all school-aged, reached out to her. Jennifer didn't think much of it at first when Barry mentioned Minaj and Petty, or even when he offered to make the fuss around the court case "go away." (The Blast had just published the criminal complaint months before.)

But then Barry allegedly told Jennifer that Minaj wanted to speak with her.

Even as she agreed to share her phone number, Jennifer didn't believe what was happening. "Next thing you know, my phone rings, and it's her."

As Jennifer recounts, Minaj told her she'd heard she was willing to help them out—"and if there's anything you need…" The rapper allegedly offered to fly Jennifer to Los Angeles, or to fly her publicist out to Atlanta.
Barry tried to convince her to take $200,000 in cash and she was also offered $500,000 from people she believes are connected to The Pettys.
"I came outside and sat in the car, and he pulled out the letter and the $20,000 out of his middle console and put the money on my lap," Jennifer said. "And I held it in my hands, and I put it on the floor in the passenger seat. And I told him, 'I'm not taking it. I don't want it.'"
Jennifer said she actually spoke to Nicki and the couple seemingly wanted to discuss an "agreement" where both parties would vow not to speak on one another.
It seemed at first like the Pettys wanted to discuss some kind of non-disclosure agreement, Jennifer said—some kind of pact in which they'd vow not to speak about her publicly and she'd do the same. At the same time, she recalls telling Minaj, "Listen. I just need you to know, woman to woman, this really happened."
Minaj allegedly told Jennifer that she wanted her to have her number, but the two never spoke again. (The number has since been disconnected.)

Instead, Jennifer said her brother, with whom she is not particularly close, called within days of her conversation with Minaj to tell her that a man named Jamie from New York had called their cousin in North Carolina, offering $500,000 if Jennifer spoke with a lawyer representing Petty. She never called the lawyer.
Jennifer also shared an scary interaction her daughter, Kenya, experienced when an unidentified man approached her and started naming her family members before asking if she knew Nicki & Kenneth:
The last time Jennifer moved was in October—after an older man approached her 22-year-old daughter, Kenya, in a club. In her Facebook video, Kenya says the man insisted she looked familiar and listed off her relatives after she shared that she was from South Jamaica, Queens. ("He named my mother," she said. "He named all her fucking brothers.") Then he asked if she knew Kenneth Petty.

"It was scary, and it made me feel threatened," Kenya said.

Jennifer had been out of town, and when she returned she decided that as long as she and Kenya lived in the same city, her daughter would never be able to safely lead a normal life. She left the state with her 5-year-old daughter.
With everything going on, Jennifer has hired law firm Kaedian LLP, who reviewed the documents.
The state charges against Petty were dropped. However, the federal case that charges Petty for not registering as a sex offender in Cali is scheduled to go to trial in June.
We're glad she has lawyered up and we hope she considers other alternative to keep herself safe because if Petty goes to jail, Nicki and her people will likely blame her for it and that's dangerous for her. She encouraged other women who have been through similar situations to speak up to stop the cycle:
"For people out in the world to know that you can't do stuff like this and get away with it. And for women who have been abused, for women who have been assaulted, for them to not live in fear of speaking their truth. No matter who the person is."
You can read the full article here.
Thoughts?
Photo: Nicki's IG
​ ​
​ ​ ​