How The 'Snowfall' Cast Is Coping With John Singleton's Death, Changing The Black Fatherhood Narrative & Struggles Of Filming During The Pandemic
​
Mar 11 | by _YBF
​ ​ ​ ​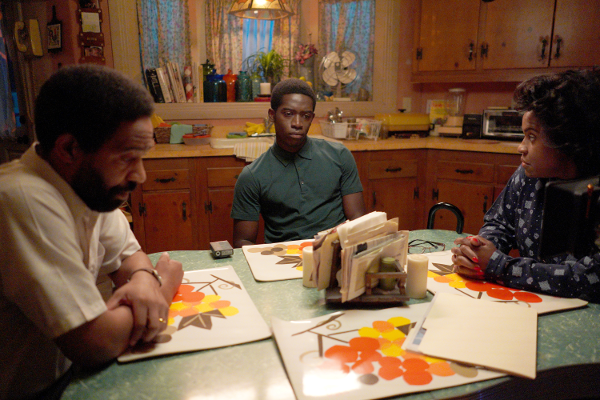 "Snowfall" is one of the hottest shows on television right now!
Find out what the cast told us about coping with co-creator John Singleton's sudden death, filming during the COVID-19 pandemic, and how they're changing the black fatherhood narrative inside…
The fourth season of "Snowfall" is HERE. But it wasn't easy. Season 4 just kicked off, but there were several hurdles to get over to make it happen.
The series was hit with some obstacles that made it extremely hard to continue. One being the sudden death of co-creator John Singleton.
FX's "Snowfall" is one of the hottest television series right now. The drama series takes us back to the 80s during the height of the crack epidemic. Season 4 takes us back to 1985 after President Ronald Reagan won his re-election campaign, proclaiming it is "morning again in America," but in South Central, Los Angeles, it feels more like the sun is getting low.
The demand for crack cocaine is at an all-time high and while the crew of dealers - led by Franklin Saint (played by Damson Idris) - are scooping up bags, they are also starting to become aware of the damage the drug is doing to the people and to their community.
Oscar nominated filmmaker John Singleton – who co-created the hit series – suddenly passed away after a stroke just a few months before the start of Season 3 in 2019.
As expected, the cast and crew were devastated when they learned the news. However, they knew they had to keep pushing through to keep his legacy alive.
"You can't really I can't really put into words," said actress Angela Lewis – who plays Franklin's Aunt Louie - during a video press conference. "If you have ever lost a loved one, then you can maybe imagine what it's like to be in a room full of people who have lost. You know, we've all lost the same loved one and there is a tremendous amount of muscle memory that I think is probably the elephant in the room, but then there's also a sense of wanting to help each other push through. There's also the sense of wanting there to be joy in the room and wanting to continue his legacy."
Actress Michael Hyatt – who plays Cissy Saint - also weighed in:
"I believe in spirit energy completely. I believe in the guidance and power of our ancestors. So you ask how do we behave when John isn't here? John is absolutely here. He is just in a different dimension guiding us and the truth that he implemented in this story in the commitment of this show is what we continue to carry."
Filming for season 4 was also hit with the COVID-19 pandemic, which opened up a plethora of new challenges to film.
"It's really important we had a crew that would show up well before we had to go to set," actor Amin Jospeh – who plays Franklin's uncle Jerome Saint. "Oftentimes our crew is put in precarious situations. Each person that had to come to set and had to leave their family during this pandemic, it really affected people.
"You weren't able to bring that to work, whether or not you lost a family member or someone close to you," he continued. "Whether you lost a close friend or whether you're worried about someone all the way across the world. We have actors like Damson and Sergio that live in an entirely different country that had to leave their family. We're gonna look back at this time and really see the sacrifice and the losses."
We definitely feel where he's coming from with that. The pandemic literally flipped everyone's world upside down.
Through it all, the cast was determined to offer up a compelling season because some storylines simply MUST be told. One of those stories is helping to change the narrative of black fatherhood into a more positive light.
"Like so many young men of color grew up in a household without a father anytime that we can find elements of healing in the work it becomes more than a job," Kevin Carroll – who plays Franklin's estranged father Alton Saint. "It actually becomes a relationship and it fulfills the part of us as artists, that really attempt to make a difference. So for me, there is no stronger position in the industry than playing a black father, especially one where we see him loving on his son right wrong or indifferent. Loving with his wife right wrong or indifferent and attempting to heal the community. There is no better job in television, I dare you to find one," he continued.
Check out new episodes of "Snowfall" on Wednesdays at 10pm EST on FX.
Photo: FX
​ ​
​ ​ ​