'Snowfall' Star Damson Idris Re-Enacts How Jay-Z Clowned Him For Being Shirtless During Zoom Call + His SPOT ON Hov Impression
​
Mar 12 | by _YBF
​ ​ ​ ​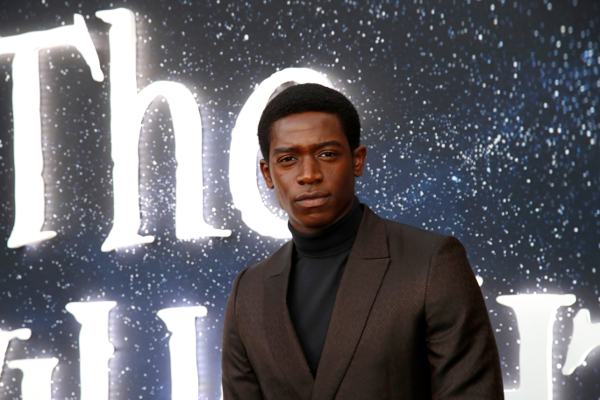 "Snowfall" star Damson Idris learned a hard lesson in Zoom etiquette after showing up shirtless for Roc Nation's Lenny Santiago's birthday zoom call. Jay-Z was on the call and wasted NO time to roast him for having his "nipples" out. Get your laugh on inside…
Talk about being hilariously embarrassed by rap royalty!
At the beginning of the pandemic, "Snowfall" actor Damson Idris said he didn't even know what Zoom was. "I'm a Skype guy," he told Robin Roberts on "Good Morning America" recently.
But, he leaned a hard lesson in Zoom etiquette when he hopped on a Zoom call with Jay-Z and 40 others….shirtless.
Apparently, one of Idris' friends hit him up to hop on a Zoom call to celebrate Roc Nation exec Lenny Santiago's birthday. The actor revealed he thought there would only be a handful of people on the call. That was NOT the case.
The British hottie said when he hopped on, people instantly began laughing when he popped in…topless. He didn't realize the video conference app could hold so many people in one meeting, so he was shocked when he realized he had his chest out in front 40+ people, who happen to be celebrities, including Meek Mill, Tiffany Haddish, Kevin Hart, Dave Chappelle, Michael B. Jordan and more.
While telling the story, he served up a SPOT ON impression of Jay-Z.
"I jump on the Zoom and immediately everyone's laughing because I'm topless," he recalled. "I thought there were going to be four people there and it's literally 40 people there and I hear a distinctive voice and the voice is like, 'Hey man, this man on here topless with his nipples out and he got the grey headboard. Yo, who's in charge of this Zoom? Yo Schaffer, you in charge of this Zoom? Yeah, you see that guy Damson, kick him out."
We die!
Idris quickly realized it was Hov speaking, and he was terrified. But, he tried to play it off.
"I'm like 'Hey guys, you know it's late in London let me just get a hoodie, I was going to bed, you know how it is,'" he said.
Hov wasn't buying it and got on his NYC a**hole ish.
"'Ok,'" Idris said, imitating Jay. "'So you wear a hoodie to bed? OK, well, you know, you busy like you said. You in London, so obviously, you know it's Lenny's birthday, so why don't you give your little speech and be on your way."
At that moment, Idris said he was SO embarrassed and angry with himself. He said he was running around his house jokingly yelling, "I hate Jay-Z!"
HA!
Peep the clip below:
Always a pleasure laughing on @GMA #SnowfallFX https://t.co/LTqj0jacHy pic.twitter.com/ziRJASO463

— Damson Idris (@DamsonIdris) March 10, 2021
Lenny S shared the clip on his Instagram account:
"The Legendary B-Day Zoom lives on and on and on.. Lol. @damsonidris," Lenny captioned the clip. "'Yo @shafferdc kick him out' haaaaa," he continued.
Get Out star Lil Rel Howery found humor in the clip as well:
100% a true story Jay was roasting everybody but when you showed up in bed yo https://t.co/vkGYmiTrh3

— Lil Rel Howery (@LilRel4) March 10, 2021
Now we know…you better be dressed when you hop on a Zoom call with Jay-Z or prepared to get roasted!
For laughs:
Here's what a shirtless Damson looks like. Not MADT!
In case you missed, check out our exclusive with the "Snowfall" cast where they talked about how their coping with the loss of the show's co-creator John Singleton, the struggles they overcame to film Season 4 during the pandemic and how they're changing the black fatherhood narrative when you click HERE.
Photo: Kathy Hutchins/Shutterstock.com
​ ​
​ ​ ​