VIRAL: One Woman Arrested, Other Woman Set To Turn Herself In After Wild Attack On Uber Driver Who Asked Them To Wear A Mask
​
Mar 12 | by _YBF
​ ​ ​ ​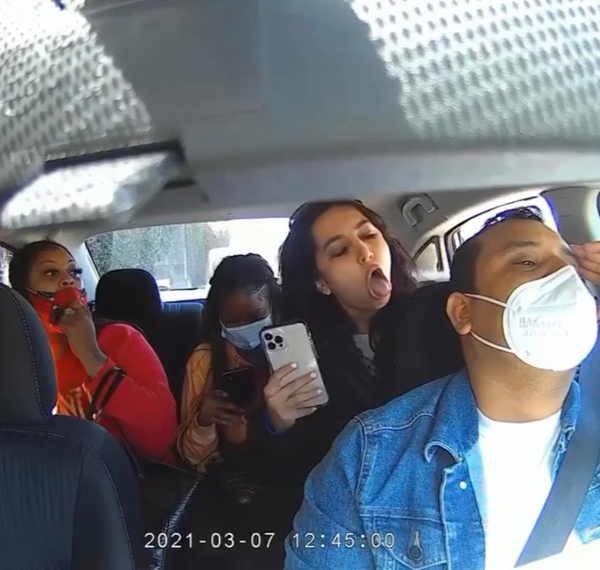 Folks are still acting a fool about wearing a mask. And now they're going to jail. Deets on how two women nabbed criminal charges for allegedly attacking an Uber driver after he asked them to wear a mask inside…
Audacity seems to be the theme of 2021 because folks are wildin' out.
One woman has been arrested and another woman plans to turn herself in after a viral video of them harassing a California Uber driver went viral.
Here's what went down…
Uber driver Subhakar told me he picked up 3 women in the Bayview yesterday & after asking one to wear a mask was subject to slurs, taunting & one grabbing his phone.

He's taking a few days off.

SFPD is investigating. pic.twitter.com/o99pOooWsw

— Dion Lim (@DionLimTV) March 9, 2021
In the viral clip, three women are seen in the backseat of an Uber berating the driver.
24-year-old Malaysia King (left, red shirt) and 24-year-old Arna Kimiai (right, black coat) were captured coughing and shouting curse words at Uber driver, Subhakar Khadka, according to the San Francisco Police Department. The third woman had a mask on.
The Uber driver recorded the incident (that happened on March 7th), showing the ladies coughing and screaming at him that they have "Corona." The confrontation allegedly started after the Uber driver asked the women to wear face masks and they refused.
The Uber driver said the women yelled racial slurs at him, grabbed his phone, and ripped off his mask! According to San Francisco Police, one of the women sprayed what was believed to be pepper spray into the vehicle and toward the driver after getting out of the car. WOW!
Las Vegas police have reportedly ARRESTED Malaysia King (left). Meanwhile, Arna Kimiai (right) has been offered the opportunity to turn herself in. She informed police through her legal counsel that she intended to turn herself into the authorities.
Both ladies face charges of assault and battery, conspiracy, as well as violating health and safety code for attacking Uber driver Subhakar Khadka. Malaysia was officially charged with assault with a caustic chemical, assault and battery conspiracy and violation of health and safety code.
Uber released a statement following the arrest:
"We thank the San Francisco Police Department for their swift action. Uber does not tolerate racism or hate in any form, against any community. When one community is being attacked, we are all being attacked. We are shocked and saddened by the recent increase in anti-Asian hate, particularly when it affects a driver or rider. In this case, we have banned all three riders and have been in contact with Mr. Khadka to offer our support," the Uber statement said.
Arna hopped on social media and made claims that she was going to SUE Uber and that her boyfriend taught her to "slap TF out of" someone who disrespects her. At the end, she said "That's why I take Lyft."
Check it:
California anti-masker who coughed on a driver says she plans to sue Uber pic.twitter.com/IjlGs0wnRg

— Fifty Shades of Whey (@davenewworld_2) March 9, 2021
Well, she won't be taking an Uber OR a Lyft because BOTH ride sharing companies have reportedly banned her from using their services. Bloop.
There's an Instagram account (@keepinupwforeign) that posted a series of videos that appear to precede the viral incident. It appears the account belongs to the woman, Arna Kimiai.
Peep the clips she posted below:
On the morning of March 12th, the IG account shared a video from a balcony that appears to look over Las Vegas:
Hmph.
We wonder when Arna plans to turn herself in since Malaysia is already behind bars.
A GoFundMe campaign was created for the Uber driver after Uber only offered him $120 to have his car clearned of the alleged pepper spray that one of the women used. So far, the GoFundMe has raised OVER $68,000!
Photo: Twitter Video Screenshot
​ ​
​ ​ ​