Masseuse Files Sexual Assault Suit Against Texans QB Deshaun Watson Amid Trade Talk + Lawyer Says There Are More Alleged Victims
​
Mar 17 | by _YBF
​ ​ ​ ​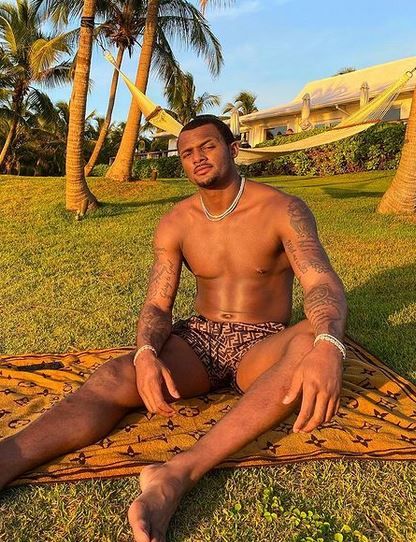 Texans quarterback Deshaun Watson has just been sued by a masseuse for sexual assault. And the lawyer representing her says he's about to file MORE cases from alleged victims who have come forward. Details inside…
Texans quarterback Deshaun Watson has been heavy in the headlines over his desire to be traded from the Houston Texans organization.
Now, he's making headlines for some serious allegations.
A masseuse has filed a sexual assault lawsuit against the 25-year-old NFLer, accusing him of putting his genitalia on her during a massage.
According to the paperwork filed in Harris County, the alleged incident happened on March 30, 2020 while she was giving him a massage in her home. The woman - under the pseudonym Jane Doe – said the NFLer hit her up in her DMs on Instagram requesting a massage. She found it "somewhat peculiar" that an NFL player would contact her for a massage as he likely has access to a team of trainers. However, Jane Doe was trying to grow her small business, so she decided to schedule an appointment with the athlete.
During the massage, the plaintiff alleged Deshaun "aggressively" dictated that he did not want her to use her knuckles or elbows during the massage – just her hands. And mainly in one spot.
"Watson repeatedly stated that he wanted her focus to be on his groin area," the lawsuit said.
In the paperwork, the woman alleges Deshaun "aggressively" steered the conversation to how she was not "rubbing him the way he wanted." He allegedly tried to direct her hands to his penis and at one point "he purposely exposed the tip of his penis from under the towel. Watson was at this point fully erect, and moved his body so he could expose himself more."
She said he "purposely" moved his body and touched her hand "with the tip of his erect penis."
Mortified, she asked him to leave her home. As he was leaving, he allegedly said:
"I know you have a career and a reputation, and I know you would hate for someone to mess with yours, just like I don't want anyone messing with mine."
She took that as a threat.
The plaintiff alleged he apologized via text and that two other NFL players were referred to her for massages by "Big D," who she assumed to be Deshaun.
There's one part of the lawsuit that blasts the NFL's handling of sexual assault cases brought up against players:
"The NFL is notorious in its own right for a culture that fosters sexual harassment and sexual assault. Despite its lip service and a strong ad campaign to the contrary, many of its players have been accused of committing heinous sexual crimes against women. The NFL is no stranger to scandal, certain when it comes to offenses against women."
The plaintiff is seeking compensation for "conscious physical and mental pain and suffering, and anguish, past and future," for "physical impairment, past and future," for "loss of enjoyment of life and peace of mind, past and future," for "reasonable and necessary medical, counseling, psychiatric, therapeutic and related expenses, past and future," for "loss of earnings and earning capacity," punitive (also known as exemplary) damages, and "any and all damages to which she
Read the lawsuit here.
Prominent Houston attorney Tony Buzbee shared a post on Instagram about filing the lawsuit against DeShaun on behalf of the masseuse:
Before Deshaun got news that the lawsuit was officially filed, he responded to the lawyer's post, claiming his innocence:
— Deshaun Watson (@deshaunwatson) March 17, 2021
The Texans also reacted to the lawsuit reports, saying they "are awaiting more information" after finding out about the allegations like the rest of us:
Statement from the Houston Texans: pic.twitter.com/zFzpGj3Xfx

— Mark Berman (@MarkBermanFox26) March 17, 2021
Turns out, MORE women have come forward and are set to file lawsuits against the Texans QB.
"My associate, Cornelia, and I will file the second of what is now four cases on behalf of women against Deshaun Watson today," he wrote. "The cases allege assault. We won't share the alleged details here, and we won't try the case in the press, but the cases are publicly filed for all to see. I appreciate the calls of support that we have received from those who support these brave women. It takes a lot of guts to stand up to the powerful, when you are perceived powerless. Since filing the first case yesterday, I have had several death threats and multiple people have harassed my children. The blame the victim (or her lawyers) mentality is alive and well!! I love football as much as the next person (although I've never been a Texans fan.) But I don't love it that much!! Makes me shake my head that people are so passionate about football to the point of irrationality, while at the same time they could care less who the mayor or president will be."
Deshaun is being represented by famed Houston attorney Rusty Hardin:
Deshaun Watson is being represented in his civil lawsuit by top Houston attorney Rusty Hardin, according to league sources. Hardin has previously represented Roger Clemens, Adrian Peterson and numerous other athletes and public figures

— Aaron Wilson (@AaronWilson_NFL) March 17, 2021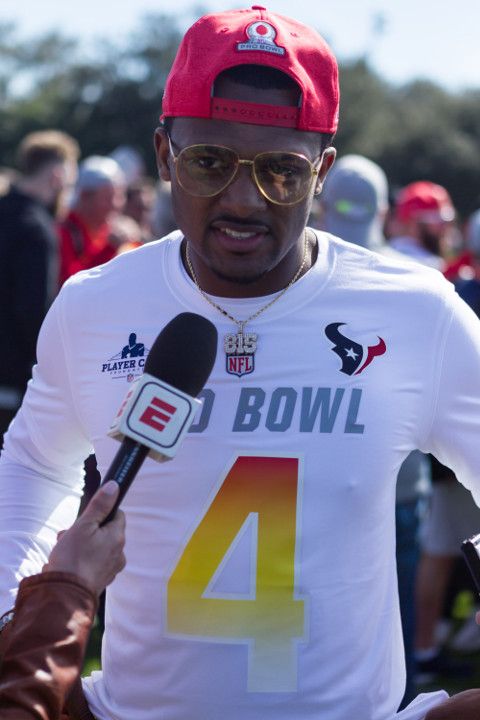 All of this comes on the heels of Deshaun requesting a trade away from the Texans. It'll be interesting to see how the organization - and any other org - handles the quarterback after these allegations.
No official word from Deshaun Watson as of now.
Earlier this year, Deshaun Watson came under fire after throwing a lavish, maskless party to celebrate his girlfriend of almost 2 years, Jilly Anais' 25th birthday. It wasn't a good look for the QB since the NFL had already fined him for breaking Coronavirus protocol.
Photos: Deshaun's IG/Jamie Lamor Thompson/Shutterstock.com
​ ​
​ ​ ​