Taina Williams Is Sick Of Y'all Saying Her Fiancé G Herbo Cheated On His Ex-Ari With Her + Check Out Taina's New Maternity Flicks
​
Apr 05 | by _YBF
​ ​ ​ ​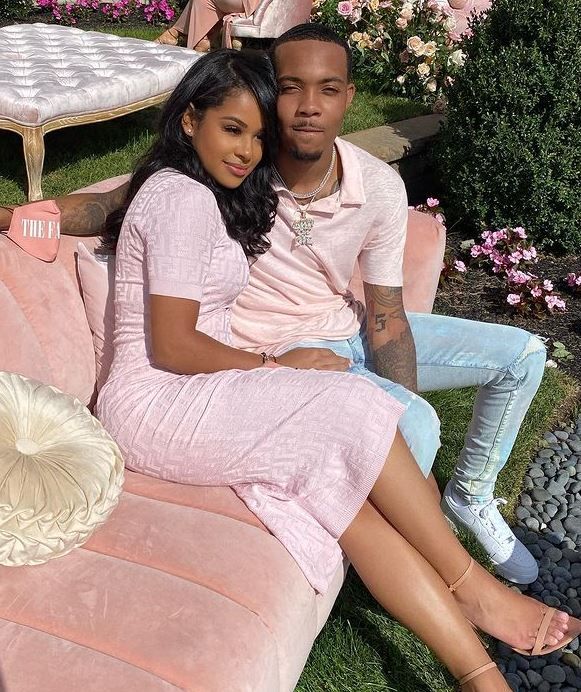 Taina Williams is tried of y'all accusing her of dating G Herbo while he was still involved with his ex/son's mother Ari Fletcher. See receipts of the mom-to-be denying being a homewrecker, plus her new maternity shoot inside…
Since fans learned about Taina Williams' relationship with rapper G Herbo there has always been rumblings that Herbo cheated on his former girlfriend/son's mother, Ari Fletcher.
In January 2019, the young couple officially put their love on front street. Now the couple engaged, they're building a home together, and they're expecting a baby boy soon. The new bundle of joy will be Taina's first baby and Herb's second.
Over the weekend, Herbo hopped on IG Live (as he always does) and seemingly spilled some relationship timeline tea that involes his ex before Taina. G Herbo and Taina were discussing how long they were "talking" before officially dating and fans realized the math ain't mathin'.
Check it:
In the comments, fans went off in Ari's defense, saying everyone who called her bitter now sees she was telling the truth when she was going off on rants about Herbo & Taina's relationship on social media.
HollywoodUnlocked shared the snippet of the IG Live and Taina hopped in the comments to dispel the "cheating/homewrecker" rumors.
"Lies lies & lies," she wrote in the comments. "I'm sick of y'all trying to make me look bad and coming up with yall own timelines," she posted and deleted.
Receipts below:
Welp.
By the way, G Herbo's son with Ari Fletcher – Yoshon – turns three next week. We're sure he's excited for the arrival of his new baby brother.
Taina recently shared some maternity flicks on her Instagram account, confirming she and Herbo are having a baby boy. She also penned a sweet message to her son before his arrival:
"To my Son, I can't promise you that dark clouds will never hover over our lives or that the future will bring us many rainbows," she wrote.

"I can't promise you that tomorrows will be perfect or that life will be easy..

I can promise you my everlasting devotion, my loyalty, my respect, and my unconditional love for a lifetime.

I can promise that I'll always be here for you, to listen and to hold your hand, and I'll always do my best to make you happy, and make you feel loved.

I can promise that I'll see you through any crisis and pray with you, dream with you, build with you, and always cheer you on and encourage you.

I can promise that I'll willingly be your protector, your advisor, your counselor, your mom, your friend , your everything.

I promise you."
Cute.
Gerbo also admitted to spilling the beans on the baby's gender:
Also…
G Herbo made sure to go ALL OUT to celebrate Taina's 23rd birthday recently. He surprised her with 23 vases of white roses and each bouquet had a reason why he fell in love with her. The Chi-town native also flew in Taina's friends – including Reginae Carter – to Vegas for the birthday turn up. Check it below:
While this is a happy time for the couple, fans still have Herbo's fraud case on their minds.
In December 2020, G Herbo (real name Herbert Wright III) and four of his associates were accused of using fake IDs, driver's licenses and email accounts to scam and scheme people and businesses out of money. Herbo and his associates Antonio "T-Glo" Strong (Herbo's manager/music promoter), rapper Joseph "Joe Rodeo" Williams, Steven Hayes, and Demario Sorrells are named in the 14-count indictment.
Also, the "Feelings" rapper's girlfriend at the time (who was unnamed) was also mentioned in the indictment, but she was not brought up on any charges. Fans accused G Herbo's ex/son's mother Ari Fletcher was accused of "plotting" on G Herbo and his new relationship with Taina, which she denied.
Photo: Taina's IG
​ ​
​ ​ ​