STILL ON LIFE SUPPORT: DJ Funkmaster Flex Scolds Hip Hop Community For Failing DMX Before Overdose + Huge Prayer Vigils Held Outside Hospital
​
Apr 06 | by _YBF
​ ​ ​ ​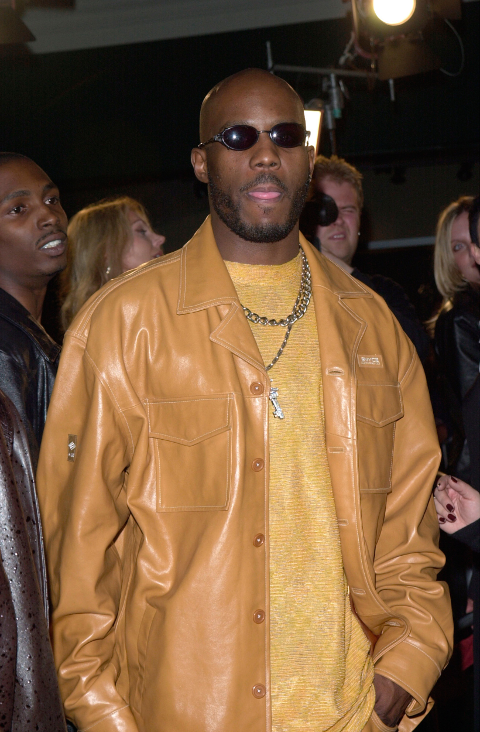 Prayers are still going up for rapper DMX as this is Day 4 of the rapper being on life support. DJ Funkmaster Flex goes off on X's industry friends for not stepping in before he suffered a drug overdose. Meanwhile, hundreds of people gathered outside of the hospital X is in for a prayer vigil as he continues to fight for his life. Everything inside…
Sadly, rapper DMX is still not doing better.
The Yonkers native (real name Earl Simmons) is still reportedly on life support and has little to no brain activity or function, according to his former manager Nakia Walker, following a reported drug overdose. She told The New York Times the Grammy nominated rapper is in a "vegetative state" with "lung and brain failure."
X's longtime lawyer, Murray Richman, revealed X had a heart attack late Friday (April 2nd) and was taken to the hospital where he reportedly had to be resuscitated and placed on life support, contradicting an earlier statement about his condition. He told NBC News he misspoke earlier when he said the rapper had been taken off life support and was breathing on his own.
It's reported X had to be resuscitated for 30 minutes following the overdose. Being without oxygen for so long severely impacted his brain.
The 50-year-old rapper is the father of 15 children. Several of his children have reportedly traveled to the hospital in White Plains, NY to be by his side. His ex-wife, Tashera Simmons, his fiancé, Desiree Lindstrom (the mother of his five-year-old son, Exodus), and his mother, Arnett, are also at the hospital. The family is only allowed to visit him on a limited basis.
Hundreds of fans gathered outside of the hospital in White Plains for a prayer vigil yesterday (April 5th). They prayed, ate pizza and blasted his music in the parking lot for some positive vibes:
Dozens of fans are outside White Plains Hospital where rapper DMX has been on life support since Friday. A prayer vigil is expected to start at 5.
Police are already blocking off part of the street because they're expecting such a large turnout.@News12WC pic.twitter.com/5BmaJjhbL4

— Karen Hua (@k_hua) April 5, 2021
"He's a local—he's one of us—he's family."
There are at least 500 people here praying for DMX. The rapper is in the hospital on life support after having a heart attack on Friday. Born in Yonkers, having grown up in poverty, he's known for giving back to the community.@News12WC pic.twitter.com/ewXJ0dLi3L

— Karen Hua (@k_hua) April 5, 2021
Fans gather outside of White Plains Hospital for DMX's prayer vigil pic.twitter.com/cpSbNMZ8Qj

— HipHopDX (@HipHopDX) April 5, 2021
Nothing but love at this DMX prayer vigil. pic.twitter.com/qeniFgOEwb

— King Malcolm (@_KingMalcolm) April 5, 2021
HOT 97's DJ Funkmaster Flex is placing blame on X's industry friends because he said they should have done more since they knew he was battling drug addiction.
"The music business is a gorilla. It's a bottomless pit of happiness or depression," he said. "I don't wanna say people don't help you but I do want to say there are people who actually know [when a star is struggling, but don't help] sometimes."

"You don't always get the best help when money is being made," he added, "It's rough for someone like a DMX who may be in a mental and emotional state of childhood trauma that has happened to him and then being thrown into the money and fame."

"I know he shares his demons and we may have to amplify that demon and amplify his story and his feelings so that the next generation can kind of see a little better, a little clearer," he said.
Peep the clip below:
A clip of the "Slipping" rapper explaining how he first got into drugs has gone viral. In the emotional clip, X recalls how his mentor laced a blunt with crack when he was just 14-years-old.
Folks on here joking about DMX the same way they did with Chadwick. You have no idea what people are going through.

X wasn't perfect, but you don't understand what the streets do to you. Talking about "BLM", so long as the Black lives check your boxes.pic.twitter.com/D5gZHJAv1c

— Frederick Joseph (@FredTJoseph) April 4, 2021
In September 2019, X announced a musical comeback after inking a new deal with Def Jam. He was prepping to release a Christmas album, titled DMX-Mas, but it was never released. He ended up checking himself into rehab after spending a year in prison for tax fraud.
The "Party Up" rapper was released from federal prison in January 2019 after he was sentenced to one year behind bars for tax evasion in March 2018.
The tragic news about the "Where the Hood At" rapper sparked an outpouring across social media, where celebrities asked for prayers for the Yonkers native, including Snoop Dogg, LL Cool J, T.I., Chance The Rapper, Viola Davis, Gabrielle Union and tons more. You can check it out HERE.
Below are a few more celeb reactions to X from Travis Scott, Lil Boosie, Mariah Carey, Drag-On (former Ruff Ryderz artist) and more:
Travis Scott says "prayers up" for DMX who's been hospitalized pic.twitter.com/VsZ2PmDVXh

— Flame.Travy (@FlameTravis3) April 6, 2021
Sending out prayers to DMX and family. Stay Strong

— Mariah Carey (@MariahCarey) April 6, 2021
Still praying he pulls through!
Photo: Featureflash Photo Agency/Shutterstock.com
​ ​
​ ​ ​