Strip Club Denies Usher Made It Rain On Dancers With Fake 'Usher Bucks' In Vegas, Real Stacks Were Given
​
Apr 13 | by _YBF
​ ​ ​ ​
A dancer hopped on Instagram to blast Usher for sliding fake "Usher Bucks" to tip dancers at a Vegas strip club recently. However, the club denies the woman's claims. Get the details about the fake money scandal inside…
Before hitting the stage this summer for his Las Vegas residency, Usher is stirring up some drama in Sin City.
The R&B crooner is being accused of making in rain in the strip club with fake "Usher Bucks," which are fake dollar bills with the singer's face in place of dead presidents. Instagram user @beel0ove said she danced at Sapphire in Vegas and was paid/tipped in fake $100, $20, and $1 "Usher Buck" bills.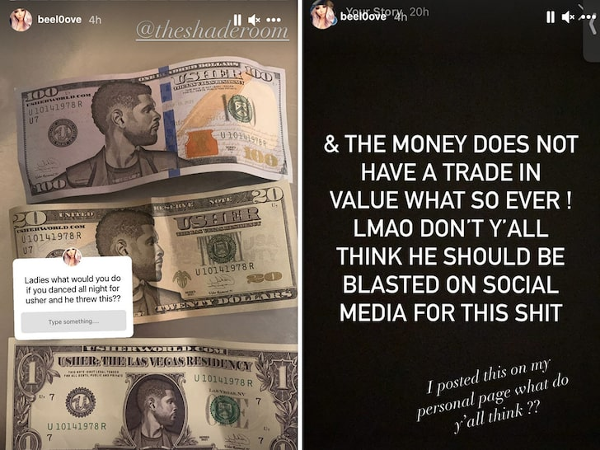 The user snapped a picture of the fake dollar bills and posted them on her IG Stories with the question, "Ladies what would you do if you danced all night for usher and he threw this??"
"And the money does not have a trade in value what so ever! LMAO Don't y'all think he should be blasted on social media for this sh*t," she wrote on another slide. In the bottom corner she wrote, "I posted this on my personal page what do y'all think??"
In her original post, she tagged The Shade Room. In the caption of a recent IG post about the drama, she claims the site "got ahold" of the posts from her private page.
"Posted this on my private page and @theshaderoom got ahold of it, so i had to post on my public account," she wrote.
Of course, social media didn't disappoint once her screenshots started going viral:
Usher: "I didn't throw that fake money."
Reporter: "The money has your face on it, could you explain that?"
Usher: "Yeah." pic.twitter.com/nj7ZAIU10r

— Bornwithadarktan (@Bornwithadarkt1) April 12, 2021
#usher handing the stripper some money pic.twitter.com/2By7QQ67b8

— FACE (@Face11118888) April 12, 2021
"Usher, they said this money is fake" pic.twitter.com/cimpkXNq31

— Coop (@PirateCoop) April 12, 2021
strippers when they discover usher's money is fake pic.twitter.com/CcmttMAfMj

— mp (@mrpn1999) April 12, 2021
By the time the stripper realized the money was fake, Usher was doing this out the door pic.twitter.com/JJcbJgufL5

— Charles J. Moore (@charles270) April 12, 2021
Well, a rep for Sapphire Las Vegas Gentleman's Club claims it was NOT Usher who passed out the "Usher Bucks" and noted the Grammy winner was sure to tip the strippers, along with the staff, "generously."
For starters, this all happened at Sapphire in Vegas -- and a rep for the club tells TMZ Usher did NOT tip the strippers with this fake money, and actually dished out authentic greenbacks, while also going on to tip the staff at large quite generously.

We're told Usher and co. ended up spending thousands on the dancers (REAL thousands, mind you) and also enjoyed bottle service ... which he definitely didn't cover with these Usher bucks. It goes without saying ... Sapphire tells us they'd love to host him again, anytime.

Now for some more intel on what the hell actually happened here -- sources close to Usher tell us that somebody in his crew (not him) left some stray Usher dollars behind on the stage as a bit of a gag ... both to be joke-y, but to also promote his new Vegas residency.
The 42-year-old entertainer will kick off the residency this summer, starting in July.
@beel0ove clearly missed the joke. However, if she danced for them and didn't receive payment, they owe her some coin.
After sending social media into a tizzy, Usher posted a picture of himself wearing a $1 bill bucket hat, seemingly clowning the fake money situation.
Peep those comments. He's a mess!
Photo: lev radin/Shutterstock.com
​ ​
​ ​ ​