Parents Of Daunte Wright Speak After Cop 'Accidentally Kills' Their Son, Police Chief & 26-Year-Veteran Officer Kim Potter Resign + Protests Erupt
​
Apr 13 | by _YBF
​ ​ ​ ​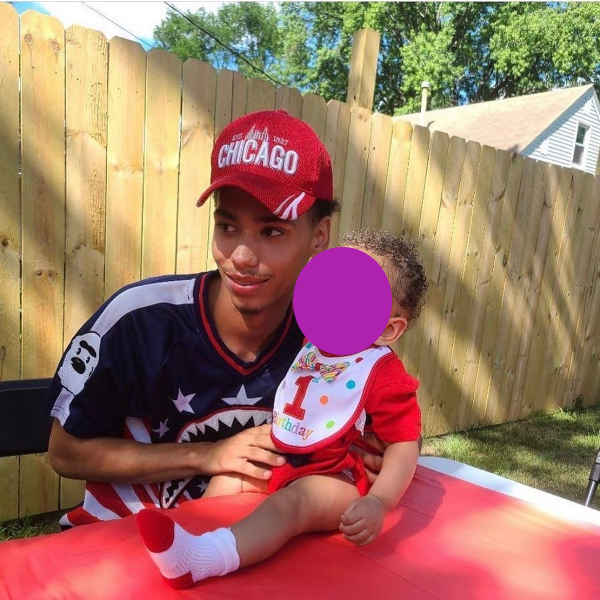 The parents of Daunte Wright – a 20-year-old biracial man who was shot and killed by a white police officer – are speaking out after the police chief described the shooting as an "accidental discharge." Find out their reaction to their son's killing being called a "mistake," plus Daunte's aunt's super emotional CNN interview, protests and more inside…
Another family is grieving the loss of a loved one at the hands of a police officer.
The parents of Daunte Wright – a 20-year-old biracial man who was reportedly shot and killed by a white female officer – are speaking out for the first time after their son was gunned down Sunday (April 11th) and shared with the world that they "can't accept" the notion that their son was "mistakenly" murdered.
EXCLUSIVE: Daunte Wright's father says he "can't accept" that a police officer fatally shot his 20-year-old son by accident: "I lost my son. He is never coming back. I can't accept that. A mistake? That doesn't even sound right." https://t.co/gwMJmhAfUm pic.twitter.com/oRdhS2f7vv

— Good Morning America (@GMA) April 13, 2021
Aubrey & Katie Wright sat down with "Good Morning America" anchor Robin Roberts to talk about the shooting death of their son – who is the father of a one-year-old son - during a traffic stop in Brooklyn Center, Minnesota.
"I lost my son, he's never coming back," Daunte Wright's father, Aubrey Wright, told ABC News' Robin Roberts on "GMA."
The police officer who killed Daunte claims it was an accident. As you can imagine, they aren't buying that.
This is beyond sad & sickening at the same time #JusticeForDaunteWright pic.twitter.com/NbOW8Mv9Rf

— THE PARTY KINGPIN !! (@DJQUICKSILVA) April 13, 2021
"I can't accept that -- a mistake, that doesn't even sound right," he added. "This officer has been on the force for 26 years. I can't accept that."
And we don't blame them.
EXCLUSIVE: "The girl that was with him answered the phone and said that they shot him and he was laid in the driver's seat, unresponsive." — Daunte Wright's mother on the moment she learned her son had been killed by police during a traffic stop. https://t.co/gwMJmhAfUm pic.twitter.com/qP81ZYlNtE

— Good Morning America (@GMA) April 13, 2021
Brooklyn Center police officer Kim Potter – a 26-year vet & has served as her police union's president – has been identified as the officer who shot Daunte. Both officer Kim Potter and police chief Tim Gannon have RESIGNED:
#BREAKING: Brooklyn Center Mayor Mike Elliott says both Police Chief Tim Gannon and Police Officer Kim Potter have resigned.

— Ana Cabrera (@AnaCabrera) April 13, 2021
Here's what happened after police pulled Daunte…
It was reported officers initially pulled him over due to air fresheners hanging on his rear view mirror, despite earlier reports that he was driving with registration tags.
ABC News reports:
Daunte Wright was driving in Brooklyn Center, about 10 miles northwest of Minneapolis, when he was stopped by police on Sunday afternoon. The officers initially pulled him over for an expired registration tag on his car but determined during the traffic stop that he had an outstanding gross misdemeanor warrant, according to Brooklyn Center Police Chief Tim Gannon.

As police attempted to take him into custody, Daunte Wright reentered the vehicle and one of the officers fired their weapon, striking him. The officer -- identified by authorities as Kim Potter, a 26-year veteran of the Brooklyn Center Police Department -- intended to deploy her Taser instead of her gun when she "accidentally" shot Daunte Wright, Gannon said.

The car sped off, traveling several blocks before crashing into another vehicle. A female passenger in Daunte Wright's car sustained non-life-threatening injuries during the crash and was transported to a nearby hospital. The passengers in the other vehicle were not injured, according to Gannon.

Officers and medical personnel "attempted life-saving measures" on Daunte Wright but he died at the scene, Gannon said.
Bodycam footage of the traffic stop was released, which you can watch below. WARNING – the video below may be triggering to some:
Daunte called his mother right as he was being pulled over and she shared details of their conversation.
this is so heartbreaking #DaunteWright #BlackLivesMatter pic.twitter.com/8xpq17UbPD

— skye (@LOVE4HYUN1E) April 12, 2021
Heartbreaking.
According to the Washington Post, officer Kim Potter, 48, has retained attorney Earl Gray, who is also representing former Minneapolis police officer Thomas Lane, who has also been charged in George Floyd's death.
Daunte's aunt, Nisha Wright, spoke with CNN's Don Lemon while traveling to Brooklyn Center to reunite with her family following the death of her nephew. She delivered a super emotional interview where she talked about the life of her nephew. Interestingly, Daunte apparently told his mother the reason he was being pulled over was because of air fresheners hanging from the rear view mirror. Ms. Wright remarked how the police department is now saying it's due to an expired license plate, and she feels they're lying. Especially since Daunte just got the car less than two weeks ago.
Check it out below:
"There is no peace in this. Say his name. Keep saying his name. My nephew did not deserve this."

Naisha Wright, the Aunt of Daunte Wright, speaks out after her nephew was shot by a police officer and died following a traffic stop. pic.twitter.com/irGyDijrSd

— CNN Tonight (@CNNTonight) April 13, 2021
By the way, Daunte's murder happened less than 10 miles away from where former police officer Derek Chauvin's murder trial.
Civil rights attorney Ben Crump is representing the family:
20yo Daunte Wright was tragically taken from his family over the weekend, leaving behind 2yo Daunte Jr., after @BrklynCenterMN police officer Kim Potter fatally shot him. Please consider donating to help pay for funeral expenses & support Daunte Jr. while they grieve.

— Ben Crump (@AttorneyCrump) April 13, 2021
They could have given Daunte Wright a ticket for this minor citation, but police forget the realities of life when you're #DrivingWhileBlack.

— Ben Crump (@AttorneyCrump) April 13, 2021
Brooklyn Center Mayor Mike Elliott said he was "appreciative" that officer Kim Potter submitted her resignation but that he had not asked for it.
Brooklyn Center, Minnesota Mayor Mike Elliot:

"I don't believe that officers need to necessarily have weapons every time they're making a traffic stop." pic.twitter.com/5lnajSI8ly

— Daily Caller (@DailyCaller) April 13, 2021
Brooklyn Center, MN, Mayor Mike Elliot announces the city council voted to:

• Bring command of police department under office of the mayor
• Relieve City Manager Boganey
• Pass resolution in support of relieving Police Chief Gannon and Officer Potter, who killed Daunte Wright pic.twitter.com/UvNbcbdXHx

— The Recount (@therecount) April 13, 2021
Protesters are filling the streets of Minnesota where they were met with tear gas and officers dressed in riot gear.
Minnesota Governor Tim Walz, Minneapolis mayor Jacob Frey, and St. Paul mayor Melvin Carter, announced a 7pm curfew for Monday, April 12th in response to the uprisings following Daunte's murder. The curfew means all nonessential businesses, including restaurants and bars, will need to close and allow employees to travel home prior to the curfew being enacted.
Over 40 people were arrested during the protests:
Big protest still underway in Brooklyn Center, Minnesota (close to Minneapolis) where today officers shot & killed 20-year-old #DaunteWright.

People moved to surround the police station & have been met w tear gas, riot cops & and an armored vehicle:https://t.co/32WyVi4GEp

— Unicorn Riot (@UR_Ninja) April 12, 2021
Now at the protest outside the Brooklyn Center police precincttear gas fired by police . Water bottles being thrown- #BrooklynCenter #DaunteWright hundreds are here. Disperse order announced. Curfew has been in effect for an hour and a half. pic.twitter.com/acytOqRba4

— Sara Sidner (@sarasidnerCNN) April 13, 2021
Here's a look at the protest outside the Brooklyn Center, MN Police Department. These people are here to protest the shooting death of 20-year-old Daunte Wright. pic.twitter.com/Bt2jXruo51

— Robert Sherman (@RobertShermanTV) April 12, 2021
Police arrested at least 40 people at protests in Minnesota over the police killing of #DaunteWright.

Brooklyn Center's city council reportedly passed a resolution banning police use of tear gas and rubber bullets, but police fired rubber bullets, tear gas and flash grenades. pic.twitter.com/J5dNDwFO7O

— AJ+ (@ajplus) April 13, 2021
Forever President Barack Obama issued a statement regarding Daunte's murder:
Our hearts are heavy over yet another shooting of a Black man, Daunte Wright, at the hands of police. It's important to conduct a full and transparent investigation, but this is also a reminder of just how badly we need to reimagine policing and public safety in this country. pic.twitter.com/sgcbRjlApr

— Barack Obama (@BarackObama) April 13, 2021
Ben & Jerry's also issued a statement in regard to Daunte's murder:
The murder of #DaunteWright is rooted in white supremacy and results from the intentional criminalization of Black and Brown communities.

This system can't be reformed.

It must be dismantled and a real system of public safety rebuilt from the ground up.#DefundThePolice

— Ben & Jerry's (@benandjerrys) April 12, 2021
Thoughts?
Photo: Daunte's Family
​ ​
​ ​ ​