Twitter Is Convinced & Losing It That Ashanti Is Dating A 'White Man', But He Appears To Be A Restaurant Staffer She Simply Snapped A Pic With
​
Apr 23 | by _YBF
​ ​ ​ ​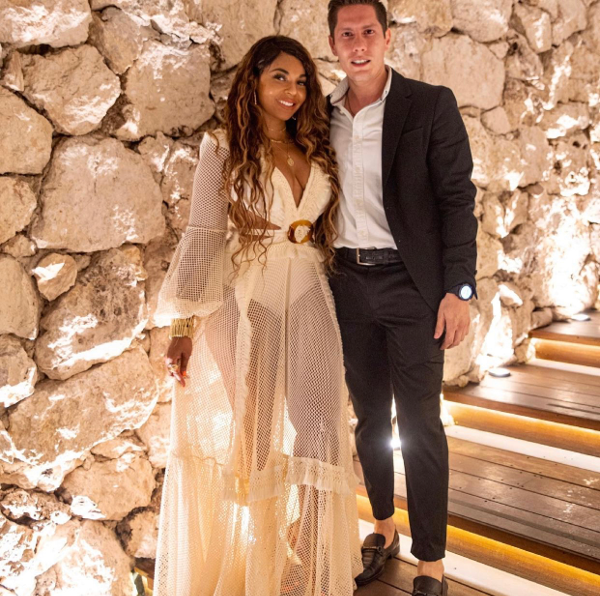 Ashanti has been trending on Twitter after sharing a picture of herself with a mystery man while turning up in Cancun, Mexico. And Twitter is losing it. More inside…
UPDATE:
Ashanti sets the record straight: This is NOT her man. The man she is pictured with is the manager at the Mexican restaurant. Nothing more, nothing less.
"Lmaoooo NO! he's one of the managers at the restaturant!!! He is NOT my man and we are NOT DATING," she said in TSR's comments with the laughing emoji.
---------------------------------------------------
Ashanti has been trending on Twitter after posting a picture to her Instagram account with a mystery man while turning up in Cancun, Mexico. Now, Twitter thinks she has a new "white boyfriend."
"Great times," she captioned a picture of herself and they mystery man, along with a collage of photos and videos, while hanging out at Taboo Cancun restaurant. In the videos, the R&B singer has the entire restaurant staff behind her while bragging about having the best time ever.
Instantly, fans assumed the "Foolish" singer was sharing a picture of the new man in her life and started reacting, causing her to trend at No. 1 on Twitter.
Ashanti got a white man! The betrayal! It was supposed to be me! At least for a month or 2. pic.twitter.com/18Ig8jLPx5

— Flint Daddy Franko (@FrankoThePen) April 23, 2021
We lost Ashanti?!?!? To an Ivory Ingrate?!?!?!? pic.twitter.com/fRNzpn45jL

— A L I K. (@MalikThaElite) April 23, 2021
Now why y'all didn't tell me Ashanti was out here dating Tailor Made? pic.twitter.com/CKnMPKamQx

— Hey Ellyot (@KnownAsEllyot) April 23, 2021
Y'all mad about Ashanti being with a white man... I'm mad that sis hasn't missed ONE vacation since the panoramic pic.twitter.com/U4CoAIz0pl

— Gossip Girl (@xoraveen) April 23, 2021
A colonizer took Ashanti how much more will this year take from me pic.twitter.com/qXjGmvFAtt

— JT (@theonly1jt) April 23, 2021
Black man dates a white woman Ashanti dates a white man pic.twitter.com/ZGodK9V9m6

— Joshua Chenault (@joshuachenault1) April 23, 2021
Y'all mad Ashanti got her a white man? Oh well lol pic.twitter.com/MvoL2Sy6JE

— (@PleaseImpressMe) April 23, 2021
Black men would date white women but then complain when someone like Ashanti dates a white man pic.twitter.com/wWMyKvlOdv

— Abena (@commentonbull) April 23, 2021
Black men after hearing that Ashanti is dating Baron Zemo pic.twitter.com/T03UNsptN0

— MaltLiquorPapi (@LowkeyBrilliant) April 23, 2021
The same black men mad at Ashanti for getting herself a white man are THE SAME black men who treat black women like garbage. pic.twitter.com/aFx7DTg1Xx

— RCE (@moreofmaur) April 23, 2021
But as usual with social media, not all is what it seems.
Twitter has been running with the boyfriend narrative since she posted the picture, but he looks like the host/manager/staffer of the restaurant. And there's a likely chance he's not white, either.
Another staffer at the restaurant is picture wearing the same outfit as the mystery man Ashanti posted.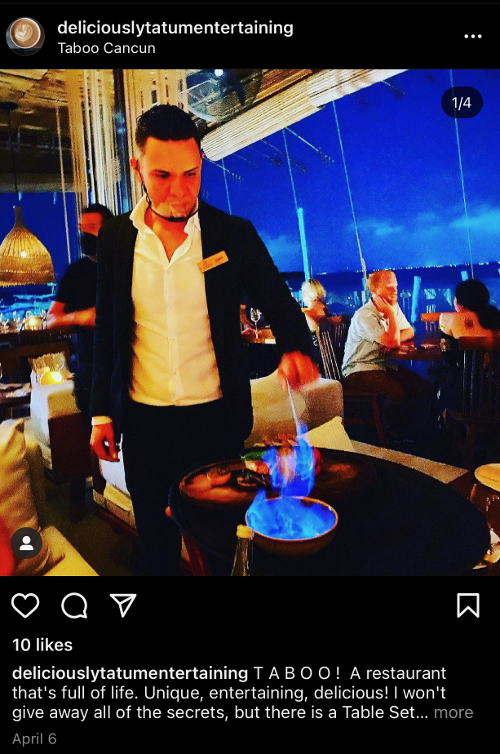 Def seems like the singer was just snapping a flick with a restaurant staffer who is likely a fan and social media ran with it. Ashanti often posts pics with staffers or organizers of places where she goes.
Check out more flicks from her Cancun vacay (with her actual rumored boyfriend Flo Rida) below:
Chick stays on an island though, doesn't she?
Photo: Ashanti's IG
​ ​
​ ​ ​