Shekinah Jo Claims Her Bestie Tiny Turned On Her, Made Her Talk Amid Sexual Assault Claims Made Against The Harrises
​
May 03 | by _YBF
​ ​ ​ ​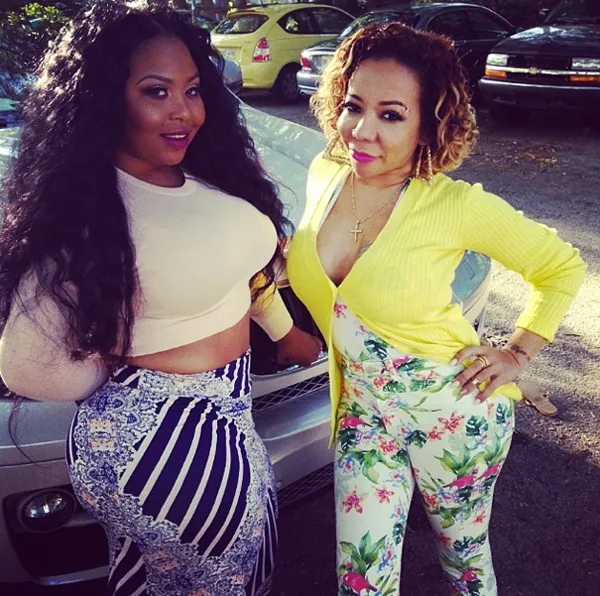 Shekinah Jo says she's no longer friends with Tameka "Tiny" Harris as a result of the sexual assault allegations the XSCAPE singer and her husband T.I. are facing. Details inside…
Who would have thought we would see the day besties Shekinah Jo and Tameka "Tiny" Harris wouldn't be friends? Well, it appears that's where we are. And their friendship breakup seemingly has everything to do with the sexual assault accusations made against Tiny & her husband T.I., which was launched by the Harrises former friend, Sabrina Peterson.
You'll recall, when the sexual assault and misconduct allegations were first brought up, Shekinah – Tiny's hairstylist/friend - hopped on Instagram Live in an attempt to dispel the rumors that were made against her friend Tiny and her husband's reputation.
Over 30 women have come forward accusing the couple of coercing them into sexual situations that allegedly involved drugs, rape and more. It started after the Glam University CEO went on Instagram where she claimed that T.I. held her at gunpoint. The alleged victims told stories centered around threesomes, being forced to take drugs, sexual coercion, being kidnapped, and more.
When all of the sexual assault allegations were being aired out on social media, Tiny's BFF Shekinah Jo hopped on IG Live to defend her friend and her husband, which only made matters worse because it seemed she was confirming some of the allegations that were brought against the couple. People started dragging Shekinah for basically confirming what Sabrina said about the couple recruiting women for sex even though she was trying to defend them.
In a recent Instagram Live session, Shekinah Jo gave an update on her friendship with Tiny and in so many words, the ladies are no longer friends.
During the tearful IG Live, Shekinah talked about her friendship with Tiny and how she was kicked off the "Family Hustle" reality show. She also hinted that she was the REAL reason XSCAPE reunited.
As you know, Shekinah and Tiny have been friends for years. But it seems the straw that broke the camel's back was when Tiny didn't publicly speak out to defend Shekinah after she was getting dragged on social media for defending Mr. & Mrs. Harris amid sexual harassment allegations.
"She was in the room with me telling me what to say," Shekinah revealed.

"Ain't nobody bought me no houses, ain't nobody bought me no muthaf*cking cars," Shekinah said. "Ain't nobody did none of this fairytale a** sh*t people believe."
Oop. Peep the IG Live below:
Once Tiny caught wind of Shekinah's comments, she hopped on social media to respond, calling Shekinah a "dizzy b*tch" and shared how she's disappointed in how Shekinah is handling the end of their friendship.
"You [can] believe this dizzy b*tch if you like!," Tiny wrote. "Why in tf would I ask her to say what she said?! True enough she wanted to speak up for me as a friend & I appreciate that but I NEVER EVER told her to SAY any of the sh*t she said. That's on MY LIFE & Everything I Love."
"If we not cool, we not cool.. move on as I have quietly. It's a shame I'm addressing this bs now! Just sick of all the lies. Day after day!! I will forever wish her nothing but the best still. It's sad when close friends turn to enemies but God has his way & I wont ?? Him!," she wrote.
In another social media post, Tiny responds to a fan who questioned her loyalty.
Fan: Tiny please don't tell me you sold ya soul you sound liar-ish. Why you so mad lol"

Tiny: Why do I have to lie tho?! It's not like what she did helped me in any way! I'm too old for this sh*t fr! To be beefing with a friend on SM! This is some attention seeking sh*t. She always do. U guys would never know we wasn't speaking or any of this if it wasn't for her emotional a**!! There were ppl in the room when she said what she said if we really need to prove who's lying!!
Sheesh.
It appears Shekinah is hurt over how Tiny handled the situation and is acting out. Hopefully these two can come to a resolution, but it doesn't appear one is coming soon.
Photo: Instagram
​ ​
​ ​ ​