Khloe Kardashian Hit Tristan Thompson's Alleged Side Chick With A 'Coming To You As A Women' DM + Tristan's Alleged Baby Mama Kimberly Warns Khloe
​
May 04 | by _YBF
​ ​ ​ ​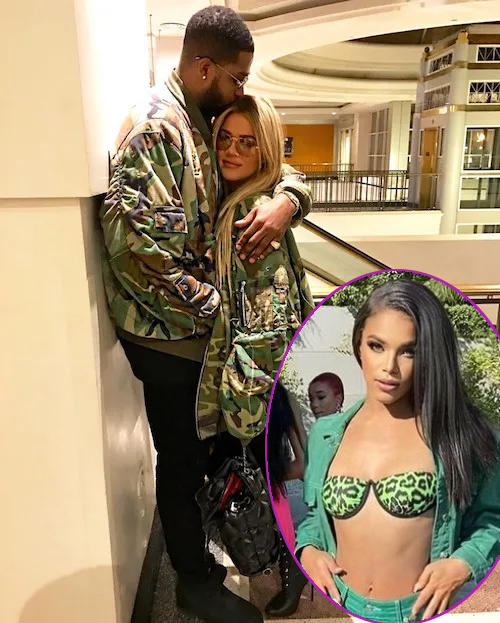 Sydney Chase – the woman who claims to have slept with Tristan Thompson while he's in a relationship with Khloe Kardashian – has shared receipts that show Khloe all in her DMs, "coming to her as woman." Meanwhile, another woman named Kimberly claims Tristan is the father of her child and she posted up a few messages for Khloe on social media.
Everything inside…
UPDATE #2:
Apparently, Sydney Chase DID in fact receive the cease and desist letter from Tristan Thompson. Allegedly.
Page Six reports:
A source close to the scandal involving Thompson and Instagram model Sydney Chase showed Page Six the emails that Thompson's attorney sent to email addresses believed to belong to Chase — including the one publicly listed on her Instagram profile. The letters were sent on Friday and again on Tuesday, we're told, in response to Chase publicly divulging the details of their alleged tryst.

Chase vehemently denied receiving a legal letter.

"I did not receive anything," Chase exclusively told Page Six. "I didn't receive anything because I'm telling the truth."
-------------------------------------------------------------------
UPDATE:
Tristan Thompson has fired off a cease and desist letter to Sydney Chase after she made claims that she's sleeping with him and cheating on his daughter's mom, Khloe Kardashian.
TMZ reports:
The Celtics star -- who's back in with Khloe Kardashian now -- had his attorney, Marty Singer, fire off a cease and desist letter to Sydney Chase ... who recently claimed she had sex with Tristan since he and Khloe reunited. She also claims to have salacious texts from him.

In the letter, obtained by TMZ, Singer calls her allegations "malicious defamatory fabrications," adding ... "Mr. Thompson had no relationship with you whatsoever and he never sent you any such texts."

Singer goes on to accuse Chase of making up quotes from Tristan and having no proof to back up her claims, and blasts her by saying, "It is obvious that you are a liar."

The letter concludes by saying if Chase doesn't stop "defaming" Thompson in the media or online, "you do so at your peril since you may find yourself in court attempting to defend your indefensible misconduct."

Thompson's attorney also sent a cease and desist letter to Adam22, host of the "No Jumper" podcast ... on which Chase initially blabbed the cheating allegations.

"No Jumper" has already removed the portion of Sydney's interview where she talks about the alleged fling. We'll see if Chase keeps quiet.
Sydney claims she never received cease and desist letter:
Time will tell...
----------------------------------------------------------------------
Last week, Tristan Thompson made headlines for allegedly cheating on Khloe Kardashian yet AGAIN. And the alleged side chick has been "leaking" information and receipts about his alleged cheating ways ever since.
You'll recall, Sydney, 23, made claims that she she's sleeping with the 30-year-old Boston Celtics player and alleged the last time she slept with him was back in January. She also shared intimate details about his genitals. Allegedly. She also said in a TikTok video the last time she was contacted by Tristan was the day after Khloe threw their daughter True Thompson a lavish third birthday bash on April 12th.
Now, Sydney claims Khloe, 36, reached out to her Instagram DMs with a "coming to you as a woman" message. In a post she has since deleted, Sydney shared a screenshot that appears to show the "Keeping Up With The Kardashian" star reached out to her.
The screenshot comes from an iPhone that shows two notifications from private messages that appear to be from Khloe via Instagram amid the cheating allegations.
The first message, allegedly from Khloe to Sydney reads, "Hey Sydney, this is Khloe." In the second message Khloe allegedly wrote, "I would appreciate if our conversation can remain confidential," along with a praying hands emoji.
Check it: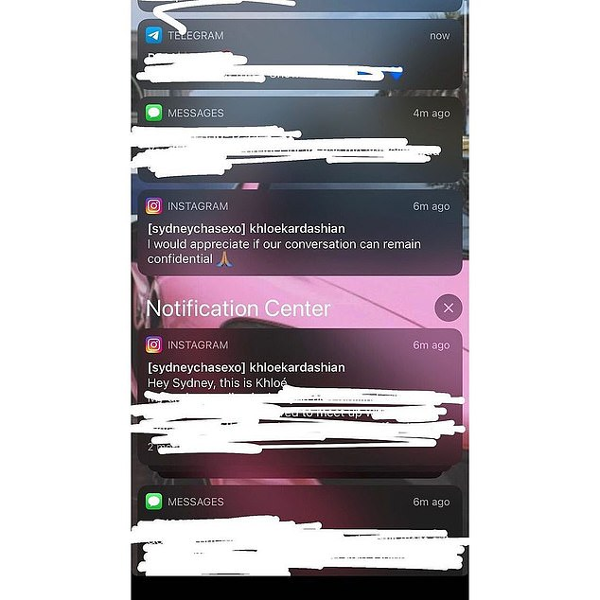 In a newly uncovered Instagram Live that was posted on April 8th, Sydney allegedly read text messages she received from Tristan where he supposedly told her Khloe isn't even his type - she is. She said Tristan told her he's only with Khloe to get status and that he will leave once he knows he'll have it without her.
While Sydney was leaking information about her alleged sexcapades, Khloe was busy posting subliminals as she always does amid any cheating drama with Tristan. We wonder what Khloe said to Sydney in those DMs...IF they're real.
Meanwhile, another woman named Kimberly Alexander (aka @kimcakery305)– who claims to be the mother of Tristan's 5-year-old son - posted (and deleted) messages for Khloe after she caught wind of Sydney's leaked messages.
"@khloekardashian I think ur messaging the wrong person. Umm come here sis! We got lots to talk about. Remember you said true needs more siblings well she got two and maybe one on the way. I gots tea pooh!," she wrote.
She continued, "I will not post our conversation sis. You can even text me on snap. Let's put this behind us like grown woman [sic]! Oh and stop worrying about that lil girl cause it's many of them giving me receipts in my dms at this point leave sis but call me @khloekardashian."
Chile…
Around this time last year, Tristan reportedly filed a lawsuit against Kimberly Alexander after she made claims that he was the father of her 5-year-old son. He reportedly took a paternity test in January 2020 that "definitively concluded that [he] is not the father." However, Kimberly is adamant that the lab sabotaged the test results and claims Tristan IS her child's father.
We're sure Khloe hates it here.
Photos: Instagram
​ ​
​ ​ ​