Derek Chauvin's Lawyer Requests New Trial As Juror Brandon Mitchell Defends Attending Washington Event After BLM Photo Goes Viral
​
May 05 | by _YBF
​ ​ ​ ​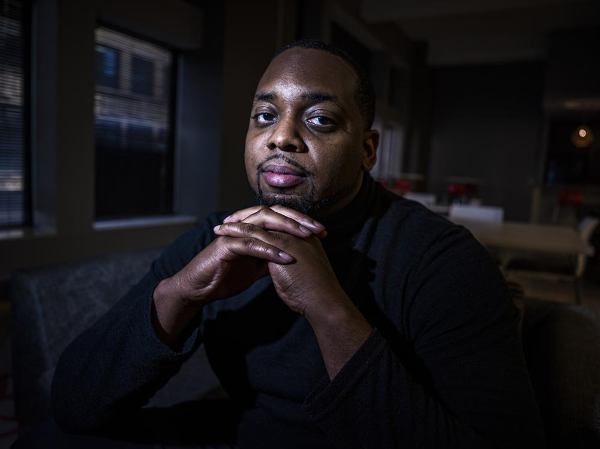 Brandon Mitchell – one of the jurors who convicted Derek Chauvin for the murder of George Floyd – is defending his attendance at a Washington, D.C. event where he was wearing a Black Lives Matter t-shirt. And now, Derek Chauvin's lawyer is requesting a new trial. More inside…
A photo of one of the jurors on the Derek Chauvin murder trial wearing a Black Lives Matter t-shirt went viral. Now, Derek Chauvin's lawyer is requesting a new trial.
Juror #52 Brandon Mitchell is the first juror from the Derek Chauvin murder trial to speak out publicly and now he's all wrapped up in drama. The 31-year-old black man was pictured wearing a t-shirt with Martin Luther King Jr. face on it and the phrases "Get your knee off our neck" and "BLM." Also, the hat he was waring read "Black Lives Matter."
The image was posted by Brandon's uncle.
In an interview with the Star Tribune, Brandon defended attending the event in Washington, D.C. last summer to commemorate MLK's famous 1963 "I Have A Dream" speech. The Commitment March took place on August 28th 2020 — the 57th anniversary of the historical March on Washington, where Martin Luther King Jr. delivered his "I Have A Dream Speech."
"I'd never been to [Washington] D.C.," Brandon told the Star Tribune Monday of his reasons for attending the event. "The opportunity to go to D.C., the opportunity to be around thousands and thousands of Black people; I just thought it was a good opportunity to be a part of something."
Brandon said he felt he was forthcoming about his views and how he felt about the Black Lives Matter movement. The site reports:
Mitchell said he answered "no" to two questions in the juror questionnaire sent out before jury selection that asked about participation in demonstrations.

The first question asked, "Did you, or someone close to you, participate in any of the demonstrations or marches against police brutality that took place in Minneapolis after George Floyd's death?"

The second asked, "Other than what you have already described above, have you, or anyone close to you, participated in protests about police use of force or police brutality?"

Mitchell said he was not concerned about backlash for his participation in the march, noting its historic significance beyond the Chauvin case.

"This was a big deal," he said of the event. "It's a national thing."

Mitchell took issue with at least one news account of the picture that said he told the court during jury selection that he had no knowledge of Chauvin's case.

"I think I was being extremely honest, for sure," he said of the jury selection process. "I gave my views on everything — on the case, on Black Lives Matter."
On Tuesday, Derek Chauvin's attorney filed a motion seeking a new trial for the former Minneapolis police officer, who was convicted of murder last month in the murder of George Floyd.
Page Six has the deets:
In papers filed Tuesday in Hennepin County Court, attorney Eric Nelson argues that Chauvin's murder trial should have been moved to a different city, and said publicity surrounding the trial was "pervasive" and "prejudicial."

"The court abused its discretion when it failed to sequester the jury for the duration of the trial, or in the least, admonish them to avoid all media, which resulted in jury exposure to prejudicial publicity regarding the trial during the proceedings," Nelson wrote, "as well as jury intimidation and potential fear of retribution among jurors…."

Nelson also accused prosecutors and Hennepin County District Judge Peter Cahill of "multiple errors in these proceedings," which he said deprived Chauvin of a fair trial.

Among his claims, Nelson said prosecutors "committed pervasive, prejudicial prosecutorial misconduct," including "disparaging" the defense — and presenting "cumulative" evidence, particularly a string of experts and police officials who testified that Chauvin used excessive force.

The lawyer also claimed the judge should have forced Floyd's pal, Morries Hall, to testify, despite Hall's assertion that he would invoke his Fifth Amendment privilege if called to the witness stand.

Hall was with Floyd inside his SUV when police arrived and arrested Floyd and allegedly knew there were drugs in the vehicle.

"The cumulative effect of the multiple errors in these proceedings deprived Mr. Chauvin of a fair trial, in violation of his constitutional rights," Nelson wrote.
We'd like to note, the motion did not mention the comments made by Congresswoman Maxine Waters. They tried to say she encouraged violence if Derek Chauvin was let off the hook. Chauvin's lawyer tired to have a mistrial declared over Rep. Waters' remarks before the jury returned its verdict, but the judge denied it.
Derek Chauvin, who knelt on the neck of unarmed and handcuffed George Floyd for over 9 minutes leading to his death, was found GUILTY on all three charges of second and third degree murder.
The prosecution requested bond be revoked. It was granted and he was sent straight to jail after being out on bond since last year.
Sentences will be announced at another hearing in about 6 weeks, but the max recommended sentence (40 years for the first charge, 25 years for the second and 10 for the third) will most certainly be pushed for by the prosecution.
Prosecutors in Minnesota have filed court documents requesting that a judge impose an "aggravated" prison sentence for the former Minneapolis Police Department officer.
Photos: Richard Tsong-Taatarii/Star Tribune/Court TV via AP
​ ​
​ ​ ​