Singers From Total, 702, Cherish, Danity Kane, Blaque, 3LW & More Create The Ultimate Girl Group For 'The Encore' – WATCH!
​
May 20 | by _YBF
​ ​ ​ ​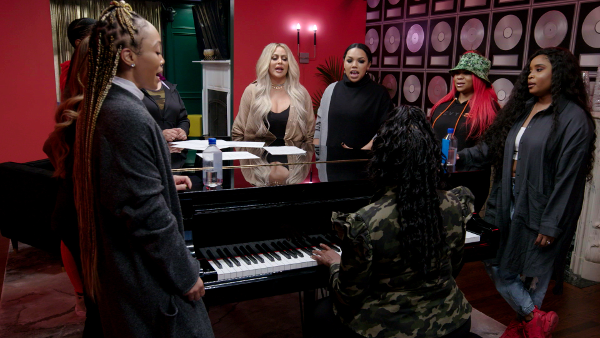 Several members from some of your fave girl groups are joining forces for "BET Presents The Encore," a new reality series about talented female singers who come together to form a R&B Super group. Chile, we can already see how messy this one will be. Deets inside…
BET has rounded up a group of female singers from famous girl groups to form a R&B Super group. And fans will get a front row look at how it'll all go down.
The non-scripted series, titled "BET Presents The Encore," will have the ladies come together to record an album, release music videos and perform live.
The series includes 2 sets of sisters and a couple of former reality stars: Shamari DeVoe (Blaque), (who recently appeared on "Real Housewives of Atlanta" with husband Ronnie Devoe), Pamela Long (Total), sisters Irish Grinstead & LeMisha Grinstead (702), sisters Fallon King & Felisha King (Cherish), Aubrey O' Day (Danity Kane), Kiely Williams (3LW/The Cheetah Girls) and the only member to not be in a girl group, Nivea Nash.
Yep, that's nine women coming together for an R&B group, but it's to be seen if all the ladies make the final album cut.
They will live together for 30 days to record an album at a home studio, learn choreography and practice vocals. And guess what? The songstresses won't know who their bandmates are until they get to the house. It's like "Real World" meets "Making The Band".
An esteemed roster of music industry experts will drop in each week to prepare them for their big debut and deliver a chart-topping record, including music producer Kosine, choreographer Aliya Janell (who often goes viral for her stiletto dance routines), songwriter Elijah Blake, and vocal coach Cynnamyn. Carlos King, Scott Jeffress, Alicia Martino, Brent Nisbett and Scott Shatsky will serve as executive producers.
Will their artistic differences or egos get in the way of forming a group? Or will these powerhouse women show the world that they still have what it takes to make a major comeback? We shall see!
Peep the trailer below:
This show reminds us of that clip that leaked in 2020 from a show about former girl groups. You'll recall, 3LW's Kiely Williams & Destiny's Child singer Farrah Franklin had the iternets in shambles over the leaked excerpt. Check it below:
I am weak between Kiely telling Farrah she wasn't in the group nor while asking her did she sing at all and Farrah telling Kiely she sold 19 million records off "Say My Name."

Tweet me back Beyoncé's response if she was watching at home. pic.twitter.com/pXxFSc7CCA

— Terry Jane Paul (@InThierry) April 3, 2020
"BET Presents The Encore" will premiere Wednesday, June 9th at 10 PM ET/PT on BET and BET Her.
Photo: BET
​ ​
​ ​ ​