PRESS PLAY: Birdman & Lil Wayne Link With Roddy Rich For 'STUNNAMAN' + Lil Nas X's 'Sun Goes Down', Explains Nicki Minaj Name Drop + BTS Of Nicki's 'Seeing Green' Visuals + Polo G's 'Gang Gang'
​
May 21 | by _YBF
​ ​ ​ ​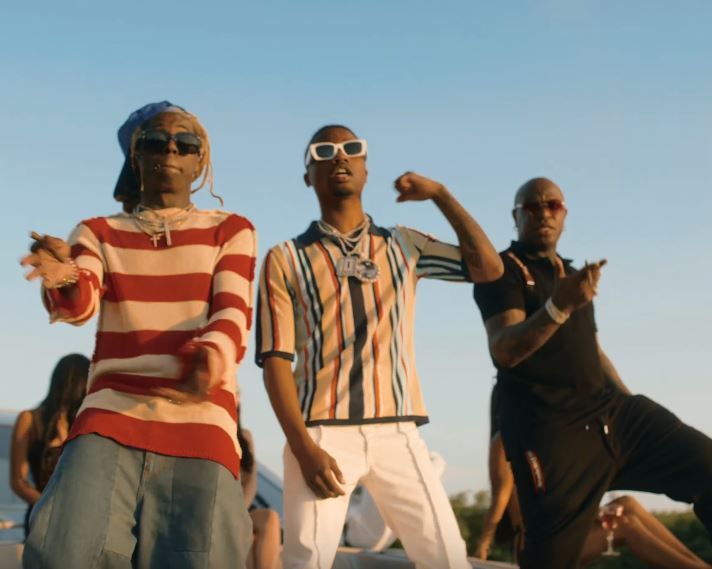 It's Friday, which means new music and new visuals. The Young Money camp has an arsenal of content that has been released. Get it all inside…
Young Money is making a splash on the music scene to kick off this YBF Weekend.
Along with Nicki Minaj's return, Lil Wayne is been dropping bars on tracks and the Cash Money honcho, Birdman, just hopped out of rap retirement to be featured on a new track that'll appear on an upcoming film.
Birdman on a track? Yep. Especially now that he and Weezy have squashed their beef (even though we're still side eyeing Waye for his problematic political stances and tone with black women).
Cash Money Records and Nick Cannon's NCREDIBLE have teamed up for an original motion picture soundtrack for an upcoming drama titled She Ball, which they're also producing.
The first single from the She Ball soundtrack is titled, "STUNNAMAN," which features Birdman, Roddy Ricch, and Lil Wayne."STUNNAMAN" fuses a jagged beat to a signature melodic flow from Roddy Ricch. Meanwhile, Birdman and Lil Wayne pull up with old-school Like Father, Like Son-style interplay. Three generations of rap shine on this banger.
"If anything, the soundtrack will be a driving force of She Ball," said Nick Cannon (who's allegedly expecting baby #7 with baby mama #4).

"The music is truly the heartbeat of the film. To have my producing partners Birdman and Chris Brown on the album as well is an honor. We've got legends and all of the people who are really popping right now on the track-list. It references those soundtracks we all grew up on that meant something from a generational standpoint. When you hear the music or watch the movie, I want you to feel embedded in the culture. I saw Do the Right thing, Love and Basketball, and Above The Rim as a kid. We cherish those as national treasures now. That's our goal."
The "Wild 'N Out" honcho wrote, produced, and directed She Ball. Birdman and global superstar Chris Brown join Mr. NCREDIBLE as producers and are also starring alongside Cedric The Entertainer, DC Young Fly, Evan Ross, and Faizon Love in the movie.
"I said to Nick, if we're going to do this, we've got to do it as big as possible," Birdman said in a press release. "As important as the movie was, the Soundtrack was just as important. We were able to put together some powerful records and collaborations worthy of this film. It takes everything to the next level."
Take a listen and peep the visuals below:
As for the film, it's an important community-focused project dealing with race, gentrification, criminal justice and women's empowerment. The movie tells a story of triumph against all odds as a young female athlete played by Melody Rae Kandil faces trials, tribulations, and triumphs on and off the basketball court.
Peep the trailer below:
She Ball premieres in theaters and on-demand this Summer.
In other Young Money releases...
Last week, Nicki Minaj had the Internet in a frenzy when she made her long-awaited social media return. Then, she re-released her 2009 mixtape Beam Me Up Scotty with three new tracks, including "Seeing Green," which features her Young Money fam, Lil Wayne & Drake.
This week, she teased the Barbz with behind-the-scenes clips from the "Seeing Green" music video with a couple peeks at Papa Bear.
Check it:
So yeah, expect the visuals for "Seeing Green" to drop soon.
In other Nicki news, it seems she may have squashed her long-standing beef with daytime talk show host, Wendy Williams. Catch up HERE.
Speaking of Nicki...
https://t.co/GvBW45EMo4 pic.twitter.com/7VIgonTlAh

— nope (@LilNasX) May 21, 2021
Lil Nas X has been receiving backlash (again) for his newest music video for "Sun Goes Down." On the track, he included a line referencing Nicki Minaj, which pissed off some of the Barbz. They accused him of clout chasing.
On the song, he made a reference to being a huge fan of Nicki's during his younger years.
"And nobody knows it when you're silent, I'd be by the phone, stanning Nicki mornin' into dawn, only place I felt I belonged," he sang on the track.
After the backlash from the Barbz, the "Call Me By Your Name" star said he will no longer name drop the QUEEN's name again. Peep his tweet below.
"To the barbz who feel I'm using Nicki's name for attention," he tweeted. "The song I released last night was recorded last year. And it's about my life, which six of those years were dedicated to Nicki. It's no fake love. But I understand how it looks so I will no longer mention her."
to the barbz who feel i'm using nicki's name for attention, the song i released last night was recorded last year. and it's about my life which 6 of those years were dedicated to nicki. it's no fake love. but i understand how it looks so i will no longer mention her.

— nope (@LilNasX) May 21, 2021
Check out Lil Nas X's "Sun Goes Down" visuals below:
As for another new video...
Weezy hopped on a track with Polo G titled "Gang Gang."
In the visuals (directed by Rosco), Polo G is seen hanging out with his homies before he links up with Lil Wayne at a house party. The new song will be featured on the Chi-town rapper's upcoming album, Hall of Fame, which is set to be released in June.
Check out his new music video with the N.O. native below:
Looks like Young Money is making a comeback as a label. You here for it?
Photo: YouTube Screenshot
​ ​
​ ​ ​