Rapper YFN Lucci Surrenders (Again) In NEW Gang Racketeering Case, Lawyer Says 'He's Not Guilty Of All Charges'
​
May 21 | by _YBF
​ ​ ​ ​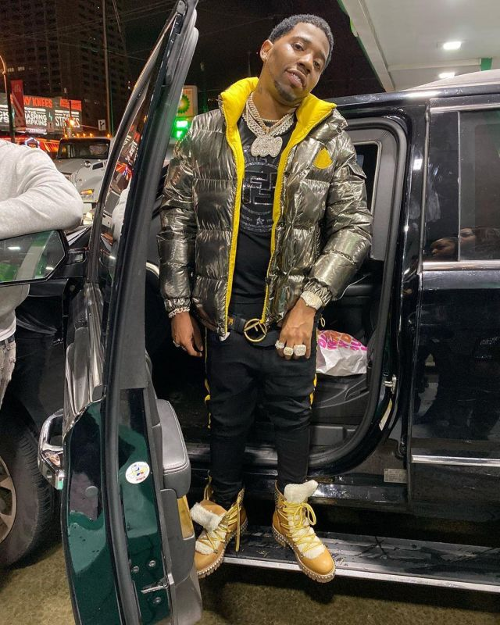 Rapper YFN Lucci is back behind bars. He was recently hit with new gang racketeering charges, digging him deeper into legal trouble. More inside…
It's not looking good for YFN Lucci.
After coming home on bond in February, rapper YFN Lucci is BACK behind bars. The Atlanta rapper (real name Rayshawn Bennett) was hit with new RICO charges and surrendered recently.
According to Fulton County Sheriff Pat Labat, Lucci is currently sitting in the prison's maximum security area after being charged with gang racketeering charges.
The "Everyday We Lit" rapper has been sitting in the prison since May 10th on charges that involve allegations of felony murder and more. The RICO charges were filed on April 30th.
"He's not guilty of all charges," Lucci's attorney, Drew Findling, said.
Before his February release, there was back and forth with the rapper's lawyer and courts on whether he should be released on bond. He filed documents requesting a "reasonable bond" so he could provide for his children.
After previously being denied bond, a judge allowed Lucci to be released from custody in February, but under strict conditions. He posted a $500,000 bond and was given strict rules to follow while out.
WSB-TV 2 Atlanta reports:
"Is YFN Lucci a member or an associate of any criminal street gang?" Winne asked Findling.

"No. He's not a gang member. What he is, is an internationally recognized musical artist that is a triple platinum winner," Findling said.

Documents indicate the racketeering case filed April 30 involves, among other things, the felony murder of James Adams, in which Lucci is accused along with two others.
In January, the father-of-four surrendered to police after he was brought up on several charges, including felony murder, aggravated assault, participation in street gang activity and possession of a firearm during the commission of a felony.
It's alleged Lucci was the driver during a shootout that resulted in one of his friends losing their lives. On December 10th, the police found 28-year-old James Adams (one of Lucci's homies) lying in the street with a gunshot wound to his face, according to the police reports. He was rushed to the hospital where he died.
Lucci and his homies were riding around ATL when they drove into a portion of the city controlled by another gang. According to the police, the SUV Lucci was allegedy driving "entered an oncoming lane of traffic and stopped on the left shoulder, allowing Adams and the front passenger of the vehicle, Ra'von Boyd, to fire multiple gunshots from assault rifle style firearms at people in the rival gang territory."
Lucci's associates, 23-year-old Ra'von Boyd and 17-year-old Leroy Pitts, were also reportedly arrested.
WSB-TV reports:
Findling maintains the felony murder charge against Lucci involves an allegation that Lucci was driving his Maybach with some friends when someone shot at the car, someone in the back seat defensively returned fire, and because a passenger in Lucci's car was killed, Lucci was charged with felony murder — which Findling says he's absolutely not guilty of.

Documents indicate both sides agreed to a bond on the homicide charge, but on April 12, before the filing of the racketeering indictment, a prosecutor moved to revoke Lucci's bond, alleging he routinely violated the conditions.

Lucci's side argued, "There appears to be no rational basis for asking for any additional bond," and asked the court to allow his bond to remain in place.

Findling said felony murder occurs when someone unintentionally causes a death during the commission of a felony. He maintains Lucci was not committing a felony.
No updates from Lucci's girlfriend Reginae Carter yet.
Photo: Instagram/Fulton County Jail

​ ​
​ ​ ​