Tennis Star Naomi Osaka Boycotts Press Before French Open For Mental Health Awareness, Officially Highest Paid Woman Athlete With $55 Million Payday
​
May 26 | by _YBF
​ ​ ​ ​
Tennis star Naomi Osaka is poppin' off on folks who have an issue following her announcement that she will NOT be doing any press during the French Open to help raise mental health awareness. Deets on her activism, plus her HISTORIC $55 million payout when you go inside…
Tennis superstar Naomi Osaka is NOT the one. OK? Sis is going to advocate for issues she believes in and she doesn't care who doesn't like it.
Before she hits the court, Naomi announced she will NOT take part in news conferences at the forthcoming French Open (aka Roland Garros). She feels the post-match interviews are toxic and she's over it.
Of course, Naomi - a four-time Grand Slam title winner- will be fined, but she says she will donate the fines she will accrue to mental health charities.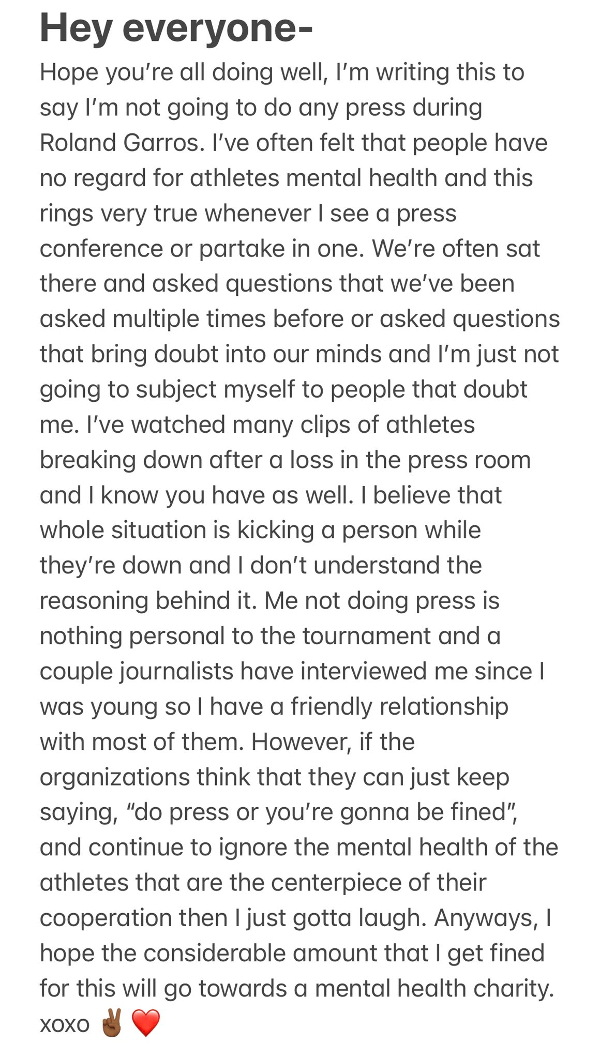 "I am writing this to say that I am not going to do any press during Roland Garros," the 23-year-old wrote on Twitter. "I have often felt that people have no regard for athletes' mental health and this rings true whenever I see a press conference or partake in one."

"We're often sat there and asked questions that we've been asked multiple times before or asked questions that bring doubt into our minds and I am not going to subject myself to people who doubt me."
We know that's right! And it must be said that organizations choose certain media, and don't choose certain media, for a reason. Being more inclusive with press would alleviate a LOT of problems, but organizations tend to ignore smaller, minority owned/run media in favor of white and mainstream media who don't care to know anything about the actual athlete. This is why the repetitive, generic questions are posed constantly.
Read her full response above.
Tennis players are required to hold press conferences after each match, but Naomi is bucking on the system! And get this, Naomi usually draws a huge media presence when she's playing, so the fact she decided not to do press is a huge deal.
A Twitter user tried to come for her about not doing press and she popped back:
"So you decided to play professional tennis knowing exactly what it was and your responsibilities to the sport. Now your don't want to do your job?," a Twitter user asked. "Yes, the pressers are part of your job, in fact, you probably wouldn't have as many fans as you do if you've never done them."

"? Sir I'm paying the fine. How are you gonna tell me how to do my job? You don't see me come and tell you how incorrect your form is while you're sitting on the couch," she responded before deleting the tweet.
Bloop.
And yes, she can talk that ish and pay these dumb fines after a historic year.
The 23-year-old tennis star had one of the most memorable years ever. She won two Grand Slams, but she made headlines when she raised awareness about police brutality. She wore the names of victims (who were killed by police) on her masks before her matches.
According to reports, the 23-year-old earned a massive $55 million endorsements in 2020, according to Sportico. It's the largest payday in history for any female athlete, surpassing Serena Williams, who came in as the second-highest female athlete on the list with $40 million.
Only LeBron James, Tiger Woods, and Roger Federer, topped Naomi Osaka through traditional endorsements.
GET IT!
Photo: Leonard Zhukovsky/Shutterstock.com
​ ​
​ ​ ​