FANS GONE WILD: 76ers BAN Fan Who Threw Popcorn On Russell Westbrook Indefinitely + Knicks Indefinitely BAN Fan Who Spit On Trae Young
​
May 27 | by _YBF
​ ​ ​ ​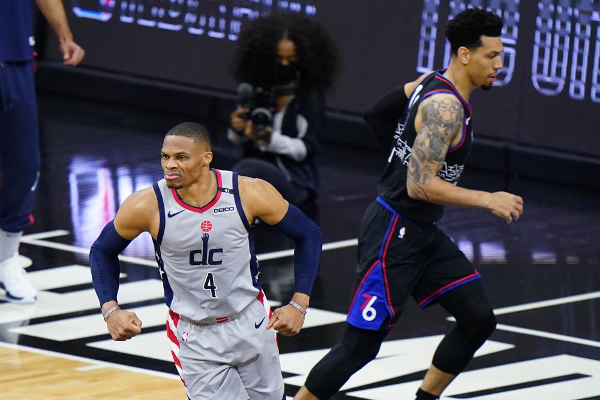 NBA fans are losing it in the stands! And now the teams are laying the smack down on fans who violate the ballers. Deets on separate incidents that involve Wizards baller Russell Westbrook and Atlanta Hawks player Trae Young inside….
Chile, what is up with these NBA fans? They are literally losing it in the stands, causing them to lose privileges. And large amounts of fans were JUST let back into arenas a week ago for playoffs.
The Philadelphia 76ers and the New York Knick have banned fans and issued apologies for foolywang material that popped off at opposing players during NBA playoff games.
During last night's matchup between the Wizards and the 76ers, Russell Westbrook got hurt. As he was being escorted off the court into the locker room with a twisted ankle, a fan poured popcorn on his head, which caused Russell to go into a rage. Coaches held him back as he tried to jump into the stands to handle the fan who disrespected him.
Check it:
Russ got heated after a fan threw popcorn at him pic.twitter.com/XyMRUxUVwc

— Bleacher Report (@BleacherReport) May 27, 2021
And here's a slowed down version of the fan dumping the popcorn on Russ:
This fan should never be permitted in a #Sixers game ever again after throwing popcorn on Russell Westbrook while leaving court with injury. And they can track his ass down. No class! pic.twitter.com/ra029MaBDF

— Howard Eskin (@howardeskin) May 27, 2021
Here's the thing, fans KEEP doing disrespectful ish to players and Russ is sick of it. During his post-game, he aired out his frustrations about fans being disrespectful and doing whatever they want.
"This s--t is getting out of hand."

Russ sounds off after a fan dumped popcorn on him in Philly. *NSFW* pic.twitter.com/uWyWCyfR9r

— Bleacher Report (@BleacherReport) May 27, 2021
"Unfortunately, I was leaving off and I felt popcorn on top of my head. To be completely honest, man, this s--- is getting out of hand," Westbrook said. "Especially for me, the amount of disrespect, the amount of fans just doing whatever the f--- they want to do. …"
"In any other setting, I'm all for fans enjoying the game. It's part of sports, I get it. But there are some things that cross the line," he continued.
Peep the clip above.
Before the 76ers announced their decision, Los Angeles Lakers baller LeBron James and Russ' Wizards teammate Bradley Beal called for the NBA to better protect its players
By the way WE AS THE PLAYERS wanna see who threw that popcorn on Russ while he was leaving the game tonight with a injury!! There's cameras all over arenas so there's no excuse! Cause if the was on the other . #ProtectOurPlayers

— LeBron James (@KingJames) May 27, 2021
Nice to see the 76ers took action against the fan.
By the way, rapper Meek Mill was also in the mix with his REFORM Alliance team, Robert Kraft, Michael Rubin and more:
Meanwhile in Atlanta...
Knicks fan spits on Trae Young.

This is getting out of hand. pic.twitter.com/Rp8op8xQxR

— NBA Memes (@NBAMemes) May 27, 2021
Not long after Westbrook's incident, a video of a fan spitting on Atlanta Hawks guard Trae Young during Game 1 of the NBA playoffs against the Knicks at Madison Square Garden. Peep the clip above (look fast because it happens really quickly). WTH is wrong with people?!
Below are more receipts of the spitting action:
For the people who can't see it... And yes it's most definitely spit and it's vile what that "fan" did pic.twitter.com/ZTEhoZvgP7

— Unbiased Biased Sports Take (@_UnbiasedBiased) May 27, 2021
Got em! pic.twitter.com/fkxuheqBX5

— regular bum (@regularbum) May 27, 2021
According to the Knicks, they have banned the fan indefinitely from the Garden. They also issued an apology to Trae.:
— NEW YORK KNICKS (@nyknicks) May 27, 2021
Trae reacted to the spitting drama:
Keep ya mask on my boy#ThatsJustChildish

— Trae Young (@TheTraeYoung) May 27, 2021
"IM ME, I DO ME, AND I CHILL"
S/o KD.

— Trae Young (@TheTraeYoung) May 27, 2021
It seems fans have forgotten how to act in the arena post-COVID...well, amid COVID. It's not gone yet, but restrictions are being lifted.
The NBA said that its rules on fan behavior will be "vigorously enforced in order to ensure a safe and respectful environment for all involved."
"The return of more NBA fans to our arenas has brought great excitement and energy to the start of the playoffs, but it is critical that we all show respect for players, officials and our fellow fans," the NBA said.
Yeah, this type of behavior is unacceptable and we're glad the league is checking folks who violate.
Photo: Matt Slocum/AP
​ ​
​ ​ ​