Drake Had Words For Refs At Bronny James' Game With LeBron James + Watch Lamar Odom Knock Out Aaron Carter In Celebrity Boxing Match
​
Jun 12 | by _YBF
​ ​ ​ ​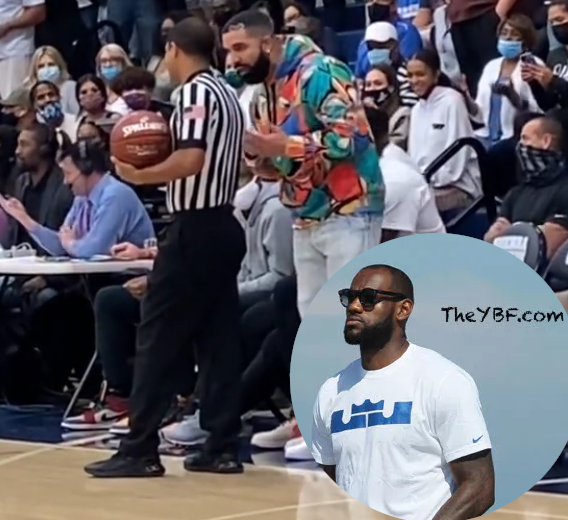 LeBron James pulled up to his son Bronny James' basketball game with Drake and the Young Money rapper was seen giving the refs a piece of his mind. Peep the clip, plus watch Lamar Odom knock out Aaron Carter in a celebrity boxing match inside...
I'm calling this "GOATS and Baby GOAT"

Also known as @KingJames, @Drake and Bronny pic.twitter.com/WMIlEMbMZg

— Kristen Lago (@kristenmlago) June 12, 2021
A high shool basketball playoff game turned into a star-studded affair when several celebs made an appearance in a highschool gym.
NBA star LeBron James and rapper Drake pulled up to Sierra Canyon School in LA to watch LeBron's son, Bronny James, hoop it up against Corona Centennial during the CIF Southern Sectional Finals. For the first time in 14 seasons, LeBron didn't make it to the second round of the NBA playoffs, so he has some extra time on his hands.
It was Bronny's first game since being sidelined in February after undergoing knee surgery. Several notable people came out to watch the sophomore - who's featured on the newest issue of Sports Illustrated - first game since his injury, including his dad, Drake, along with NBA stars JR Smith and Jared Dudley.
LeBron, Drake, JR Smith and Jared Dudley all showed up to Sierra Canyon to watch Bronny

(via @kristenmlago)pic.twitter.com/COFXEaan5r

— SportsCenter (@SportsCenter) June 12, 2021
LeBron and Drake pulled up to Bronny's playoff game tonight @brhoops

(via @Tarek_Fattal)pic.twitter.com/hmUxNmiI3x

— Bleacher Report (@BleacherReport) June 12, 2021
Centennial came out strong against Sierra Canyon, which only amped up King James and Champagne Papi on the sidelines. At one point, Drake is seen having a few words with a referee during a timeout in the fourth quarter as his music played in the background.
Check it:
Sierra Canyon junior guard Amari Bailey, a UCLA commit, performed a dunk that had both LeBron and Drake jumping out of their seats. Check it out below:
OMG AMARI Even Drake and LeBron jumped out of their seats @SCanyonSports pic.twitter.com/7EEeFm96JW

— SLAM HS Hoops (@SLAM_HS) June 12, 2021
Sierra Canyon tried their best, but the Centennial's sharpshooting helped them rack up points, which resulted in a loss for Bronny & Sierra Canyon.
It was a tough loss for the team. However, the players received good advice from NBA royalty and one of the hottest rappers in the game.
"Drake came up to me afterward and he just said, 'Do you know how many L's I've taken in my life to get to where I am? Keep your head up.' And Bron just reminded me that he lost the Finals on his home court and came back and won a championship the next year," Bailey said.

"I'm definitely going to remember this game and use it as motivation next season. We'll be back," Bailey said.
Sweet!
By the way, Drizzy brought his son, Adonis, to soak in the basketball fun:
LeBron, Drake and Adonis watching Bronny's return last night at Sierra Canyon pic.twitter.com/4wQanzN90e

— SAINT (@saint) June 12, 2021
Don't get me wrong, Drake, Lebron and JR are cool, but Adonis is really stealing the show here pic.twitter.com/pCrnWAa3uZ

— Kristen Lago (@kristenmlago) June 12, 2021
Cute.
In other sports news...
Lamar Odom with the first round knockdown of Aaron Carter pic.twitter.com/Ulh6A1ShW2

— Mismatch (@Mismatchsports) June 12, 2021
Last night, former NBA player Lamar Odom knocked out pop star Aaron Carter during their celebrity boxing match held at Showboat Hotel in Atlantic City. Both Lamar and Aaron made their boxing debuts in the match. However, Aaron may think twice about entering the ring with Lamar again.
With UFC Hall of Famer Chuck Liddell as the referee, Lamar (6'10") and Aaron (6'0") lasted two rounds before LO easily knocked him out. In fact, Lamar knocked him down once in the first round and again in the second round.
Peep the clips above & below:
Lamar Odom wins against Aaron Carter with a second round KO pic.twitter.com/0o3FcJmPX7

— Elite Media Group (@TheEliteMedia_) June 12, 2021
After the knockout, LO & Aaron hugged it out. Peep the clip below:
Aaron Carter wants no more! Lamar Odom wins in the second round of our #CelebrityBoxing Main Event!

PPV: https://t.co/Y5CALKKtmw pic.twitter.com/trXIjiasB1

— FITE (@FiteTV) June 12, 2021
Daytime talk show host Wendy Williams, rapper/actor Ice-T and his wife Coco were in the audience to peep the celebrity match:
We had a GREAT time! See you at next one in December https://t.co/6ZGlQ8q1pW

— ICE T (@FINALLEVEL) June 12, 2021
BONUS:
Boxer Floyd Mayweather - fresh off raking in millions from his boxing match against YouTuber Logan Paul - is offering $100,000 to anyone with information about his home in Las Vegas that was burglarized.
Photo: Screenshot of @krystenpeek's IG Video/Backgrid
​ ​
​ ​ ​