Black 'NCIS' & 'S.W.A.T.' Star Siaka Massaquoi Raided By FBI After He Cut Up At Jan. 6th U.S. Capitol Insurrection
​
Jun 17 | by _YBF
​ ​ ​ ​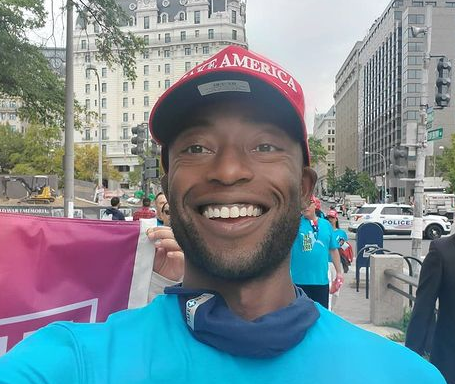 The FBI raided the home of black Hollywood actor Siaka Massaquoi - who has starred in "NCIS: Los Angeles & "S.W.A.T." - after he allegedly participated in the January 6th U.S. Capitol insurrection. Deets inside...
As the saying goes, all skinfolk ain't kinfolk.
The FBI is still investigating the mob of Trump supporters who descended on the U.S. Capitol for a coup attempt as Congress was counting up the electoral votes to officially confirm the election results that President-elect Joe Biden and Vice President-elect Kamala Harris WON on January 6th. The attack was incited by Trump moments before it was was carried out, although he continues to deny any involvement.
Still, the feds are steadily working on the investigation, charging and locking up the thugs who incited a riot on the Capitol back in January.
Five people, including a Capitol police officer, died as a result of the attack.
One MAGA supporter - who happens to work in Hollywood - woke up to the FBI at his door last week after he participated in the riot. About 20 agents dressed in tactical gear raided the North Hollywood home of Siaka Massaquoi - who has starred in "NCIS: Los Angeles" & "S.W.A.T."
According to reports, the home that was raided also listed another individual - Brian Burks, 42. It's unclear the relation between Brian and Siaka.
Apparently, Brian's two children - ages 3 & 7 - were there during the raid, according to Brian's ex-wife, Luvelle Mendoza.
"My heart breaks," she told the LA Times. "They had to see the big guns and I just think, I wasn't there to console them. I knew that something bad had to happen for him to just abruptly call me,' she said.
"I support him in doing what he believes in. I don't agree with everything ... I just don't want my kids to be in the crossfire," she continued.
The publication reports:
The raid took place because of the two men's associations on "a social media app," according to the law enforcement source. No further details of the raid were provided and it was unclear whether Massaquoi was arrested and released.
Siaka Massaquoi has definitely been in the MAGA trenches with the Trump supporters. He went Live on social media and even saved the recording to his Instagram timeline, which you can check out below:
"These bombs are going to be dropped today," he said before storming the Capitol with his MAGA mates.
If you haven't heard of Siaka, we aren't surprised. He has starred in super small roles in "S.W.A.T." (pictured above alongside his co-star Shemar Moore) & "NCIS: Los Angeles."
Based on his social media, it's clear he's a right-wing supporter and also a lover of Trump. He doesn't hide the fact that he supports Republican politics, where he has even hit the streets for anti-vaccine protests (even though Republican leader Trump himself has been pro-vaccine actually) and more:
What an interesting character here.
We're wondering what the FBI found. NO SURPRISE if Siaka was brought up on charges since he doesn't have the complexion for the protection. Many rioters were charged and some even were thrown in jail. Black Capitol rioter Emmanuel Jackson was arrested, charged and was NOT given a bond, unlike some of the other rioters.
Several of the white rioters have either been released on house arrest (a 22-year-old woman was released in her mom's custody) or have been getting special treatment in prison – like the one domestic terrorist who requested organic food and the judge allowed it. Hmph.
Photos: Siaka's IG
​ ​
​ ​ ​