Naomi Osaka's Withdrawal From Wimbledon Will Change The Way Sports View Its Players, Will Play In Tokyo Olympics
​
Jun 18 | by _YBF
​ ​ ​ ​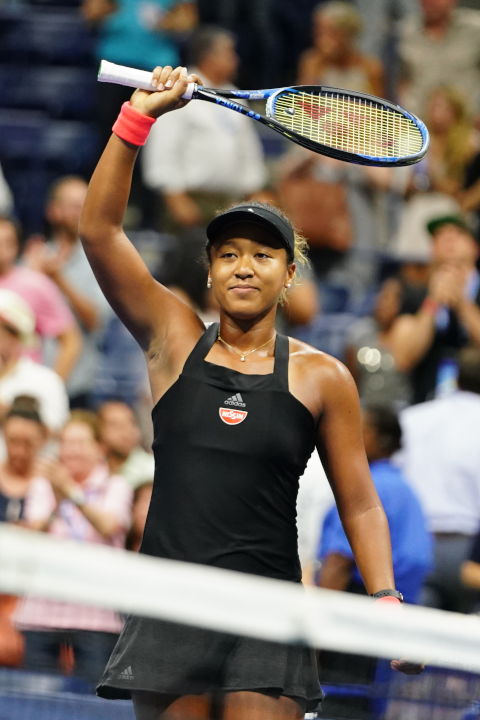 Naomi Osaka is going to change the game of tennis...or any sport for that matter. She recently announced she was withdrawing from Wimbledon ahead of the Tokyo Olympics amid mental health struggles and we foresee her bold move will change the sports world in the years to come.
More inside...
Naomi Osaka will go down in history as a game changer for all sports. She didn't shy away from joining the Black Lives Matter movement during competition. And now, she's using her platform to help raise awareness for mental health.
Over the last few weeks, the 23-year-old tennis star - who is the No. 2 ranked-women's tennis player - has been shining a light on mental health in a bold way.
First, she announced she was NOT going to participate in news conferences during the French Open (aka Roland Garros). The four-time Grand Slam title winner said she felt the post-match interviews are toxic and she's over it.
After she opted out the mandatory news conference following her first-round win, she was fined $15,000 and hoped the funds would be donated to a mental health charity.
In response to the fine and the threat of expulsion, Naomi withdrew from the tournament to protect her mental health. "This isn't a situation I ever imagined or intended when I posted a few days ago," she wrote.
"I am not a natural public speaker and get huge waves of anxiety before I speak to the world's media," Osaka wrote in a statement. "I get really nervous and find it stressful to always try and engage and give [the media] the best answers I can. … So here in Paris I was already feeling vulnerable and anxious and so I thought it was better to exercise self-care and skip the press conferences."
FYI - The French Open is the same tournament that banned Serena Williams from wearing a catsuit in 2018.

Soon after, she announced she was withdrawing from the German Open (also known as the Berlin WTA 5000), which is set to begin July 14th.
Now, she has withdrawn from another major grand slam tourney, Wimbledon, which is set to start June 28th.
BREAKING: Naomi Osaka has withdrawn from Wimbledon.

A statement from her team says: "Naomi won't be playing Wimbledon this year. She is taking some personal time with friends and family. She will be ready for the Olympics and is excited to play in front of her home fans."

— Stuart Fraser (@stu_fraser) June 17, 2021
"Naomi won't be playing Wimbledon this year. She is taking some personal time with friends and family," Osaka's agent, Stuart Duguid, said in a statement to the New York Times.
Fans can expect to see her battle it out during the upcoming Tokyo Olympics, which starts July 24th.
"She will be ready for the Olympics and is excited to play in front of her home fans."
This is the 2nd consecutive Grand Slam tournament she has withdrawn from to protect her mental health. Naomi Osaka is a valuable tennis player that brings in tons of viewership numbers for the tournament, so Wimbledon officials are desperately trying to lure her back. Page Six reports:
The bosses of the upcoming grass-court Grand Slam, which begins June 28, have extended several very public olive branches to Osaka in recent days and hinted at compromising over the tournament's media obligations – seemingly in an effort to get the tennis superstar to commit to playing in London.

"We have spoken to her [Osaka's] team in the last few weeks," All England Club chief executive Sally Bolton told the BBC on Thursday, per Reuters. "So yes, we're certainly remaining engaged with Naomi's team, as we are with all players. We have started a consultation. Of course, that consultation needs to include not just the players, but the media and all of those engaged in that space."

The previous day, tournament director Jamie Baker said he had informed Osaka's team that Wimbledon organizers were "completely open for any discussions."
She's not the only one, either.
Most recently, top tennis player Rafael Nadal announced he was skipping out on Wimbledon and the Olympic Games to protect his body as the tournaments have been scheduled to close together, which means no time for his body to rest and restore for the next tournament.
In a series of tweets, the 20-time Grand Slam champion decided he was "listening to my body" in order to "prolong my career and continue to do what makes me happy."
Peep his thread below:
Hi all, I have decided not to participate at this year's Championships at Wimbledon and the Olympic Games in Tokyo. It's never an easy decision to take but after listening to my body and discuss it with my team I understand that it is the right decision

— Rafa Nadal (@RafaelNadal) June 17, 2021
NBA icon LeBron James also chimed in about games and tournaments being scheduled back to back. When they do that, it doesn't offer the athlete a chance to recover, which eventually results in more injuries. He hopped on Twitter to express how scheduling these games so close together further HURTS the athlete. Check it:
No lies told there.
Photo: Leonard Zhukovsky/Shutterstock.com
​ ​
​ ​ ​